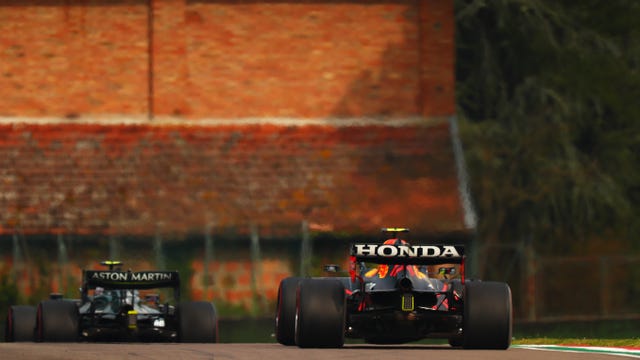 Two races into the Formula 1 season and we know one thing: it's going to be a great season as Mercedes and Red Bull battle for victories. What is also clear is that McLaren, Ferrari and Williams have both moved forward, but are not in the hunt for victories. And we know that Scuderia AlphaTauri and Alfa Romeo are both about where it was last year and Haas is not going to have a good year but is focusing on 2022, when it will build a new car and have two drivers with more experience. That leaves two teams that have not made progress: Alpine and Aston Martin (formerly known as Racing Point).
Formula 1 is a dynamic world, with things changing all the time and if you stand still for a few weeks, you fall behind. This is what happened at Alpine. Although they are not admitting it out loud, there was a problem with the windtunnel and it had to be shut down for several weeks. That hurt. The team is working flat out to claw back the losses but even with drivers of the caliber of Fernando Alonso and Esteban Ocon (and the latter beat the former in Imola), it is hard to close gaps like that.
And then we have Aston Martin. And this is an interesting story because while having Lance Stroll and Sebastian Vettel, which is probably a weaker line-up than last year's Stroll and Sergio Perez, the team has clearly lost performance. There isn't much sympathy out there in the F1 world because a lock of noses were knocked out of joint last year when Racing Point copied the 2019 Mercedes. This was allowed and it was clever, but some people did not think it was very sporting.
The interesting thing is that with the new aerodynamic rules Mercedes and Aston martin have both lost performance. The engineers who understand such things say that this is because the new rules impact on the rake of the car, which means the difference in a car's front and rear ride heights. High-rake cars have a greater difference, so that the rear-end appears to be jacked up. The changes were made to the rules on the grounds of safety, following the tire failures in last year's British GP at Silverstone – where Lewis Hamilton won the race on three wheels. There were fears that Pirelli's tires had reached the limit of what they could cope with in terms of downforce. Since Pirelli intended to continue using the same tire constructions for 2021, the FIA concluded that downforce must be cut.
The changes appeared to have favored the high-rake cars, such as the Red Bulls and Alpha Tauris – and disadvantaged Mercedes and Aston Martin. At Imola, Aston Martin team principal Otmar Szafnauer called for the FIA to make a rule change mid-season to redress the apparent imbalance. Mercedes trackside engineering director Andrew Shovlin noted recently that "whether or not it's high-rake or low-rake, we can't do anything about that now. We can't suddenly say we're going to lift the rear of our car and work with that, because that would write off the season. We would lose so much. It's just not practical."
This gives you an idea of just how delicate these cars are and, even if they look pretty solid when they are bouncing over kerbs, a millimeter different here and there makes a huge difference. Sadly, aerodynamics is a genie that one cannot shove back in the bottle. So one has to live with it. And there is the additional problem of the budget cap, which means that teams cannot just spend their way out of trouble as they need their budget and need also to build new cars for 2022.
"It's going to be the same for all teams to balance resource that is going into the 2021 car and power unit, and the 2022 one," Toto Wolff said. "It's clear that you can't afford to not perform in 2021. But equally, the 2022 regulations are going to be in place for quite some years. Once you start with a deficit, it's very difficult to catch up. So it will take a while for performance to converge. In that respect, these are tricky decisions that we are evaluating regularly. The regulation changes that were introduced last year, we just probably had more deficit to compensate. So when we put the cars on the road, that was pretty clear. But it is what it is, and now we have just got to do the job to the best of our abilities."
At Aston Martin, Otmar Szafnauer is pragmatic enough to know how to play the F1 game, but his team owner Lawrence Stroll is used to doing business in a different way. Still Szafnauer could hardly tell his team owner not to stir the pot too much. Hinting at legal action is just daft.
"I think the right thing to do is have the discussions with the FIA and find out exactly what happened and why, and then see if there's something that could be done to make it more equitable," he said. "I think that's the right thing to do. We as a team have to work hard to try and claw back everything we can but at the same time, we should be having these discussions with the FIA to see if anything can be done to make it a bit more equitable."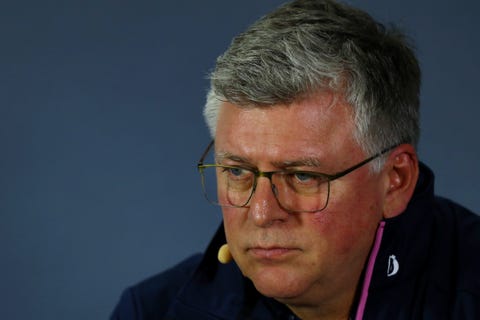 Wolff understands the game. Last weekend he was in Rome for the Formula E race with Mercedes, and he spent a long time locked away behind closed doors in discussions with FIA President Jean Todt.
"I think the nuances of this is to come to a point to say, was there any decision that went against a particular concept of car, or wasn't there? I think that needs to be looked at."
The FIA can make immediate changes based on safety, but there is no safety issue that is obvious here. And all parties to the Concorde Agreement agree to use an International Chamber of Commerce dispute resolution process if they disagree on sporting matters, such as rule changes. No team can take legal action over rules and anyone who says they can is either talking rubbish or know they are talking rubbish.
Red Bull team principal Christian Horner says that he was surprised to hear what Szafnauer was saying.
"I'm slightly surprised to hear that," he said. "I've heard rumblings, but I haven't heard it like you've just spelt out. Firstly, we had a sample of one race that Mercedes won with what you would classify as a low-rake car, with maybe equal if not better tire degradation than what we had in Bahrain. But ignoring all of that, there is a process for regulations to be introduced and they were voted through unanimously through the different regulations that Aston Martin or Racing Point would have had to vote for, before being passed through the FIA Commission and the World Motor Sport Council, and they were all voted through unanimously. When there was a front wing change a couple of years ago, it really hurt us. We voted against it but you just have to accept it, so it would seem a little naive to think that suddenly the rules are just going to get changed after the sample of a single race, after the process has been fully followed. I'm struggling to get my head around that."
Some suggest that Stroll is actually a stalking horse for Mercedes, given that he and Wolff are close, but close relationships between team bosses rarely last long in the hyper-competitive F1 world.
On Sunday in Imola we saw how strong the Red Bull-Honda is. The racing was entertaining thanks to the difficult and changing conditions but it was clear that if he doesn't make mistakes, Max Verstappen is in a very solid position.
And obviously Mercedes would like that not to be the case…
Playing politics is part of the game.
Source: Read Full Article