The first-generation Audi Q5 is a refined and capable SUV that packs a spacious and upmarket interior. It cost a little more to buy, but it should prove durable and dependable
1

Verdict

– currently reading

2

How much will it cost?

3

How practical is it?

4

What's it like to drive?

5

What should you look out for?

6

What do owners think?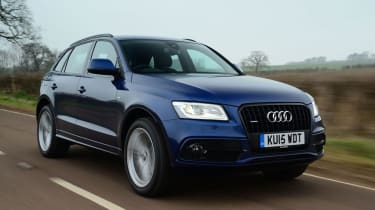 3.5 out of 5
Smart looks
Good to drive
Upmarket interior

Firm ride on some models
Thirsty petrol engines
High prices

Verdict

Launched in 2008, the Q5 was Audi's impressive first effort at delivering a premium mid-size SUV. Combining the company's famed design and technology with a spacious interior and more than a hint of rugged off-road appeal it has proved to be one of the brand's most popular cars. While it's starting to feel its age against newer opposition, it's still a hugely desirable choice.

For starters, it has the premium feel and impeccable build quality we've come to expect from an Audi inside, while the company's trademark quattro four-wheel-drive system is standard with all models. As a result, the Q5 is grippy and composed on the road, yet will cope better off-road and in slippery conditions on the road than your average front-wheel-drive car.

Which one should I buy?

Best Audi Q5 for families: 2012 2.0 TDI SE quattro
Best Audi Q5 for fun: 2014 SQ5 Plus
Best Audi Q5 for towing: 2011 3.0 TDI SE quattro

The Mk1 Q5 arrived late in 2008 with 2.0 TDI 170 and 3.0 TDI diesel engines, plus 2.0 TFSI 211 and 3.2 V6 FSI petrols. By August 2009 there were also 2.0 TFSI 180 and 2.0 TDI 143 options. The high-spec S line Special Edition appeared in October 2009, and a year later came the even more lavish S line Plus version.

More reviews

Car group tests

Audi Q5 vs Volvo XC60 vs Hyundai Santa Fe: 2021 group test review
Audi Q5 TFSI e vs Volvo XC60 T8
Audi Q5 vs Jaguar F-Pace
Volvo XC60 vs Audi Q5 vs Mercedes GLC

In-depth reviews

Road tests

New Audi Q5 Sportback 2021 review
New Audi Q5 40 TDI 2021 review
New Audi Q5 55 TFSI e review

A facelift in October 2012 brought minor styling tweaks, standard engine stop/start across the range and more power for the TDI and 2.0 TFSI engines. At the same point the 3.2 FSI engine was dropped and the 310bhp SQ5 arrived. This had a tuned 3.0 V6 TDI engine that, in early 2016, was joined by the 335bhp SQ5 Plus.

No Q5 engine is weak; the 2.0 TDI makes the most sense in terms of performance and economy, but the 3.0 TDI unit is sublime, especially in SQ5 form. The 2.0 TFSI also provides decent performance with reasonable economy, but the 3.2 FSI is very costly to run, thanks to high fuel bills.

The manual and automatic gearboxes are all excellent, but the former is more reliable. Kit levels are good, because even entry-level models have climate control, 17-inch alloys, electric windows all-round, plus heated and electrically adjustable door mirrors.

SE spec adds leather trim, upgraded multimedia, 18-inch wheels, three-zone climate control, rear parking sensors and automatic lights and wipers. The S line features 19-inch alloys, sports seats, xenon lights and more aggressive body styling.

What are the alternatives?

The Q5 had such a long lifespan that its rivals changed over time. At first, the most accomplished adversaries included the BMW X3, Land Rover Freelander and Volvo XC60. While the Freelander is the best of the bunch for off-roading, its cabin isn't as special, and it's not as good on the road. You might prefer to take a look at the Range Rover Evoque, which came along later.

BMW's original X3 is outclassed by the Audi in most respects, yet the second-generation version, which was launched in 2010, makes a much more convincing alternative. The XC60 is a safe, well-equipped, spacious and stylish option, while the more affordable Volkswagen Tiguan is strong, practical and well built.

Later rivals include the Land Rover Discovery Sport and Mercedes GLC, both of which are excellent all-rounders.

Audi Q5 vs Range Rover Evoque

In this October 2011 test the Q5 was the benchmark SUV star for the stunning new Evoque. The Audi was faster and roomier than its British rival, but it was denied victory by the Range Rover's superior style, sharper handling and lower running costs. Read the full test here…

Audi Q5 vs Land Rover Freelander vs Volvo XC60

It was back to winning ways for the Audi, when in January 2013 it met the facelifted Freelander 2 and versatile Volvo in this tough encounter. All three were desirable SUVs, but in the end the Q5's greater practicality, unrivalled quality and grown-up driving dynamics sealed it the win. Read the full test here…

Audi Q5 vs Mercedes GLC vs BMW X3

By Feb 2016 the Q5 was getting on a bit, with an all-new version just months away. The Audi was still a comfortable and well-built choice, but in terms of performance, running costs and space it trailed the victorious GLC and runner-up X3 into last place. Read the full test here…

Next Steps

In this review

1

Verdict

– currently reading

The first-generation Audi Q5 is a refined and capable SUV that packs a spacious and upmarket interior. It cost a little more to buy, but it should prove durable and dependable

2

How much will it cost?

It's not cheap to buy and some versions are costly to run, but solid residuals and efficient diesels mean the Q5 won't break the bank

3

How practical is it?

A spacious interior and large boot help make the versatile Q5 a fine family-friendly choice

4

What's it like to drive?

With a wide range of powerful engines and four-wheel drive the Q5 is quick and sure-footed, although the ride is firm on versions with bigger wheels

5

What should you look out for?

Robustly built from high quality materials, the Q5 promises to be a durable and dependable choice.

6

What do owners think?

Audi has performed well overall in our Driver Power survey, and owners seem to rate the Q5 very highly

Source: Read Full Article