Ambition, obscurity and exclusivity are traits these supercars all have in common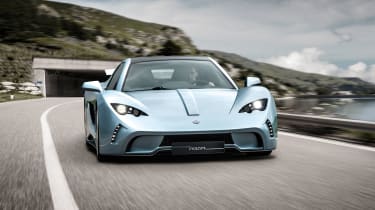 It was legendary rock star Frank Zappa who once said that you can't consider yourself a country unless you have a beer and an airline. But to those brief criteria you can now add a third – you need to have had a crack at producing a supercar, too.
It's extraordinary how many companies have sprung up from nations with no established pedigree in car manufacturing, all promising vehicles to threaten the supercar establishment. However, the rewards are potentially massive, as Croatia's Rimac has demonstrated via its recently announced joint venture with Bugatti.
What is the fastest production car in the world?
None of the makers featured here has had quite the same dramatic impact, but all were audacious in their ambition. So, join us on a tour of the globe as we turn the spotlight on some of the world's more obscure supercars.
1. Sin R1 – Bulgaria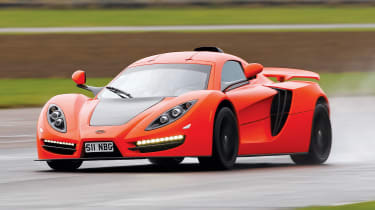 The east European nation wins the award for the most intriguingly named manufacturer, with Sin Cars conjuring up an image of motors that offer a degree of menace and allure in equal measure.
There's a British connection, too, because Sin started here in 2012, before relocating to Germany and then Ruse in Bulgaria, the home town of founder Rosen Daskalov. The R1 is a lightweight two-seater with a spaceframe chassis that uses Corvette V8 engines, which deliver up to 650bhp in supercharged guise. There's also a 755bhp hybrid model. With the fastest version dispatching 0-62mph in 2.5 seconds, the R1 promises a potentially sinful driving experience.
2. Zenvo ST 1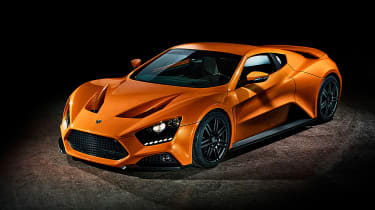 While neighbour Sweden has had a significant impact on car manufacturing, with Volvo, Saab and, at the top end of the market, Koenigsegg, Denmark has had much less to shout about.
Doing its best to change this is Præstø-based Zenvo Automotive, which offers various versions of its TS (Twin Supercharged) hypercar, with power generally well in excess of 1,000bhp and £1million-plus price tags. Unfortunately, in Britain, Zenvo is most likely to be remembered for a dismal review of the TS's predecessor, the 1,086bhp ST1, by TV's Top Gear in 2014.
In the words of then-presenter Jeremy Clarkson, "a cooling fan went wrong" and the car overheated and caught fire. The image of Zenvo's car ablaze is one many petrolheads will struggle to forget.
3. Beck LM800 Switzerland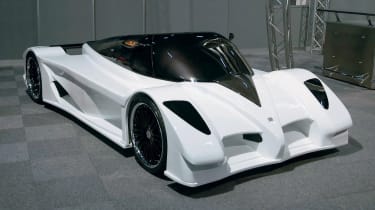 More renowned for the Geneva Motor Show than its own cutting-edge creations, Switzerland's supercar contribution came in 2007 with the LM800, developed by a small company called Beck, based near Bern.
The "LM" referenced Le Mans, and the famous enduro's inspiration was clear in the design, although the unkind might suggest Switzerland's famous Toblerone chocolate was also a point of reference. On paper, the LM800 was impressive – Kevlar, aluminium and carbon-fibre construction, a twin-turbo 650bhp 4.2-litre V8, a 219mph top speed and 0-62mph in three seconds. However, a lack of buyers due to a £300,000-plus price tag is what really saw it disappear from view.
4. Tushek Renovatio T500 – Slovenia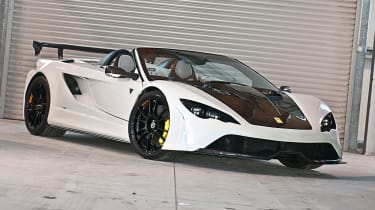 The former Yugoslavian republic targeted the extreme end of the car market in 2011, with the Shayton Equilibrium, a $1.4million (£1million) Pagani Zonda rival that was announced to much fanfare but failed
to get beyond the financing stage. So, the fact the Renovatio made it into production was progress.
Its 300,000 Euro (£260k) price tag made it seem like a bargain compared with the Equilibrium, and for that you got a rather smart-looking carbon-fibre-bodied sports car, with a 444bhp 4.2-litre Audi RS 4 engine, that was
at home both on the road and the track. The company, formed by Slovenian racing driver Aljosa Tushek, has since rebranded as Tushek & Spigel Supercars, and is now reported to be working on a 1,333bhp hybrid hypercar.
5. Marussia B1 – Russia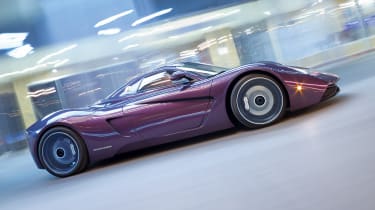 The name Marussia will resonate with motorsport fans, following an excursion into Formula One between 2012 and 2014 – an exercise that ultimately ended in tragedy following the death of driver Jules Bianchi due to injuries sustained at the 2014 Japanese GP.
The team was essentially a subsidiary of the Moscow-based Marussia Motors, which first came to prominence in 2008 with the B1. The mid-engined two-seater was pitched as a rival to the Lamborghini Gallardo and Ferrari 458 Italia, and came with three engine options from Cosworth – a 300bhp 3.5-litre V6 and a twin-turbo 2.8 V6 with either 360bhp or 420bhp – while an aluminium tub and carbon-fibre panels kept weight down to 1,100kg. Despite launching in a blaze of publicity, the momentum stalled and by 2014 Marussia Motors had been disbanded.
6. Argyll Turbo GT – Scotland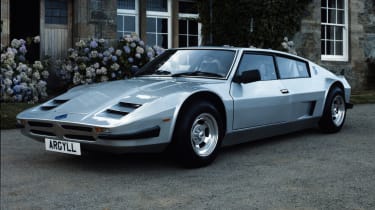 Scotland has a rich history of technological innovation, but it's never been a leader in exotic car production. A maverick called Bob Henderson from Lochgilphead tried to change this in the late Seventies with this mid-engined 2+2.
Henderson made bespoke cars, so a variety of V6 and V8 engines were offered, although power outputs were never declared. The Argyll was heavy (around 1,500kg) and cost more than a Porsche 911 of the time, so sales were low. But given the fact the project was privately financed, it's a tribute to Henderson that his car ever saw the light of day.
7. Arrinera Hussarya – Poland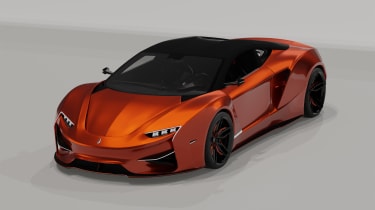 Hussarya means cavalry in ancient Polish, and Arrinera's supercar made quite an entrance when it was announced in 2013. It had the credentials for success: carbon-fibre and Kevlar construction, a 641bhp 6.2-litre V8, 0-62mph in 3.2 seconds and a 211mph top speed. But the car was never homologated.
However, co-founder Lukasz Tomkiewicz told Auto Express that he's working on a 2,000bhp EV which won't launch until battery tech gives it a genuine 500km (310-mile) range.
8. Hulme Can Am – New Zealand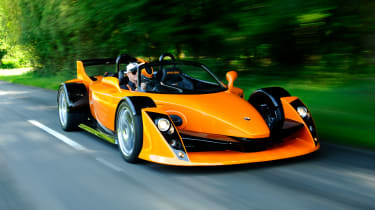 The Kiwis' crack at supercar stardom came in the shape of the Hulme Can Am, a carbon-fibre mid-engined roadster fitted with a 600bhp Chevrolet V8, which took its name from 1967 F1 drivers' world champion Denny Hulme (born in Motueka on New Zealand's South Island).
Checking in at around 980kg, the CanAm Spyder was a real lightweight, and this translated into a memorable driving experience, as Auto Express found out when special correspondent John Barker tested it in 2011. "Low weight and big, big power is a delicious combination. Give the throttle a decent prod in any gear and the instant thump in the back is almost as shocking as the sudden bellow that comes with it," he reported.
Hulme announced plans to build and sell 20 Can Ams in 2011, but with a price tag just under £300k, it's unclear how many – if any – found buyers.
9. Lykan HyperSport – Lebanon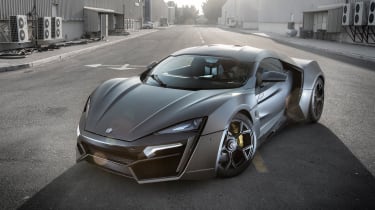 Launched in Beirut in 2012, but subsequently based in Dubai in the United Arab Emirates, the rather minimally named W Motors came to the attention of petrolheads the world over when its limited-edition Lykan HyperSport claimed a starring role in the high-octane Hollywood franchise The Fast and the Furious. Late actor Paul Walker took the wheel of one in 2015's Furious 7, and the HyperSport featured in some thrilling sequences in the movie.
Everything about the car screams excess – it has a 780bhp twin-turbo flat-six engine developed by Porsche tuner RUF that delivers 0-62mph in 2.6 seconds and a top speed of 245mph, plus it came with a price tag of around £2.6million when new, possibly on account of the 440 diamonds that were embedded in the headlights. Only seven HyperSports were ever made.
10. Onuk Sazan – Turkey
Another supercar that arrived in a blaze of publicity and promised much was the Onuk Sazan in 2009. Based in Istanbul, Onuk – better known as a speedboat manufacturer – certainly had a compelling backstory for the car; it was designed and named by the company's Ekber Onuk in tribute to his son, Kaan "Sazan" Onuk, who was killed in a road accident in 1996.
Prototypes were produced showing a vehicle that had a whiff of TVR about it, and there were claimed to be two engine options – a turbocharged Nissan V6 offering upwards of 450bhp and a Chevrolet Corvette-sourced V8 tuned to around 520bhp. As with many supercar stories, the trail went quiet, and although Onuk still has a presence online, our attempts to contact the company ended in failure.
11. Vencer Sarthe – Netherlands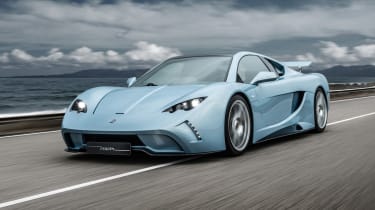 The Dutch have had a couple of attempts at the supercar market. Spyker endured a rollercoaster existence, but arguably a more intriguing model was the £250,000 Vencer Sarthe.
This 622bhp carbon-fibre-bodied machine developed out of Vriezenveen was built by one-time plumber Robert Cobben. His dream was to create a supercar uncompromised by electronic aids, but that was usable on a regular basis. At its heart was a supercharged Hennessey-tuned GM V8, and the Sarthe received positive reviews in 2014. But again, little has been seen or heard of it since.
12. Laraki Epitome – Morocco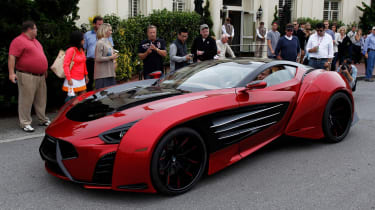 Leading Africa's supercar attempts was Casablanca-based Laraki, which was formed in 1999 by wealthy car importer Abdesslam Laraki.
After dabbling in yacht manufacture and coachbuilding, it first showed its intentions in car production with the V12 Borac grand tourer in 2005. But it was at the Pebble Beach Concours D'Elegance in 2013 that Laraki really came to prominence with the mind-boggling Epitome. Boasting a startling bespoke design and a twin-turbocharged Corvette V8 tuned to 1,200bhp, it couldn't fail to attract global attention, particularly given its $2million (£1.46m) price tag.
Moroccan-born rapper French Montana – whose biggest hit, ironically, is "Unforgettable" – was convinced enough to splash out. But after the initial excitement, Laraki went quiet and the Epitome didn't materialise.
Keep up to date with the latest supercar news and reviews here…
Source: Read Full Article