Ford Transit is best-selling vehicle; Vauxhall Corsa tops list of best-selling cars and Tesla Model 3 makes takes second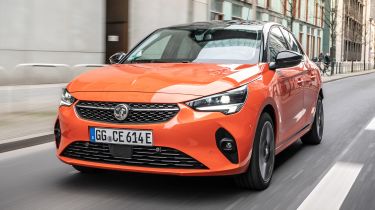 New car registrations grew by just one per cent in 2021 with a total of 1.65 million cars registered compared with 1.63 million in 2020. That makes 2021 the second-worst year for car sales since 1992 and still around 25 per cent down on 2019. "It's been a tough old year," said Society of Motor Manufacturers and Traders chief executive Mike Hawes.
However, while dealership shut-downs due to Covid were a major cause of slow sales in 2020, SMMT puts 2021's drop almost entirely down to the shortage of semi-conductors affecting new car supply.
Best electric cars to buy 2022
While overall sales were down, demand for electrified cars has shot up. 11.6 per cent of cars sold were battery electric vehicles with a further 7 per cent plug-in hybrids and 8.9 per cent full (or self-charging) hybrids. "More battery electric vehicles were sold in 2021 than in the previous five years combined," said Hawes.
Petrol still makes up by far the greatest number of cars sold with 58 per cent of all cars registered, with diesel still accounting for 14.2 per cent.
There was even better news in the light commercial vehicle market with 355,000 vans sold in 2021 – up 21 per cent on 2020 and only two per cent down on 2019. Ford's Transit was also the biggest-selling vehicle overall in 2021.
When it comes to cars, Vauxhall's Corsa stole top spot from Ford's Fiesta, which slid out of the top ten altogether. It's the first time in 50 years that a Ford has not taken the number one position in the new car registrations chart; Ford's Puma made it into the top ten in eighth place.
Tesla's Model 3 was the best-selling electric car and second-best seller overall in 2021, with the British-built MINI in third place and the MINI Electric taking seventh slot in the EV chart.
The supply issues affecting the new car market are expected to continue into 2022 with SMMT currently estimating 1.96 million registrations for the year – still below what SMMT describes as "the usual run rate of 2.25/ 2.3 million."
Best-selling cars of 2021
"It will be a challenging first half of the year," said Hawes, "But it will ease. Our advice to customers is to get your order in and they'll be fulfilled as soon as possible."
Electric car sales are expected to continue to increase with SMMT expecting another 47 new plug-in cars to be launched during 2022. However, Hawes fired a warning shot at the government and charging industry claiming that the public charging network is becoming a big barrier to EV adoption. "The pace of the continued take-up of electric vehicles will be about supply, but also assuring customers that this is a technology they can live with," he said.
"That relates directly to the experience they have with charging; the availability of charging across the nation, but also in terms of the cost of charging and reliability of the charging framework, which we know isn't as good here as it is in some other countries.
"The car industry is up for the challenge of 2030-2035 – we need all the other stakeholders to play their part as well."
Top 10 best selling cars of 2021
Vauxhall Corsa
Tesla Model 3
Mini Mini
Mercedes Benz A-class
Volkswagen Polo
Volkswagen Golf
Nissan Qashqai
Ford Puma
Kia Sportage
Toyota Yaris
Top 10 best selling electric cars 2021
Tesla Model 3
Kia Niro
Volkswagen ID3
Nissan Leaf
Audi e-tron
Hyundai Kona
MINI hatchback
Renault Zoe
Vauxhall Corsa
MG ZS
Top 10 best selling plug-in hybrid cars 2021
BMW 3 Series
Mercedes-Benz A-Class
Volvo XC40
Ford Kuga
Audi A3
Range Rover Evoque
BMW X5
Volvo XC60
Range Rover Sport
Seat Leon
Thinking of buying an electric, petrol or hybrid car? Read our buying guide to help you along the way…
Source: Read Full Article