The motoring industry plays host to some of the world's most creative designers, but they don't always hit the nail on the head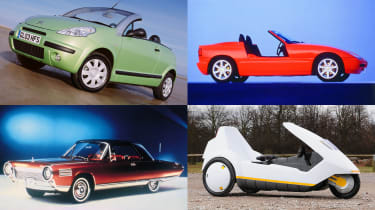 The car industry has always excelled when it comes to innovation, and we're certainly reaping the benefits as we embrace an exciting era of relatively new technologies such as electrification, automation and micro-mobility.
But not every idea that the industry's boffins come up with is a good one. And even when they do produce something clever, there's no guarantee that the general public will agree.
Cool cars: the top 25 coolest cars in the world revealed
Below, we take a look at some tech innovations of the past that, for a variety of reasons, did not have quite the intended impact.
A roof that provided five cars in one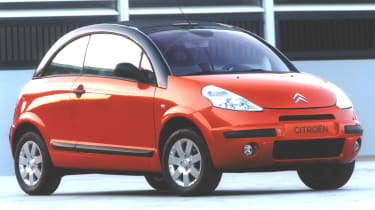 The hype that surrounded the Citroen C3 Pluriel's arrival in 2003 was extraordinary. It was claimed to deliver five bodystyles in minutes, thanks to its canvas roof mounted on a pair of arches.
You could have a comfortable four-seat saloon with a roomy boot; an open-top "leisure vehicle" with a full-length sunroof; a Targa-style semi-convertible with the roof removed but the arches in place; a full convertible with the arches taken off; or even a two-seat pick up with a drop-down load area.
Unfortunately, the execution was pretty shoddy. The roof was perplexingly fiddly, the arches were a hefty 12kg each, and there was no storage for them in the car, so if it suddenly started raining, you got wet.
You'll be unsurprised to learn that no car maker has attempted to repeat the idea.
A boffin's crack at alternative transport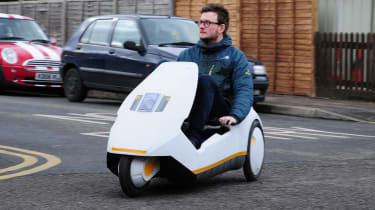 In the current landscape, where the desire for sustainable personal mobility is delivering ever more radical concepts like foldable microcars, the thinking behind the Sinclair C5 doesn't seem quite as out of tune as it did back in 1985.
Inventor Sir Clive Sinclair had acquired great fame thanks to the massive success of the ZX Spectrum home computer, so there was huge anticipation when he turned his attention to urban transport.
But the eagerly awaited C5 comprehensively failed to deliver. It was, in essence, a battery-powered tricycle that was steered by a handlebar under the user's knees, but it was also underpowered, delivering only 0.34bhp and being capable of a mere 15mph. It had a limited range, offered inadequate protection from the elements and left those brave enough to try it feeling rather exposed alongside full-sized vehicles.
Only 5,000 were sold and Sir Clive, rather sadly, became a very public figure of fun for a while.
An eighties car that talked back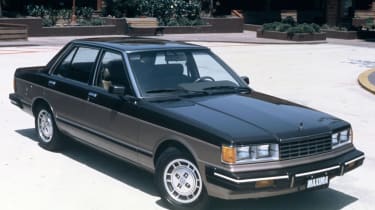 These days, talking to tech such as Google Nest, Siri and Alexa has become second nature. But turn the clock back 40 years or so to the early eighties, and Nissan's idea of a car that spoke to you seemed like something out of a sci-fi movie.
The model in question was the US-market Maxima saloon, and it introduced a voice warning system that relayed a range of messages advising of potential problems, such as doors remaining open and lights left on.
When compared with the intelligent assistants we are accustomed to now, the tech that delivered this seems basic; a phonograph and three-inch plastic record were used, featuring a handful of alerts.
One or two other makers followed Nissan's lead and launched 'talking cars', including most famously here in Britain, the Austin Maestro with its digital dashboard. However, the idea always felt like something of a gimmick and never properly captured the imagination of the public.
A motorcycle with a roof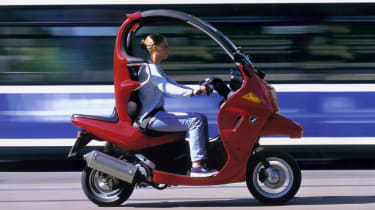 The rationale behind BMW's C1 of 2000 was simple. As the brand's heritage website explains, it tried to answer the question: "Why not combine the merits of a motorcycle with those of a car?"
Great in theory, but in reality, the C1 was a frustrating mishmash of ideas – a scooter with a roof (courtesy of an aluminium cell that was intended to afford additional crash protection), which required riders to wear a seatbelt, but not a helmet. A 125cc four-valve engine seemed powerful enough on paper, but the C1 was heavy, which meant performance was sluggish. A
lso on the weighty side was a price of around £4,000, which meant sales were slow. Arguably the biggest problem with the C1, though, was the fact that such an ungainly machine delivered next to no street cred. Innovative it may have been, but with desirability in short supply, the axe fell in 2004.
A car powered by nuclear reaction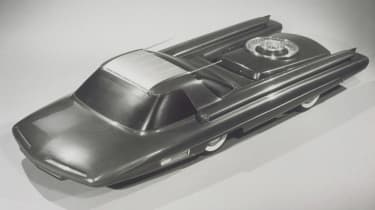 Spoiler alert: this didn't actually come to fruition. While the thought of a car featuring a nuclear reactor now seems thoroughly outlandish, in the fifties it was considered viable enough that Ford produced a scale model to showcase how one might look.
The idea behind the Nucleon was that a reactor, located at the rear of the car, would use uranium fission to heat a generator that would convert stored water into steam, driving a set of turbines. These would power the car and an electrical generator.
The benefits Ford envisaged were near-zero emissions and superb 'fuel efficiency', with uranium top-ups required only every 5,000 miles or so.
While it sounded an interesting concept, numerous concerns – including the size of the reactor, what to do with waste and the potential consequences of crashes – ensured that the Nucleon never progressed beyond being a talking point.
A car with switchable cabin and bodywork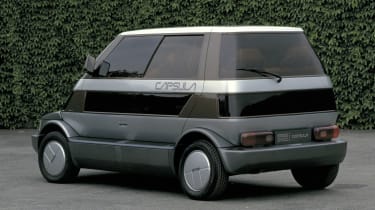 Confession time: we love the idea of the modular car, as showcased in 1982 by the Italdesign Capsula, a concept created by Giorgetto Giugiaro (designer of such classic machines as the DMC DeLorean and BMW M1).
The thinking behind it was simple: a modular chassis on to which different capsule cabins could be applied. So if you wanted to turn a passenger car into a van or ambulance, no problem. All you needed to do was remove one capsule and replace it with another (with some assistance, presumably).
The platform contained all the key elements, including a front-mounted Alfa Romeo engine, gearbox, suspension, fuel tank and more, with everything under the feet of the passengers sitting in whatever capsule was applied.
The problem was the potential price, so the Capsula never progressed beyond concept status. But as an example of ambitious innovation, it deserves some respect.
A car powered by gas turbines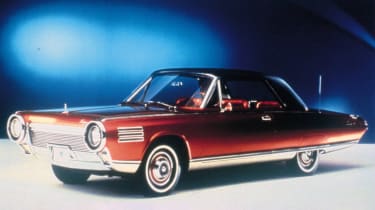 In the 1950s, a number of companies explored the potential of gas-turbine cars, but it was Chrysler that became most closely associated with the concept.
To manufacturers, turbine engines seemed an attractive option, due to the fact they had fewer moving parts than piston units and offered the ability to run on different fuels. Over the course of a decade, Chrysler developed a series of prototypes before the moment of truth arrived in 1962 with the launch of the Chrysler Turbine Car, which was largely an exercise in market research.
Fifty examples were made and distributed to potential customers who would provide feedback. Among the issues they encountered were poor acceleration, awful fuel economy, an irritating engine noise – similar to a jet – and deposits on
the turbine blades when leaded fuel was used.
This ensured that work on turbines went no further, and their fate was sealed – although Chrysler did maintain a research lab for some years.
A car with disappearing doors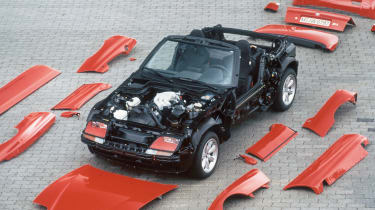 Some innovations that didn't catch on are now remembered rather fondly, and a good example are the 'disappearing' doors that featured on the BMW Z1 roadster produced between 1989 and 1991.
The diminutive two-seater, while very much of its era, still looks pretty cool, and its undoubted party piece was doors that slid vertically downwards into the sill at the press of a button, instead of opening in a conventional fashion.
This was made possible by a mechanism that included electric motors in both the window and the door, rods and a toothed rubber belt; returning them to their usual position was a simple case of tugging on the door pull.
The supposed benefit was easier access, but that was debatable given that you still had a fairly high sill to step over. Indeed, it was hard to shake the impression that the doors were rather pointless. The Z1, though, can be put down as a curio because it also featured removable plastic body panels.
An electric car pioneer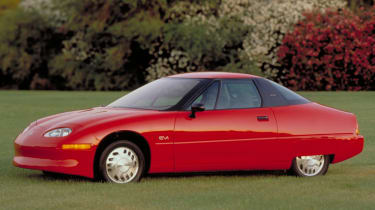 It may seem unduly harsh to consider the pioneering General Motors EV1, which was produced and leased in the US between 1996 and 1999, as a bona fide "failure". But you'd be hard pushed to call it a success.
It was created as a result of a mandate in California that required US car manufacturers to produce zero-emissions vehicles in order to continue to market their products in the Golden State. The 102kW two-seat EV1 was leased to customers in Los Angeles, Sacramento and San Francisco, along with Phoenix and Tucson in Arizona.
However, GM was unhappy at the cost of the project and when the California regulation was successfully challenged in court, there was an opportunity to pull the plug. File under "ahead of its time".
Suspension from an audio company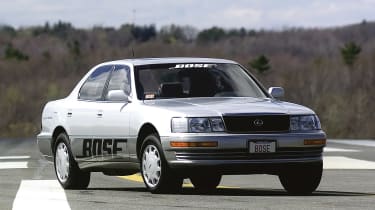 "Stick to audio" might have been the natural first reaction on hearing that Bose was working on hi-tech car suspension in the early eighties.
But the company's efforts were impressive, and if we are to write the suspension off as a flop, it has to be on a commercial basis, not a technical one.
The idea centred upon using electromagnetic drivers from loudspeakers in place of traditional shock absorbers to deliver a smooth ride at all times, while a car's body would stay level.
Cunningly – as videos online attest – there were even sensors fitted that could survey the road ahead, searching for potholes and imperfections, meaning the suspension would proactively adjust to ensure comfort was not compromised.
It was expensive and heavy, which ultimately ended the interest of the handful of manufacturers who'd considered using it. All was not lost, though, because some of the ideas employed in the Bose suspension were used in truck seating.
Click here for our list of the worst cars ever made…
Source: Read Full Article