FCA and PSA have almost finalised the terms of their merger – and the pair's combined business will be called Stellantis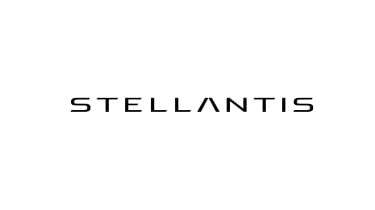 The company to be formed by the merger between Fiat Chrysler Automobiles (FCA) and Groupe PSA – owners of Peugeot, Citroen, Vauxhall and DS – will be called Stellantis, it has been confirmed. The name refers to the Latin word "stello," meaning "to brighten with stars."
The agreement will see the two firms enter an equal-ownership partnership, making the combined company the fourth largest car manufacturer in the world.
Stellantis will have an annual production volume of 8.7 million units, which places the firm behind only the Volkswagen Group, Toyota and the Renault–Nissan Alliance. The newly combined company will also become the world's third largest manufacturer by revenue, with an annual turnover of €170 billion (£144.3 billion).
• Renault-Nissan Alliance launches cost-saving initiative
The two manufacturers recently released a joint statement, which offered further details on the agreement. It looks like an advantageous move for both parties – PSA will gain access to American markets and FCA may be able to make use of PSA's newer (and electrified) vehicle platforms. Further opportunities, such as autonomous and connected vehicle projects, may also be in the pipeline.
Ownership of the merged company will be split 50/50 between PSA and FCA shareholders. The former brand's investors will be allocated a €5.5 billion (£4.7bn) dividend, while the latter firm's shareholders will receive a reported €3 billion (£2.6bn).
Based on 2018 figures, Stellantis estimates that its revenues will be split 46 per cent from Europe and 43 per cent from North America. The news also confirmed that current FCA Chairman John Elkann would chair the new Group, while the role of PSA CEO Carlos Tavares will expand to cover both FCA and PSA.
PSA: moving towards the American market
As it stands, the merger could put PSA's proposed plans to enter the North American market on hold, according to Tavares, given FCA's strong presence there already. "We see the strength of FCA in North America is outstanding, and we have 12 months ahead [while the merger process concludes] to think about it."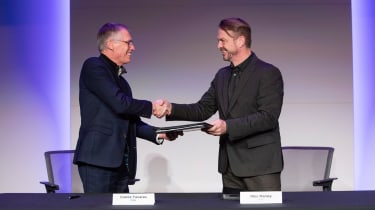 However, should the US introduce any regulatory changes related to CO2 emissions, PSA would be primed to introduce its low-emission vehicles there. Tavares added, "All the electrification know-how we have developed for the European market would be a very significant asset to bring to the US market for the appropriate level of improvement."
We'll have to wait for the first fruits of the merger, but potentially no longer than a couple of years. Mike Manley, FCA CEO, noted the quick development time of the new Opel/Vauxhall Corsa after the brands were acquired by PSA, saying that "it shows you that, with the speed and the focus, you can actually converge on platforms very quickly."
Profit, mergers and global partnership trends
FCA had net revenues of €115.4 billion (£99.66bn) on sales of 4.84 million vehicles across brands including Fiat and Jeep in 2018, on which profits of €5bn (£4.3bn) were generated – an increase of 34 percent over the previous year. Groupe PSA, meanwhile, sold 3.88 million vehicles in 2018, generating €74 billion (£63bn) in revenue and €3.295 billion (£2.844bn) in consolidated net income – which was up 40.4 percent on 2017.
Car companies are increasingly seeking business synergies and mergers as markets become ever-more competitive and crowded – and regulations continue to make the future of automobile production uncertain. In April 2019, news broke that FCA would link up with Tesla to share its "pool" of CO2 emissions in order to comply with EU regulations. Ford, meanwhile, will use Volkswagen's MEB platform to build electric cars from 2023.
Mike Manley, former FCA CEO whose role in the new group is as-yet unspecified said: "I'm delighted by the opportunity to work with Carlos and his team on this potentially industry-changing combination. We have a long history of successful cooperation with Groupe PSA and I am convinced that together with our great people we can create a world class global mobility company."
Carlos Tavares, the CEO of the newly formed Stellantis Group, said: "This is going to be exciting, this is going to be a once in a lifetime opportunity and I'm really looking forward to supporting the creation of this merged company."
Do you think a Fiat Chrysler and Peugeot Citroen merger is a good idea? Let us know your thoughts below…
Source: Read Full Article