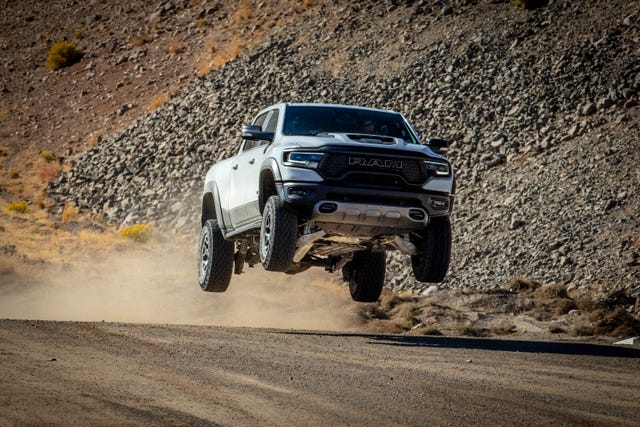 There I was, maybe a half mile up in the air, maybe more, maybe I was in orbit, circling the Earth's diurnal passage far below me, ground control to Major Vaughn… or maybe I was only five feet off the deck. Either way, I was up there, man. Whatever the actual height, having done my due diligence by watching YouTube videos of guys jumping Ford Raptors, I knew there was significant danger of destroying this magnificent truck. No, I was not in a Raptor, I was in the new Ram TRX, which may be able to handle this action better.
"We designed this vehicle to straight-up outrun and outlast the competition," said Ram TRX chief engineer Jeff Roselli. "The frame is 74% new, it started as a Ram frame, then we upgraded it with special materials."
Those special materials included a lot of hardened steel, particularly around the front shock towers, where all those YouTubers were destroying their Raptors. On the Ram TRX shock towers they used "the thickest steel we could stamp," Roselli said.
"There are reinforcements all through the frame," he said. "It's all about making this chassis able to rip across the desert."
Or fly over it, in my case.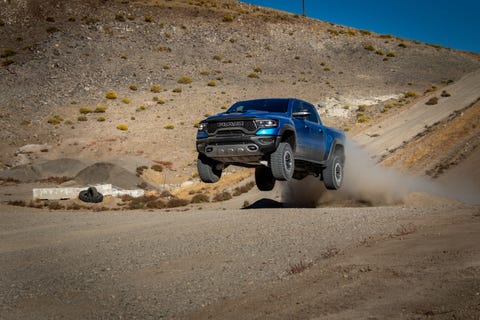 The geometry of the TRX suspension is the same as that of the 1500, with independent double A-arms in front and a five-link rear. But the TRX gets a six-inch-wider track, stronger forged control arms that are three inches wider; lengthened steel control arms at the rear, and 14 inches of wheel travel in back with 13 for the front; all packaged hard against the carryover inner wall of the bed box.
"We had to package this large coil in that," Roselli said, pointing to the space inboard of the wheel. "These are the largest, tallest production coil springs in the world. We had to scour the Earth to find a supplier who could make this."
And the Earth came through.
Under the hood is the mighty and fearsome 6.2-liter supercharged Hellcat V8 making 702 hp and 650 lb ft of torque. Surely, this is the greatest truck ever built, right?
Let's have a look around.
The current Ford Raptor, the most obvious Ram TRX competitor, came out in 2017 with all the aluminum of its F-150 progenitor, saving 500 pounds of curb weight right off the bat over the first-gen model. Raptor rides on three-inch-diameter Fox shocks that allow 13-inch front and 13.9-inch rear suspension travel. Off-road-race-ready BFGoodrich KO2 tires can handle anything they run over, while an approach angle of 30 degrees, breakover angle of 22 degrees and a 23-degree departure angle mean it's fully rock-crawl-ready. Pricing is a lot better in the Raptor, too, starting at $53,455 according to the Ford consumer website. The TRX will start at $71,690 and go up into the 90s as you load it up.
There's also a sporty option package for the Ford Super Duty pickup called the Tremor, which offers "…more ground clearance, bigger shocks, bigger tires and more off-road capability," according to Ford truck group marketing manager Todd Eckert.
And don't forget that Ford is planning a 2022 electric version of its F-150, too, though details are a little scant on that at the moment.
Then there's the GMC Hummer EV, details of which were just released Monday. It's all-electric, with a range of 350 miles and a torque output of 11,500 lb ft, after you go through all those reduction gears. Real torque is closer to 1000 lb ft. You can raise or lower the suspension as much as eight inches, and each wheel twists up to 10 degrees so it can "crab walk." Problem is it starts at $112,595 for the Edition 1 and that won't be out till the end of next year.
Another promising e-Truck is the Rivian, from a truck maker backed by seemingly every other car company in the world, including a half-billion-dollar investment from Ford. Output of the Rivian will be 750 hp and 829 lb ft of torque. Rivian says it will begin production of its R1T pickup in June 2021, with a starting price of maybe around $70,500. Range will range from 230 to more than 400 miles, depending on how big a battery you want to put in it.
And don't forget the stainless steel, bulletproof Tesla Cybertruck, which I have seen with my own still-burning eyeballs. As near as we can tell from reading the tea leaves of Elon Musk, the Cybertruck will come with battery options that give it a range of from 250 to over 500 miles. Starting price will be $39,900. But he said something similar about the entry level Model 3, remember.
There are other supertrucks promised, from makers like Nikola, Lordstown, and Bollinger, and we wish them all the luck in the world.
Many of the aforementioned pickups are, if not vaporware, then at least future-ware, so really your choices in monster pickup truck world domination come down to Raptor and Ram TRX. I was considering all this as I sailed through the air at well under 100 mph. Considering that and whether I would break my neck (again!) on the landing.
But no! Wha-whoomp, the TRX not only landed smoothly, but kept going. I did several more jumps as ridiculous as that one and the truck showed no signs of wear. In fact, I drove it over 130 miles in California and Nevada and nothing broke. I took it on the death-defying drops and wild whoops of the Wild West Motorsports Park just east of Sparks, Nevada, over twisty paved mountain roads leading to Virginia City, and on the plodding Interstate of I80, and the Ram TRX had a drive mode for each one of those situations, from "Baja" to "Sport," to "Comfort." As they say, if you could only buy one car, truck or SUV, which one would it be? It might be the Ram TRX, and man would you ever have fun.
Specifications
2021 Ram TRX
2021 Ram TRX
On Sale
Imminently
Base Price
$71,690
Powertrain
Turbocharged 6.2-liter V8, eight-speed automatic transmission, 4WD
Output (shift + enter)702 hp at 6100 rpm, 650 lb-ft of torque at 4800 rpm
Wheelbase
145.1 inches
Length/Width/Height
232.9/88/80.9 inches
Curb Weight
6,350 lbs
Fuel Economy (City/Highway/Combined)
10/14/12 mpg
Pros
Most capable truck ever, does everything and does it well.
Cons
Costs more than Raptor.
What do you think of the TRX? Say it in the comments section.
Source: Read Full Article