Lamborghini CEO Stephan Winkleman and CTO Rouven Mohr have provided some tantalising details for its next entry-level supercar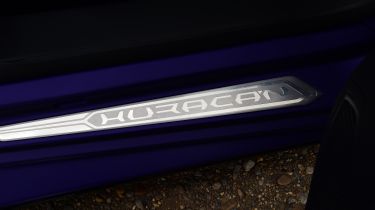 Lamborghini's plug-in hybrid Huracan replacement is about two years away and will be closely related to the next-generation Aventador, CEO Stephan Winkleman has said. 
Speaking to Auto Express as Lamborghini prepared to release its latest financial results, Winkleman said the car will arrive in late 2024. With Audi not producing a next-generation R8 for a Lamborghini cousin to take a platform from, this new supercar will have much closer links to Lambo's incoming hybrid flagship than the current Huracan does to the now-discontinued Aventador.
Lamborghini Aventador successor to arrive with hybrid V12 offering "more revs, more sound"
Winkleman spoke of using "common parts as much as we can together with the [next-gen] Aventador… the platform is a Lamborghini platform," describing the next Huracan as "a car which is benefitting from the bigger brother". When asked if this set-up could involve the 5.2-litre V10 found in the current Huracan and the R8, he instead confirmed that the plug-in powertrain will feature a new unit. 
Previously, Rouven Mohr told Auto Express that the new Huracan will be a plug-in hybrid featuring an engine of "more than six and less than 12 cylinders". Judging by our more recent discussion with the R&D boss at the launch of the Urus Performante, we're confident it'll be a V10. "It's not a range-oriented hybrid and there will be no kind of downsizing," he said, adding that it's against Lamborghini's philosophy to reduce the engine size and then "compensate" with electrification as some rivals have done.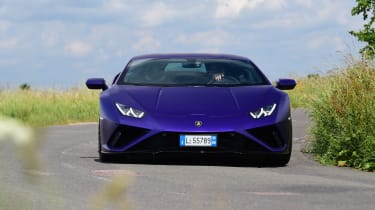 Instead, the electrical components will boost overall performance and will also prove useful for providing additional low-down torque, something which naturally-aspirated engines lack in comparison to turbocharged units. 
The electrification of Lamborghini
Lamborghini is spending 1.8 billion Euros on its four-year electrification strategy, which as well as the aforementioned hybrid Aventador and Huracan replacements will also involve a plug-in hybrid Urus SUV. By 2028, the company's first-ever production EV will arrive as a "fourth model" in the line-up. 
The company has a robust financial situation in 2022 to use as a foundation for this investment. An operating profit of 570 million Euros from January to September represents a whopping 68.5 per cent increase on the same period in 2021, driven by various factors including better sales volumes and more revenue per car, the latter aided by customisations. This "is creating an added value because more and more people want to have individualised cars," Winkleman said. 
The Huracan was particularly helpful for Lamborghini in achieving these results, especially with the arrival of new and very profitable derivatives like the STO. Although it was still dwarfed in popularity by the Urus, which is responsible for nearly two-thirds of the company's 7,430 cars sold so far this year, demand for the Huracan grew more than for any other model in that period.
Read our full review of the Lamborghini Huracan here…
Source: Read Full Article