Motorsport mourns legendary rally driver, who shot to fame after taking Mini to Monte Carlo Rally glory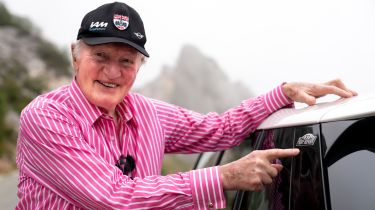 The world of motorsport has lost one of its most legendary figures with the death of Paddy Hopkirk MBE, who matched many a Grand Prix driver for fame in the sixties after a spectacular victory on the Monte Carlo Rally.
Born in Belfast in 1933, Hopkirk first took to the wheel in an invalid carriage at the age of nine, but by his twenties he was showing prodigious speed in Northern Irish hillclimbs and the most famous rally in the country, the gruelling Circuit of Ireland.
MINI Paddy Hopkirk Edition: Meeting the 1964 Monte Carlo Rally winner
Hopkirk joined the Rootes Group to drive a Hillman Husky in 1959, and he took a couple more Circuit of Ireland wins for the company – as well as a class win in a circuit race supporting the British GP. But frustrations with his cars' reliability led him to join the BMC operation in 1962, kick-starting a remarkable run of form in the diminutive Mini Cooper. He finished third on the 1962 Monte Carlo Rally, then returned a year later to claim a famous success with Henry Liddon as navigator.
The number-37 Mini Cooper S became a national sensation, and Hopkirk received telegrams of congratulation from the Prime Minister and the Beatles. He even appeared with the car, on stage, on the popular Sunday Night at the London Palladium TV programme. His sharp wit and effervescent personality made him great on camera, and a true household name – the only rally driver, really, to rival the likes of Stirling Moss and Jackie Stewart in this area.
Further successes at home and abroad followed, with Hopkirk showing terrific versatility behind the wheel; he secured a top-six finish on the famous Bathurst touring-car race in Australia, for example, as well as the runner-up spot on the marathon London-to-Sydney rally.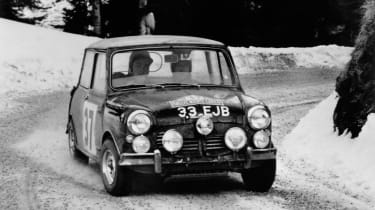 Once his professional driving career ended, Hopkirk moved into several automotive businesses, where his verve and enthusiasm proved equally successful. He subsequently took on an ambassadorial role with the BMW Group's reborn MINI brand, and expanded his work with the British Racing Drivers' Club.
Auto Express made Hopkirk an honorary member of our Hall of Fame at our recent annual awards ceremony, celebrating his successes on the rally stages of the world, as well as his wider influence on motoring.
Hopkirk is survived by his wife Jenny, their three children Katie, Patrick and William, and their six grandchildren. To them all, and Paddy's huge circle of friends, Auto Express extends its deepest condolences.
Click here to read our interview with Paddy Hopkirk…
Source: Read Full Article