BMW is to prioritise sales to retail and corporate customers as supply chain issues continue to be felt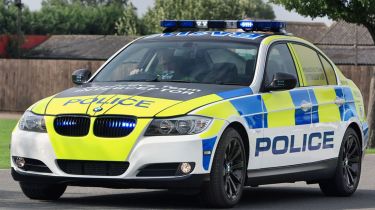 BMW has confirmed that it will no longer be supplying police cars to forces in the UK. The company confirmed to Auto Express that its Park Lane dealership in Mayfair will be restructured, including the International & Specialist Sales Division based there that has historically been responsible for handling specialist vehicle sales.
The change has been made amid ongoing supply chain issues for the automotive industry, including the global shortage of semiconductors. BMW is prioritising sales to retail and corporate customers as a result of this, although Auto Express understands this announcement applies only to the UK.
BMW police car engine problem does not affect consumers
The full statement issued by BMW UK reads: "With high demand for our cars continuing to outstrip supply, we will be prioritising sales to our retail and corporate customers in the future and moving away from some areas of our authorities and specialist business.
"BMW Park Lane has historically been responsible for specialist vehicle sales and so now is being restructured. It is proposed that some responsibilities will move into the BMW UK National Sales Company in Farnborough. BMW Park Lane is now entering into a consultation period with a small number of impacted staff."
The news comes one year after police forces around the UK were instructed not to use BMW patrol cars fitted with the brand's N57 engine in any high-speed pursuits due to safety concerns.
Neither BMW nor the police would specify what the issue was, but BMW was adamant that it didn't affect civilian cars and was only due to the "particular way in which the police operate these high-performance vehicles".
Read more about the issues with BMW's N57 engine…
Source: Read Full Article