The classic Volvo P1800 Cyan finally gets the performance its looks deserve, but can it justify its hypercar price tag?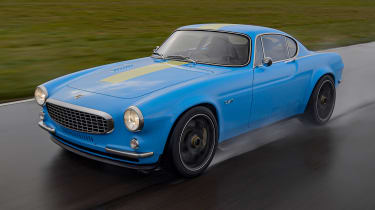 4.0 out of 5
Verdict
The reborn Volvo P1800 Cyan manages to right one of automotive history's great wrongs by giving the stunning Swede the performance its looks have always demanded. Now both on road and track it has the pace to match, not only the contemporary Jaguar E-types, but more exotic cars like the Ferrari 250 GTO. Better still it's an absolute riot to drive but it's hard to ignore that at £375,000 the ultra-cool Scando retromod is hideously expensive. However, for those lucky buyers who nab one, every single drive will feel like an occasion to savour.
This year marks the 60th anniversary of the iconic P1800, the famous Volvo coupe that was the synonymous support act for the suave, sophisticated Roger Moore in the Sixties TV Series The Saint. Now, to help chime in its sixth decade, Volvo's former motorsport partner, Cyan Racing, has given it a thorough makeover.
To the untrained eye, aside from its Cyan Blue and yellow war paint, modern wheels and lower ride height, the celebratory Swedish coupe externally looks identical to the original Saint car – but nothing could be further from the truth.
Best supercars 2020

Just two parts carry over from the classic P1800, the bonnet opening mechanism and the handbrake. Everything else is all new, from its full carbon-fibre body, race car suspension to its engine and transmission, nothing is shared with the original.

That, perhaps, explains why when deliveries begin in 2021 the Volvo P1800 Cyan will cost a fortune. Commission the three-time WTCC world championship-winning team to build one and prepare to part with an eye-watering £375,000 – and that's before you've stumped up the cash for a donor Volvo P1800.

Luckily, the Gothenburg-based outfit says any old P1800 will do, challenging its customers to find the cheapest, rustiest car out there. It doesn't matter how rotten, at its state-of-the-art HQ it can fabricate and create an entire whole car all from scratch, if it wanted, but to register it would require crash testing and passing strict emissions – something its race car-derived engine, even with catalysers, is unlikely to do.

That's right, perhaps the most astonishing ingredient of the reborn Volvo coupe is lurking beneath its carbon-fibre bonnet – a turbocharged four-cylinder engine lifted from a real WTCC championship-winning Volvo S60 T1 touring car.

More amazingly, in its new home the 2.0-litre turbo produces even more power than the race car, churning out an incredible 413bhp and a muscular 450Nm of torque – an enormous increase on the classic's paltry 105hp and 140Nm.

Better still, to the purists' delight, the rear-drive Volvo's new engine is combined with a race-bred, five-speed manual transmission and a proper mechanical limited-slip diff.

To cope with the huge bump in power and torque, beneath the P1800 Cyan the changes are equally as dramatic. The chassis has been strengthened using high tensile steel and carbon-fibre boosting rigidity while the full carbon-fibre body itself is bonded to the chassis using modern techniques employed on the most recent McLaren road cars.

Finally, all of the old car's primitive suspension and brakes have been junked for items lifted straight from motorsport.

If that's not a thorough enough job, engineers even shifted the pair of front wheels further ahead in the chassis for a near-perfect 50:50 weight distribution.

Incredibly, thanks to its motorsport expertise, engineers have managed to keep the weight of the Volvo coupe down to just 990kg – that's lighter than many tiny city cars. Officially, there's no performance claims, but Cyan expects a 0-62mph time of comfortably less than five seconds and a top speed of over 170mph, making it faster than rivals, like the Ferrari 250 GTO, that were once out of the Volvo P1800's league.

Once production has begun, Cyan Racing says it will build just 10 P1800 Cyans a year, with each car taking around 12-18 months to build during the downtime when the Swedish team isn't preparing touring cars for Lynk & Co.

Ask anyone who's driven a real race car and they'll tell you they're not easy to drive on track and near impossible on road, so it's a pleasant surprise that Cyan says instead of ultimate track times the P1800 Cyan has been created for pure fun.

Sitting on 18-inch alloy wheels that shroud huge brakes, the team resisted aggressive tyres for a regular Pirelli P-Zero that offer plenty of grip both on track and on sodden roads.

Once you're settled in the bucket seats, complete with racy four-point harnesses, it's easy to find the perfect driving position and marvel at how light and airy the cabin is.

Fire up the thoroughbred touring car engine and it instantly settles to a smooth idle. At odds with its track-focus, the light clutch and smooth gear change make for an easy drive at low speed, fulfilling the race team's brief of making the P1800 Cyan a car you could use every day.

If you pack a set of earplugs that is; flatten the throttle and the turbo four-cylinder erupts into a soundtrack diehard WRC fans will relate to.

Despite being turbocharged, engineers wanted the 2.0-litre to provide the excitement of a larger naturally-aspirated engine, hence why it thrives on revs, spinning all the way up to 8,000rpm.

Up for the challenge is the five-speed manual that's slick, quick and happily keeps the rev-hungry motor on the boil. We switch from road to track to really exploit the performance on offer and the P1800 Cyan is no less impressive.

In damp conditions that would be terrifying in a modern supercar, the little Volvo is precise, involving, and most of all fun. If you're brave, it happily indulges in large slides.

With large standing puddles, the only thing we're missing is ABS, with the occasional brake lock-up highlighting our lack of skill, other than that we wouldn't change a thing.

In fact, overall, it's important to note that the P1800 Cyan might not be quite as quick as similarly-priced modern rivals, like the track-bred McLaren 765LT, but on road and track the Volvo coupe is a hell of a lot more involving at sensible speeds, while on road you can have a ball without ever risking a losing your license.

It even has just enough of a supple ride to make you want to use it all the time. Better still, it's modern mechanicals and unburstable race engine seems to lap up the on-track abuse. While in a Ferrari V12 you'll be fearing a £60,000 engine rebuild in the Volvo you'll buzz the 8,000rpm rev limiter for the sheer sake of it.

It's only its towering price tag that brings us back to our senses, with the thought of a nasty clash with the scenery in the drop-dead gorgeous P1800 Cyan unbearable and potentially financially ruinous for yours truly.

Speaking of accidents, despite the lack of airbags, the P1800 Cyan should offer its wealthy owners plenty of protection should the worst happen, as every version has been built to stringent FIA regulations for classic car racing. It explains why beneath the skin there's a strong passenger safety cell and every car will come with a robust titanium roll-cage and the boot now houses a modern safety cell fuel system.

Thanks to FIA certification, it means if you buy a P1800 Cyan you can technically race it in classic car series around the world where, on track, for the first time in 60 years it will monster competition that costs eight times that of the Volvo.

Better still, in a world of ugly speed-obsessed supercars, the little Volvo P1800 Cyan is breathtakingly beautiful and finally a joy to drive at any speed.

| | |
| --- | --- |
| Model: | Volvo P1800 Cyan |
| Price: | £375,000 + donor car |
| Engine: | 2.0-litre 4cyl turbo petrol |
| Transmission: | Five-speed manual, rear-wheel drive |
| Power/torque: | 413bhp/450Nm |
| 0-62mph: | 5.0 seconds (est) |
| Top speed: | 170+mph (est) |
| Economy/CO2: | N/A |
| On sale: | Now |

Source: Read Full Article