Goodbye Aygo, hello Aygo X – Toyota's new city car gets a crossover-style makeover with an extended wheelbase and a raised driving position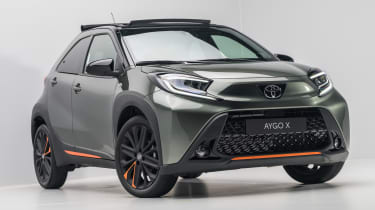 Rising costs and tightening rules on emissions have forced many manufacturers to abandon their smallest models – but Toyota still believes there's a future in the city car, and it is aiming to capitalise on the thinning out of prospective rivals with a new generation of Aygo, called Aygo X.
Pronounced 'Aygo Cross' by Toyota, the new car's name is designed to reflect a dramatic rethink on its body style. This is the first Aygo that hasn't been a joint venture with Peugeot and Citroen (the two French brands are abandoning their 108 and C1 respectively), and Toyota has used this freedom to switch the car to a condensed version of its TNGA-B platform, the same architecture that supports the Yaris and Yaris Cross.
Best city cars to buy 2021
This move has also allowed the Japanese brand to make the car wider, extend its wheelbase and shift its body upwards to create what is possibly the first true 'city car crossover', with a raised driving position to match the usual SUV-esque styling cues, like thick plastic wheelarch cladding. The ratio of wheel size to body height also contributes to the stance; 17-inch items will be standard on more basic versions, with 18-inch alloys fitted to higher-end editions.
The Aygo X's overall profile does stick closely to that of the Prologue concept that was released earlier this year. The car is 3,700mm long, 235mm longer than the outgoing model and just over a centimetre longer than the current Kia Picanto, one of the Toyota's likely rivals. The wheelbase is up by 90mm, and the overall width increases by 125mm, along up to 45mm more shoulder room for the front-seat occupants.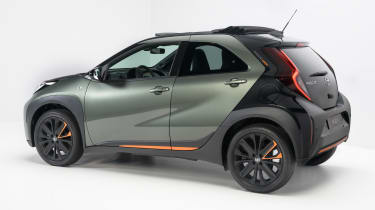 The roofline sits 50mm taller than the old Aygo's, and the seating position has been lifted by 55mm; Toyota claims that this, plus more sharply angled A-pillars, will give the driver improved visibility in urban driving.
Some of that increase in length has clearly been used to improve one of the old Aygo's weakest areas: boot space. The new car's capacity is 231 litres, a full 60 litres up on the outgoing generation and almost 50 litres clear of the load bay on offer in a Fiat 500. The Toyota's seats can be folded down to free up an outright capacity of 829 litres.
The Aygo is sticking with conventional petrol power, as Toyota aims to keep the price point lower than those of small EVs while catering for city dwellers who don't have access to charging points. The engine concerned is a further development of Toyota's 1KR-FE 1.0-litre three-cylinder unit, producing 71bhp at 6,000rpm and 93Nm of torque at 4,400rpm. It'll be offered with a choice of transmission. A six-speed manual gearbox will be standard, but the availability of a CVT automatic will also give the Aygo X extra city appeal.
With the manual gearbox, 0-62mph takes 15.6 seconds and the Aygo X returns 60.1mpg and 107g/km of CO2 emissions. The CVT edition is actually a tenth of a second faster to 62mph, but a little less efficient, at 57.6mpg and 110g/km.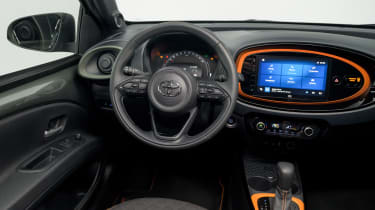 Toyota bosses claim that the new powertrain is competitive with mild-hybrid rivals, and say there are no current plans to introduce an electrified version of the Aygo X. Andrea Carlucci, the company's European vice-president of sales and marketing, told us, "We don't exclude that in the future that some solution could come along, but we don't believe we need it, for the time being. We shouldn't forget that this segment is critical for us, and it remains the access point to the brand. Historically Aygo is an affordable car and it must continue to be that."
However, Stijn Peeters, project leader for the Aygo X, admitted that the Yaris's hybrid tech could, in theory, be fitted to the car. "It's definitely an interesting option to study," he said. "It's a TNGA platform, so it could fit. But conceptually you'd have to rethink the whole car, finding places to store the battery, for example, without giving up luggage space. It would also increase weight and cost, so it would make it a completely different car."
At the other end of the spectrum, Carlucci admitted that the car "may deserve" a more focused performance edition, perhaps forming part of the GR Sport family. "Looking at the chassis, body rigidity, maybe there is the potential in making a more sporty version," he told us. "It's not in our plans, but never say never."
Toyota referenced 'spice' when revealing the Prologue concept, and that theme is being extended to the names of the production car's colour treatments. Cardamom brings green, Chilli is a deep metallic red with blue metallic flakes, Ginger introduces beige and Juniper is a new shade of blue with red undertones. All of these hues contrast with the bi-tone black treatment on the roof and rear panels.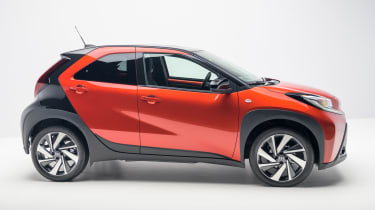 The car will be launched with a limited-edition version, based on the Cardamom theme and featuring matte-orange accents on the exterior and in the cabin, including on the seat fabric, as well as matte-black 18-inch alloy wheels. It'll be available during the first six months of the car's life.
On all Aygo X versions, the fascia is dominated by the unusual mix of a body-coloured oval motif in the centre of the dash, housing a conventional rectangular display of between seven and nine inches, depending on the trim level. The infotainment system includes wired Android and Apple smartphone connectivity on basic models, and offers wireless hook-ups on higher-end editions. The cabin ambience can be lifted with an optional canvas roof, which slides back electrically at all speeds to give occupants more light and fresh air.
Other big-car features include Toyota's Safety Sense, which is standard on all versions. It combines a camera sensor with radar and its features include a pre-collision system, day-and-night pedestrian detection, daytime cyclist detection, adaptive cruise control and emergency steering assist.
The new Aygo X is designed for the European market exclusively. Toyota has taken full control of the Czech factory where the old model was manufactured alongside the 108 and C1, and it will make the Aygo X there, as well as the recently introduced Yaris Cross.
Toyota says the car should be on sale across all European regions by the end of spring 2022. There's no definitive word on pricing yet, but Carlucci said to expect "a typical increase due to rich equipment list and technology". Assuming a £500 hike over the current entry point, that would give the Aygo X a starting figure of around £14,500.
Now click here to read our review of Toyota's other new SUV – the Yaris Cross…
Source: Read Full Article