The all-new luxury Rolls-Royce Ghost saloon brings new levels of refinement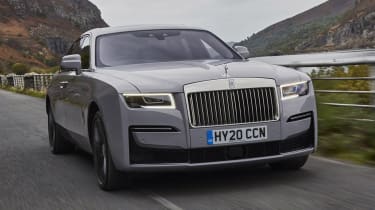 4.5 out of 5
Verdict
The new Ghost is a masterclass when it comes to luxury and refinement. The attention to detail and depth of engineering are staggering, as is the price, even before you start adding on options. Rolls-Royce has a monopoly on this section of the market, so in reality, it can charge whatever it likes. But it certainly doesn't put customers off; the factory at Goodwood has never been busier.
This is the Rolls-Royce for those who want something a little less 'ostentatious' than a Phantom. That's according to the company that makes it; to you or me, the all-new Ghost is still a five-metre long, 2.5-tonne, £249,600 chunk of pure, undiluted luxury.
Rolls-Royce says that the new Ghost is the most technologically advanced car it has ever produced. There are only two parts carried over from the outgoing version: the Spirit of Ecstasy that sits proud on the bonnet, and the umbrellas hidden within the doors.
Best luxury cars 2020

The new Ghost is based on Rolls-Royce's latest aluminium chassis that it refers to as the 'architecture of luxury'; it's new to the Ghost, but can also be found beneath the Cullinan SUV and flagship Phantom.

More reviews for Ghost

In-depth reviews

Road tests

Rolls-Royce Ghost Series II 2014 review
Rolls-Royce Ghost 2013
Rolls-Royce Ghost

Despite the Ghost being the 'most advanced' model Rolls-Royce has ever made, its motive power remains delightfully old-fashioned without a hint of electrical assistance: a 6.75-litre V12 twin-turbo that develops 563bhp and 850Nm of torque.

The Ghost's development process was long (around six years), with thousands of engineering hours spent on developing technology that is designed to go unnoticed by customers – the idea that the whole experience should look and feel effortless.

For some context, here are a few of the Ghost's engineering 'solutions': there's 100kg of sound insulation throughout the car to improve refinement, the internals of the air vents have been sand-blasted to reduce the amount of wind noise the system makes while operating, and channels of different lengths run from the cabin to the boot to remove low-frequency noise when travelling at speed. It's attention to detail that you simply won't find anywhere else.

Rolls-Royce says the Ghost is the 'driver's car' in its model line-up, but from the moment you climb in, it's immediately apparent that this isn't a car you're going to drive like a hot hatch. For starters, there are no driving modes, no paddles behind the steering wheel to operate the gearbox and no buttons that allow you to fiddle around with the Ghost's suspension or powertrain set-up.

The V12 fires up and settles to a distant hum somewhere under the elongated bonnet. At low to medium speeds, it's barely audible, the eight-speed auto slices through the gears without detection, and the insulation and refinement are so good the Ghost is relaxing at town speeds.

Despite the vast reserves of power available, the Ghost isn't a car that is driven in a spirited manner. Every input is made with delicacy; the setting is trademark Rolls-Royce-light, which makes it an incredibly graceful car to waft along in, but there's no feel coming through the rim. It can make negotiating country roads unnerving, especially given that the car is more than two metres wide.

Given the size and mass of the Ghost, it's not surprising that there's some roll and lean through corners – even more reason to be ever-so gentle with inputs. But call upon the power available to you and the Ghost really moves. There's no frantic changing of gear or spike in revs, because the Ghost does fast on its own terms; all 850Nm of torque is available from just 1,600rpm, so as you press the throttle there's a deep-chested hum from the engine and a graceful shove in the back as speed is quickly piled on.

Ride quality and comfort are perhaps the Ghost's strongest qualities. The suspension comprises double wishbones at the front, a multi-link set-up at the rear and air suspension with adaptive dampers all round – nothing unusual there. What takes it to the next level is Rolls-Royce's Planar Suspension System, which features an additional mass damper fitted to the upper wishbones of the front suspension. In layman's terms, it's a damper for a damper, designed to further soften lumps and bumps you might feel from the road.

Add to that the Flagbearer system, which uses cameras in the windscreen to scan the road ahead and set up the suspension to best cope with imminent bumps, and the result is quite remarkable. The Ghost effortlessly glides along the road; it is difficult to think of a more relaxing and cosseting car to cover ground in.

A Bentley Flying Spur is a more engaging car to drive, but simply doesn't compete when it comes to effortless comfort and refinement. Then again, a Flying Spur is almost £100,000 cheaper, so they're hardly direct rivals to begin with.

As you'd expect of a £250,000 car, the fit and finish is pretty flawless, and Rolls has 'decluttered' the cabin by removing some buttons and cleaning up the centre console. The interior can be trimmed in any type of wood, leather or animal skin customers ask for; the combinations are almost endless.

You'll also find a list of optional extras that wouldn't look out of place in a boutique hotel, such as lambswool floor mats, a central cool chamber (a fridge to you and me), a rear-seat theatre configuration, picnic tables and a comfort entry system. There are no prices for individual options, though. Firstly because that would be uncouth, and secondly Rolls says its customers don't need to know; if they want it, they'll have it. As an example, our test car was specced up to an eye-widening £351,480.

| | |
| --- | --- |
| Model: | Rolls-Royce Ghost |
| Price: | £249,600 |
| Engine: | 6.75-litre V12 twin-turbo |
| Power/torque: | 563bhp/850Nm |
| Transmission: | Eight-speed automatic, four-wheel drive |
| 0-62mph: | 4.8 seconds |
| Top speed: | 155mph |
| Economy: | 18.8mpg |
| CO2: | 343g/km |
| On sale: | Now |

Source: Read Full Article