The GLC PHEV offers class-leading efficiency and in-car tech, but it comes at a significant cost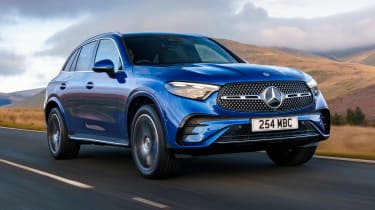 3.5 out of 5
Buy used for less at Buyacar
Verdict
The mid-size premium SUV segment is more competitive than ever. The new Mercedes GLC – in plug-in hybrid form, at least – boasts class-leading range and efficiency, and some of the very best in-car technology anywhere on the market. But it's let down by a mediocre driving experience and high price. Like before, we reckon the cheaper diesels might be the sweet spot.
A good all-rounder isn't particularly hard to come by these days. There are loads of cars that serve their intended purpose, confidently going about their business, while unobstructedly making the lives of their owners easier and less problematic.
The previous-generation Mercedes GLC was one of those cars. Quiet, comfortable, even pretty efficient, it was inoffensive to look at and felt built to a high standard. It came with the required level of interior tech for the time, and the boot was a good size, too.
Top 10 best plug-in hybrids to buy 2022 / 2023

But now there's a new one. Not that you'd know it; the 2023 model looks – to the untrained eye – much the same as the old one. It adopts a slightly cleaner front end, and a rear more in-keeping with the larger GLE. It's blink-and-you'll-miss-it type stuff.

Admittedly, it's a different story inside. This new GLC gets Merc's latest MBUX infotainment system with an 11.9-inch portrait-oriented touchscreen display and a 12.3-inch digital instrument cluster. It feels fresh and modern, and on the whole, it's responsive and intuitive to use.

More reviews

In-depth reviews

Mercedes GLC review
Mercedes GLC Coupe review

Road tests

New Mercedes GLC 300 de 2022 review
New Mercedes GLC 2022 review
New Mercedes GLC 300 e 2020 review
New Mercedes GLC 300 Coupe 2020 review

Used car tests

Yet it's not all rainbows and daisies. The row of shortcut buttons below the main screen is well positioned, and it offers quick and easy access to key functions including the volume control and drive-mode switch. But if you push one of the buttons, you'll notice the entire panel moves with it. It feels cheap, and in a car costing north of £50,000, that simply shouldn't be.

Happily, most of the other materials, plus the general fit and finish of the cabin, is both luxurious and robust. We don't love the swathes of faux carbon fibre trim, but the seats are supportive and the Artico man-made leather is as good as any real cow hide we've ever sat on.

Our first drive on UK soil was of the fleet-friendly GLC 300 e plug-in hybrid in range-topping AMG Line Premium Plus trim, promising up to 80 miles of electric running from its huge 31kWh battery. Our car showed 57 miles on a 97 per cent state of charge, but dropped fairly consistently despite cycling through the various settings while driving.

The official figures suggest the 300 e is capable of 565mpg, though you'll need to run almost solely on electricity to achieve anywhere close to that. Regardless, its sizeable battery range, plus CO2 emissions of just 12g/km, put it in the five per cent Benefit-in-Kind (BiK) tax bracket – not as low as an all-electric car, but not far off. Higher-rate tax payers are looking at an annual bill of just £1,443, versus more than £9k for an equivalent GLC diesel.

We found the GLC at its best with charge in its battery. As you might expect, this is when the Mercedes is quietest, though even on the motorway with the engine running the car was impressively refined. It seems the engineers have learnt a lot from the maker's current crop of EVs; the GLC is one of the quietest cars in its class.

That's the GLC's lasting impression – certainly as a hybrid. It isn't particularly sporty, nor does it feel that fast. You need the engine and electric motor to be working in perfect harmony if  you want to press on, and sometimes that joined-up thinking can appear a little dimwitted. 

Elsewhere, the steering is a bit vague, the body rolls quite a bit through the bends and the brake pedal doesn't offer a particularly consistent feel. But our biggest concern was the ride comfort. On our car's 20-inch wheels, it never felt truly settled; at low speeds the lack of bump suppression was quite abrupt. A BMW X3 or Jaguar F-Pace both strike a better balance, in spite of the fact that all GLCs get self-levelling air suspension on the rear axle.

In most situations, the paddles behind the steering wheel control the regenerative brakes, though in Sport mode, you can use them to change gear. We found the GLC at its best when taking things easy, immersing yourself in that sumptuous cabin and strong high-speed refinement. 

The GLC is now only offered in AMG Line guise, with the usual option to upgrade to either the Premium or Premium Plus packs. Prices for the GLC 220 d 4MATIC start from £51,855, and there's a GLC 300 petrol for £1,900 more. A more powerful G 300 d and petrol-electric GLC 300 de plug-in hybrid are also available.

Entry cars get 19-inch wheels, LED lights, privacy glass and sports seats, plus that excellent infotainment system with wireless phone charging.  Premium (+£5,000) adds keyless entry and start, bigger wheels and a 360-degree camera, plus augmented reality for the navigation. AMG Line Premium Plus costs the same amount again, and brings different wheels, a panoramic roof, four-zone climate control, a Burmester stereo and a head-up display. 

The standard petrol and diesel versions get around 600 litres of boot space, but the plug-in hybrids take a hit here thanks to their bulky battery and electrical components. There's no underfloor storage, either, so if you want to carry the charging cables, you'll need to do so alongside your luggage.

Speaking of which, while other markets get the option of DC rapid charging, UK buyers aren't offered such luxuries. It's no hardship, however, as an overnight top-up is easily achievable, meaning you can start every day with a full battery. Given the long range and a light right foot, most buyers could realistically run the GLC 300 e as a part-time EV.

The back seats are spacious, but this plug-in hybrid loses a big chunk of boot space to the batteries and electric motor. There's no underfloor storage, either so you'll have to store the cables alongside your luggage

Mercedes doesn't offer many extras, instead tying items into expensive Premium and Premium Plus packs. It's a shame you can't have some of the interior options with the entry-level car's smaller wheels 

| | |
| --- | --- |
| Model: | Mercedes GLC 300 e 4MATIC AMG Line Premium Plus |
| Price: | £72,210 |
| Engine: | 2.0-litre 4cyl petrol PHEV, 31kWh battery, 1x e-motor |
| Power/torque: | 313bhp/550Nm |
| Transmission: | Nine-speed auto, four-wheel drive |
| 0-62mph: | 6.7 seconds |
| Top speed: | 135mph |
| EV range: | 80 miles |
| Fuel economy/CO2: | 565mpg, 12g/km |
| On sale: | Now |

Now read our list of the best mid-size SUVs…

Source: Read Full Article