The Mercedes eVito electric van comes with a 93-mile range and the usual air of Mercedes quality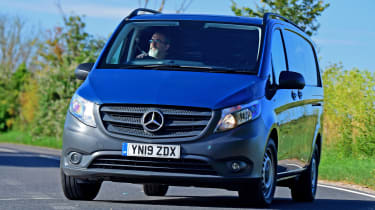 3.0 out of 5
Verdict
The Mercedes eVito is a decent electric van in what's still a relatively niche area of the market. It's refined, quiet and has a great payload weight, although you'll sacrifice driving range if you get anywhere near the maximum. The 93-mile driving range is modest, but if you do lots of short urban hops and can charge it overnight, then you're unlikely to troubled that in a day's use. Yes the price is steep, but if you can maximise the miles you do on a full charge, then you'll save hundreds in terms of fuel costs.
Advertisement – Article continues below
A number of new electric vans are on the way, and the Mercedes eVito is one of the first on sale in the UK. It's based on the mid-sized Vito – obviously – but it swaps that van's diesel engines for an all-electric drive system. From the outside, the only differences between the eVito and the standard Vito are Electric badges on the front wings and a blue 'e' ahead of the Vito name on the tailgate, as well as the lack of noise when the van is moving at low speeds. But under the skin, there are a number of changes.
AdvertisementAdvertisement – Article continues below
More reviews for Vito Van
In-depth reviews
Mercedes Vito van review
Mercedes Vito (2013-2015) van review

Road tests

New Mercedes Vito Tourer 2015 review
Mercedes Vito Tourer 116 CDI review

For starters, the big, heavy diesels from the Vito are replaced by a compact electric motor, which is linked to a single-speed transmission that's operated via Mercedes' traditional column-mounted drive selector. The 114bhp electric motor is powered by a 41kWh battery, which is around half the size of the one you'll find in the firm's EQC electric SUV, while drive goes to the front wheels.

Best medium panel vans to buy 2020

There's a usable battery capacity of 35kWh, which is good for a quoted range of 93 miles, although this could rise to 104 miles if you're just using the van for the kind of low-speed urban deliveries it's designed for. At the opposite end of the spectrum, the total range will drop to a quoted 81 miles if you do faster motorway driving, while cold weather and air conditioning use can also eat into the overall range.

The eVito is fitted with a 7.4kWh charging system and comes with a coiled four metre-long Type 2 charging cable that plugs into a socket by the passenger-side door, in the same place as the fuel filler on the diesel Vito. The fact there's only a Type 2 cable (Mercedes doesn't offer a 3-pin plug option, but does offer a longer 8-metre cable) means you can only charge from a wallbox or standard public charging station – the Type 2 socket also means the eVito isn't compatible with the latest CCS public fast charging systems. Still, a full recharge takes 6 hours, so if you can plug the van in overnight, the eVito will be ready for a day's work in the morning.

The eVito comes in the two longer body lengths Mercedes offers the Vito in (L2 and L3), and because the battery is mounted under the load area floor, cargo volume remains unchanged, at 6.0 and 6.6 cubic metres respectively. Payload weights are 923kg and 898kg, which is actually more than any diesel Vito can carry, because the eVito has a Gross Vehicle Weight of 3,200kg, rather than the 2,800kg GVW of the diesel versions. However, if you do approach this maximum weight, you can expect the eVito's range to suffer.

All eVitos come with twin sliding side doors and a top-hinged tailgate (rather than split rear doors) and there's a full steel bulkhead that tucks under the seats in the cabin to create some extra load length at floor level. Mercedes offers a range of accessories for the vinyl-covered plywood floor, including a racking system and wood panelling to protect the interior, while roof bars are available to increase carrying capacity further.

In the cab, the eVito looks identical to an auto-equipped Vito. There's the standard single column stalk for the indicators and wipers, plus a drive selector on the opposite side. The steering wheel is also fitted with paddles that allow you to select the amount of energy recuperation the electric drivetrain harvests when you're not accelerating. There's also a heated seat – so you don't have to rely on the energy-sapping air-con to keep warm – and a double passenger seat as standard, which offers a reasonable amount of space when you're three-up.

Best electric vans 2020

Fire up the eVito, and you're greeted by silence. All that happens is the dashboard lights illuminate then slowly turn off and the digital trip display comes on, as do the van's air-con and stereo. Select Drive and release the foot-operated handbrake (using the hand lever), and the van will start to crawl, much like any auto-equipped diesel. However, while the eVito will crawl away in silence, it does have a sound generator that engages at very low speeds to warn other road users of its movement. It's not a pleasant noise – much like a broken kazoo – but at least you're not moving in total silence.

Get up to speed, and there's enough tyre noise to ensure the van is audible, but it's still far more relaxing inside than a regular diesel van. The 114bhp output is reasonable, and while the eVito isn't the fastest van around, it's sprightly enough off the line. Use the acceleration to any extent and you'll see the range drop, but Mercedes offers a number of options to mitigate this.

There are three drive programs – C, E and E+ – which alter the drive system to cut power use (top speed is limited to 75mph anyway) and ancillaries are optimised to boost efficiency, while the steering wheel paddles cycle through four recuperation levels, called D-, D, D+ and D++. These range from hard braking resistance in D- (so much so that the brake lights illuminate when you lift off) to neutral-style coasting in D++ (although we think the labelling is a little counter-intuitive). In the strongest D- and D modes it's possible to drive most of the time just using the throttle pedal – although the van won't come to a halt without your input on the brakes. Overall, the eVito is a very easy, stress-free drive, with your only concerns being when you can charge it up.

The eVito is sold in Pure and Progressive trims in both body styles, and prices start from just under £40,000, ex. VAT, although there is a Government Plug-in Van Grant that can knock £8,000 off that. Like-for-like, the eVito is around £13,000 more than an equivalent Vito L2 diesel auto, so the van grant will help narrow the gap, while everyday costs should work out far less.

Using UK averages to calculate a rough estimate, a diesel auto Vito will cost around £70 to fill and do 480 miles on a full tank. In comparison, an eVito will cost a touch under £6 to recharge to full capacity and will need five full recharges to cover a similar distance at a cost of around £30, if you're paying for electricity at 14.4p per kWh. Of course, if you can recharge the eVito at free sites and at off-peak rates, then there are savings to be made on these numbers. Cover 20,000 miles a year, and you're looking at fuel costs of less than £500 for the year, while a diesel van will cost you more than £3,000 a year on top of that. Take advantage of the Government's £8k plug-in van grant, and you'll be able to recoup the difference in list price between diesel and electric on fuel costs alone in around 18 months.

| | |
| --- | --- |
| Model: | Mercedes eVito Pure L3 |
| Price: | £40,415 (ex. VAT) |
| Drivetrain: | Single electric motor, auto, front-wheel drive |
| Power/torque: | 114bhp/295Nm |
| Battery: | 41kWh (35kWh useable) |
| Range: | 93 miles |
| Payload: | 898kg |
| Cargo volume: | 6.6 cubic metres |
| On sale: | Now |

Source: Read Full Article