Does extra equipment make the 612bhp McLaren GT easier to live with? We hit the road to find out…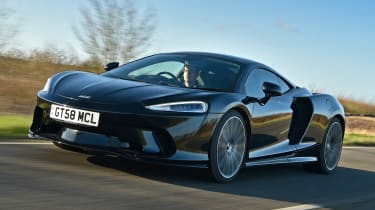 4.0 out of 5
Verdict
The GT is McLaren's interpretation of a Grand Tourer, which means it feels like a sports car first and a luxurious cruiser second, despite its surprising usability. Tweaks to the spec are minor, which means it remains an interesting option in this class, but doesn't rise to the top of it.
As McLaren is gearing up to launch the all-new Artura plug-in hybrid, you'd be forgiven for forgetting about other cars in its range, such as the GT.
It remains something of an outlier anyway, conceived as a luxurious grand tourer to challenge the likes of Bentley's Continental GT and the Aston Martin DB11, but skewed towards the sportier end of the spectrum as all McLarens are, featuring a carbon-fibre chassis, a mid-mounted engine and a sporty supercar shape. The GT does not conform to the usual GT recipe.
Best supercars 2022

But McLaren has persisted, bringing some minor updates to the model in the form of improved standard kit, which should offer better value, and a revised brake booster for cars with carbon ceramic brakes.

The extra equipment includes the Pioneer and Luxe packs as no-cost options. Both feature a core level of kit, such as electric heated seats with memory function, an electrically adjustable steering column, leather trim, ambient interior lighting and machined and knurled switchgear inside. Some alternative materials for the headlining and other surfaces differentiate the two.

The Practicality pack adds all-round parking sensors, a rear-view camera and a nose lifter amongst other features. The aim is to make the GT that bit more usable, while the Premium pack includes full-LED lights, a Bowers & Wilkins stereo, soft-close doors and a powered tailgate. Again, both are no-cost options to boost value.

More reviews

Car group tests

Porsche 911 Turbo S vs McLaren GT

In-depth reviews

On that point, the GT is priced from a not-insignificant £163,000, so much of the above kit should be standard regardless. For that outlay you also get McLaren's MonoCell II-T chassis, a 4.0-litre twin-turbo V8 engine producing 612bhp and 630Nm of torque, a seven-speed dual-clutch automatic gearbox and clever adaptive dampers. It's a mouth-watering recipe that delivers real driving enjoyment. But the low-slung carbon-fibre tub and mid-mounted engine mean the McLaren is a little more limited in its range of abilities than, say, Bentley's Continental GT.

The brand has done clever things with the packaging, though, with an enlarged boot area that offers a relatively deep depression in the middle. By taking advantage of the engine's V, it creates space for a golf bag.

There are 570 litres of load volume in total – more than in a Nissan Qashqai – with 150 litres in the nose (a nice, uniform space) and 420 litres in the rear. This demand for usability given the car's layout means the GT is long, at 4,683mm; forward visibility is fantastic, thanks to the low dash, but the rear view is more limited.

Another key part in any GT is ride comfort, and although the McLaren is clearly set up more for engagement, its construction and low kerbweight of 1,530kg (a Continental GT weighs 2,244kg) mean that its suspension controls body movement sweetly.

It's still on the firm side, even in Normal mode, the softest of three settings. But the damping is so well controlled that the GT rarely feels unruffled, even if it doesn't offer a delightfully floaty and sumptuously soft edge to its ride like a Bentley does. It can't match it for refinement on the move either, with more road and engine noise.

But then, this is a McLaren, so you expect this sporty character – and it's where the car comes alive. The electro-hydraulically assisted steering offers more communication with the car's front axle than pretty much anything other than a Lotus – or another McLaren. It's a beautiful weight and loads up sweetly; it's precise and the wheel rim moves gently in your hands, relaying the front wheels' reaction to the road surface, but it's not highly strung or difficult in town.

It's in contrast to the engine, which is agricultural at low speed. However, once the turbos wake up and the V8 gets into its stride, the swell of torque hurls the McLaren forward even on part-throttle. On dry roads traction is strong, and as the revs build so does the excitement.

Elsewhere, McLaren's infotainment system has been refined to the point where it seemed more reliable, faster and easier to use during our time with the car compared with the set-up in the old 570 GT.

Otherwise, it's business as usual with the GT, which means it's as thrilling as ever – if that's what you're after from a grand tourer.

| | |
| --- | --- |
| Model: | McLaren GT |
| Price: | £163,000 |
| Engine: | 4.0-litre twin-turbo V8 |
| Power/torque: | 612bhp/630Nm |
| Transmission: | Seven-speed dual-clutch auto, rear-wheel drive |
| 0-62mph: | 3.2 seconds |
| Top speed: | 203mph |
| Economy: | 23.7mpg |
| CO2: | 270g/km |
| On sale: | Now |

Source: Read Full Article