While the interior is starting to show its age, the updated Mazda MX-5 remains a great car to drive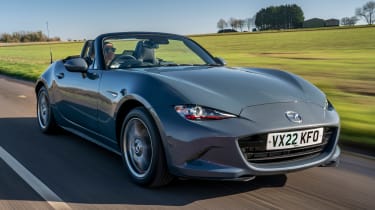 4.0 out of 5
Buy used for less at Buyacar
Verdict
Subtle updates to the Mazda MX-5 have kept it appealing in an increasingly small class. But at this time of year the Mazda comes into its own, offering sweet, improved driving dynamics, a characterful powertrain and a genuinely enjoyable ride and handling balance; it's exploitable at sensible speeds on the road. However, the infotainment and interior are now showing their age.
We Brits love convertibles. Despite our decidedly dodgy climate that often brings inclement weather, there's a certain section of the motoring public that loves convertible cars and to get their roofs down.
With the recent spell of sunshine however, it seems that spring has sprung, so what better time to test Mazda's newly-updated-for-2022 MX-5 in affordable 1.5-litre Sport form.
Top 10 best sports cars 2022

The alterations for this model year update aren't all that extensive, but then the old adage of 'if it aint broke, don't fix it' rings true here.

Mazda has added a system called Kinematic Posture Control that is designed to improve cornering stability without impacting the car's purity. It does so by applying a small amount of braking force to the inside rear wheel in corners to help not only tie the body down but also turn the car.

In reality, it's hard to sense the system working. The softer set-up of this 1.5 model means there is still noticeable roll, especially at a faster pace, but there is a sense that the chassis is more predictable in its reaction to bumps in bends, or when loaded up in a corner.

More reviews

Car group tests

Caterham 170R vs Mazda MX-5: 2022 group test review
MGF vs Mazda MX-5: modern classic head-to-head

In-depth reviews

Long-term tests

Mazda MX-5 2.0 Sport Nav+: long-term test review

Road tests

New Mazda MX-5 Sport Venture 2021 review
New Mazda MX-5 R-Sport 2020 review
New Mazda MX-5 2020 review
New Mazda MX-5 30th Anniversary 2019 review

The steering is direct and a lovely weight, while the ride is best described as communicative; big bumps don't thump up through the springs and dampers and into the passenger compartment, but you do get jostled around in your seat a little, while there is a small amount of flex from the body shell.

We're actually glad that Mazda hasn't eradicated roll altogether, because this gives a sense of communication with the chassis and relays just how much grip there is on offer – and when the MX-5 is approaching it's clearly communicated and rather softly defined limit. It's easy to drive quickly and a lot of fun, especially with the roof down, which in this soft-top model is easily dropped manually with the simple flick of a catch.

With 130bhp and just 152Nm of torque produced relatively high up the rev range at 4,500rpm, the MX-5's motor does need working, but mated to a beautiful six-speed manual gearbox that offers such a positive shift action, it's a joy to. But weighing in at only 1,107kg it's still surprisingly fast, springing from 0-62mph in 8.3 seconds.

The rasp and gentle vibrations the naturally aspirated engine produces – and the wind in your hair – make it feel much quicker, however.

This MY22 car represents the Japanese philosophy of constant improvement, and while the rake and reach adjustable steering wheel helps find an acceptable driving position in the cramped cabin (not always so easy in past versions), having been on sale for nearly seven years the MX-5 cabin is starting to look and feel dated.

It's not down to quality – after all, simple plastics and other materials help keep the price down to £27,055 for this Sport-spec car. Instead, we'd have liked to have seen Mazda's latest infotainment set-up from the 3 family hatchback and recently revised CX-5 SUV.

In other areas the car still scores well, thanks to its original philosophy of lightweight engineering. Fuel economy stands at a claimed 44.8mpg, which we achieved on our test. CO2 emissions are a claimed 142g/km, so it's efficient and should be cheap to run for a sports car.

It also gets a good level of kit, with Sport trim offering sat-nav (albeit compromised as mentioned), Apple CarPlay and Android Auto, 16-inch alloy wheels, heated leather seats, cruise control, lane departure warning, climate control and automatic LED headlights.

Practicality is not a strong point, however. Even as a two-seater there's only 130 litres of boot space.

| | |
| --- | --- |
| Model: | Mazda MX-5 1.5 Sport |
| Price: | £27,055 |
| Engine: | 1.5-litre 4cyl petrol |
| Power/torque: | 130bhp/152Nm |
| Transmission: | Six-speed manual, rear-wheel drive |
| 0-62mph: | 8.3 seconds |
| Top speed: | 127mph |
| Economy/CO2: | 44.8mpg/142g/km |
| On sale: | Now |

Next Steps

Source: Read Full Article