Maserati has shoehorned a 572bhp 3.8-litre V8 engine under the bonnet of its flag-bearing Quattroporte limousine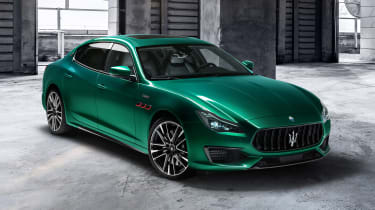 This is the new Maserati Quattroporte Trofeo. It's a performance-focused version of the Italian brand's flagship limousine, which has been tasked with rivalling the likes of the BMW M760Li, Mercedes-AMG S 63 and the range-topping Porsche Panamera Turbo.
Prices will start from around £126,890, which puts the Quattroporte Trofeo in the same price bracket as its German rivals. First deliveries have also been confirmed to arrive before the end of the year.
Best luxury cars 2020
It's powered by the same twin-turbocharged 3.8-litre V8 engine as the Levante Trofeo, which has an output of 572bhp and 730Nm of torque, but while it shares the same eight-speed automatic gearbox as the SUV, the Quattroporte Trofeo sends drive to the rear wheels only.
Unsurprisingly, the Quattroporte Trofeo is the fastest model in the saloon's line-up, with a 0–62mph time of 4.5 seconds and a top speed of 202mph.
To help contain all that performance, Maserati has given the standard Quattroporte's chassis a thorough overhaul, fitting improved adaptive dampers, sticky Continental Sport Contact tyres, bigger brakes, stiffer springs, a self-locking rear differential and a completely new geometry setup for the car's multi-link double wishbone suspension.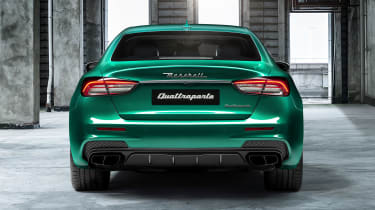 Buyers also get a range of driver profiles, a configurable traction control system and a new launch control system, which can only be activated if a certain number of conditions are met. Before the system will operate, the car must be stationary, on a flat road, with the doors closed, in "Corsa" mode, while not overheating and bearing no engine warning faults.
Maserati has also revised the Quattroporte Trofeo's styling. Tweaks include 21-inch forged aluminium alloy wheels, a deeper carbon fibre front splitter, fresh ducting for the front quarter panel, broader side skirts and a carbon fibre rear diffuser, which houses a new twin-exit exhaust system.
Inside, buyers get perforated leather upholstery, a wireless smartphone charger, a new 10.1-inch infotainment system and a premium 10-speaker Harman-Kardon stereo system. Unlike most modern super saloons, the Quattroporte doesn't have a digital instrument cluster – instead, buyers get a pair of analogue gauges with a seven-inch TFT screen.
Standard equipment includes adaptive LED headlamps, lane-keeping assist, traffic sign recognition, adaptive cruise control and Maserati's active driving assist system, which can near-enough assume control of the car on well-maintained roads at speeds of up to 90mph, providing the driver keeps their hands on the wheel.
Like the new Maserati Quattroporte Trofeo? Now take a look at the Maserati Levante Trofeo…
Source: Read Full Article