High-riding pick-up is kitted out with all the gear to survive the apocalypse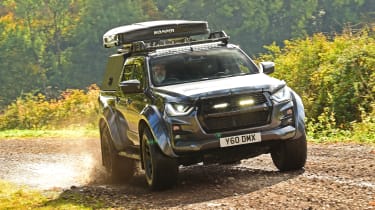 4.0 out of 5
Verdict
There are more sensible pick-up trucks for sale, and rivals deliver better performance and comfort, too, but none make the kind of visual impact that the Arctic Trucks D-Max does. It's not all for show, either, because the big tyres and revised suspension offer improved off-road ability and a better ride on tarmac, too, although we'd recommend the auto model over this manual version for the best driving experience. The Basecamp version demonstrates what can be achieved if you want the ultimate truck-based camper and have an unlimited budget to throw at it.
While the likes of Mitsubishi, Nissan and Mercedes have abandoned the UK pick-up truck sector, the Isuzu D-Max is still going strong. It faces competition from the likes of the Ford Ranger and Toyota Hilux, but the ace up the D-Max's sleeve is the sheer variety of models that Isuzu offers. There are basic single cabs and decently-equipped mid-spec models, but Isuzu's show stopper is the range-topping Arctic Trucks AT35.
Built in conjunction with Icelandic off-road specialist Arctic Trucks, the AT35 is so-called because that's the diameter of the all-terrain tyres that it rides on. These oversized treads (measuring 315/70 on 17-inch black alloys) require a bit of modification to the D-Max itself to get them to fit, so a Bilstein suspension system is added. This comprises new springs and dampers and a chassis lift that raises the AT35 50mm taller than standard.
Best pick-up trucks 2022

The extra ride height for the AT35 means there's 266mm of ground clearance up front and 290mm at the rear, while approach and departure angles are also improved, at 35 and 29 degrees respectively. There's also a breakover angle of 34 degrees to play with.

More reviews

Car group tests

Ford Ranger vs Isuzu D-Max
Nissan Navara vs Mitsubishi L200 vs Isuzu D-Max

In-depth reviews

Isuzu D-Max review
Isuzu D-Max pick-up review

Road tests

New Isuzu D-Max 2021 review
New Isuzu D-Max XTR 2019 review
Isuzu D-Max AT35 Arctic Trucks review
Isuzu D-Max Fury review

Visual enhancements include enlarged side steps – much needed to be able to step up into the raised cab – and those bulbous wheelarches to cover the width of the 35-inch tyres. Arctic Trucks-branded mud flaps complete the upgrades, while the rest of the AT35's specification is based on high-spec V-Cross trim. That means lots of kit on board, including a nine-inch infotainment screen Apple CarPlay and Android Auto (there's no factory sat-nav), leather (with Arctic Trucks branding), wireless phone charging, two-zone climate control and a host of safety systems.

On top of that, the one-off Basecamp edition pictured here receives a further makeover to transform the AT35 into the ultimate warrior for the wilds. The main update is the addition of a Gearmate hardtop canopy that allows the fitting of an iKamper SkyCamp Mini tent on top. This pop-up tent unfolds easily, while a lightweight step ladder flips out for access – there are no tent pegs or ground sheets to worry about here, because wherever you park is where you can camp.

The hard top features lockable metal sides that open to reveal more additions in the bed, courtesy of Australian off-road gear specialist ARB. Here you'll find its Outback Solutions modular roller drawers, which fills the load bed entirely, but features two long sliding drawers for storing your kit. The left-hand drawer comes with a slide-out kitchen unit, featuring a three-burner gas stove and collapsible sink for a more civilised camping experience. Isuzu has also kitted out the Basecamp with a large fridge freezer, which was strapped on top of the carpeted drawer system.

ARB also supplies the sturdy Base Rack roof storage, which also incorporates a super-bright Laser light bar, allowing you to store essential items to help with any off-roading you might undertake. Finally, wind deflectors over the nose and side window visors complete the Basecamp's makeover. While the model is a one-off creation, the Isuzu dealer network will be able to help buyers spec up their truck with as much of this optional kit as possible at purchase time.

On the road, the AT35 feels big, but no larger than a standard D-Max, and its raised ride height helps you to position it on the road. The weight of the Basecamp's extras doesn't really affect the truck's performance, either, because the already tall ride height means this isn't a model that you'd want to push any harder than necessary.

One highlight of the AT35 is the improved ride that it delivers when compared with the standard D-Max. The combination of the Bilstein dampers and the massive sidewalls of the tyres mean that most bumps are absorbed before they reach the cab, so passenger comfort is vastly improved. There is a bit more of a drone from the tyres at higher speeds, but it's no harsher than you'd experience in a regular truck fitted with all-terrain tyres.

The main issue with the D-Max is the diesel engine. While Ford and Toyota now offer two power outputs for their respective trucks, Isuzu just has its 162bhp 1.9-litre diesel on offer. It's not the punchiest of units, while a super-short first gear on the manual model doesn't help, either; no sooner have you pulled away then you need to shift up into second. For that reason, we'd plump for the auto gearbox every time.

It's also a noisy powerplant, too. There's plenty of diesel rattle at start-up and the motor can get pretty vocal when accelerating, although it does at least settle down when cruising. There's plenty of torque for off-road use, but we'd just like a bit more grunt to go with the AT35's beefier looks.

| | |
| --- | --- |
| Model: | Isuzu D-Max Arctic Trucks AT35 Basecamp Edition |
| Price: | £47,999 ex.VAT (AT35 only) |
| Engine: | 1.9-litre 4cyl diesel |
| Power/torque: | 162bhp/360Nm |
| Transmission: | Six-speed manual, switchable four-wheel drive |
| 0-62mph: | 12.7 seconds |
| Top speed: | 112mph |
| Economy: | 33.6mpg |
| CO2: | 220g/km |
| On sale: | Now |

Now read our list of the best 4x4s and off-road cars…

Source: Read Full Article