Citroen will bring out a new C3 Aircross next year with EV technology and a complete exterior redesign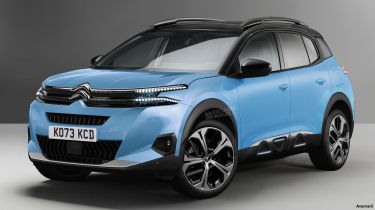 Citroen is planning to launch a new C3 supermini in 2023 and following shortly after will be an all-new C3 Aircross. Both cars will share the e-CMP platform from parent company Stellanis, allowing for full electrification.
The C3 Aircross launched in 2017 and received a mid-life refresh in 2021. The PF1 architecture underpinning the outgoing C3 Aircross didn't allow for electrification, however, so the new CMP-based model will bring a much broader scope of appeal with its EV powertrains.
Top 10 best small SUVs and crossover cars to buy 2022
Laurence Hanse, Citroen's head of product strategy, spoke to us about the future of the French firm's small SUV. "If the question is 'are we going to renew our B-segment cars within Citroen because they are not electric?', the answer is yes and yes and yes." He also added, "And if the question is when, it's soon."
The C3 supermini will also be renewed with a new model and it could launch sometime in 2023 – the C3 Aircross will follow that so we would expect to see it debut later next year.
The new e-CMP platform will result in pure-electric offerings of the C3 Aircross, in terms of battery size it's almost certain we'll see the 50kWh unit shared with the Peugeot e-2008 and Vauxhall Mokka-e. This means a 206-mile range and 134bhp should be on the cards. We expect it to be named e-C3 Aircross as well, following the naming style of the current e-C4.
There will still be internal combustion engine variants of the C3 Aircross available too. These will be made up of the 1.2-litre three-cylinder petrol Puretech units seen in models across the Stellantis Group.
Inside the C3 Aircross we're likely to see an evolution of the interior design seen in current models. We expect a softer, more rounded approach than Peugeot's i-Cockpit, although technology like a 10-inch central screen and digital display could be lifted from the car's Stellantis siblings.
The design on the C3 Aircross will probably mimic the new C5 Aircross and our exclusive render shows what we can expect. Citroen's head of design, Pierre Leclercq, spoke to us about a 'triangulation' of the C5 Aircross design with an interpretation of that car's headlight and chrome details. "For me, in terms of the front architecture, the logo, the chrome bars, the triangulation in the corner, all this is going to be going one step further", he said.
Leclercq also said Citroen will avoid the temptation to move upmarket. "I am so happy to be working for a brand that is not shooting to be premium. This is a popular brand and something I love."
Pricing is expected to undercut rivals from Vauxhall and Peugeot, reaffirming Citroen's position as a more budget-friendly brand. With this in mind, expect prices to kick off around the £30,000 mark.
Check out the best all-electric cars to buy now…
Source: Read Full Article