March 2021 saw an 11.5 per cent year-on-year increase as the UK marked the first anniversary of Covid-19 restrictions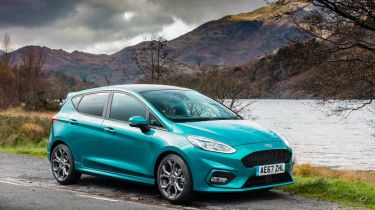 Ford Fiesta
New car registrations rose 11.5 per cent March 2021 compared to the same month last year, with 283,964 new cars finding homes. That's 36.9 per cent down on the 2010-2019 March average of 450,189 units, however.
This figure only constituted a year-on-year increase – the first since August 2020 – because March 2020 saw the start of Covid-19 lockdown restrictions in the UK, with car showrooms forced to close their doors for the first time, and registrations dropping 44.4 per cent as a result.
Best-selling cars of 2021
According to the latest figures from the Society of Motor Manufacturers and Traders (SMMT), 2021 has so far seen 58,032 fewer new cars registered than in January to March last year. This is equivalent to a first quarter loss in turnover of £1.8 billion.
In order for registrations to return to pre-Covid levels, 8,300 new cars would need to be registered every single day for the rest of 2021. The average over the past decade has been around 7,400 per day, while current levels sit at approximately 5,600 a day.
March is usually a bumper month for new car sales thanks to the bi-annual introduction of a new number plate format. Although March 2021 was't as strong as usual, click and collect services acted as a lifeline for the industry, and allowed many 21-plate cars that might otherwise have been unsold to get on the road.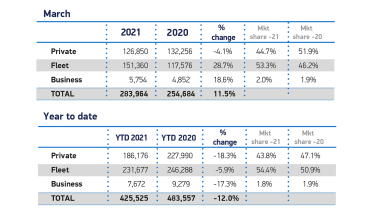 The SMMT has warned, however, that click and collect does not offer the same customer experience as a physical dealership. With showrooms reopening on 12 April, it's hoped that buyers being able to choose and configure a new car in person will help the sector recover some of the £22.2 billion of turnover that's been lost since March 2020.
The year-on-year growth seen in March 2021 came almost entirely from fleet demand, which was up 28.7 per cent. Registrations by private customers actually fell 4.1 per cent, with dealerships across the country remaining closed for the entire month.
Electric and plug-in hybrid vehicles took a combined market share of 13.9 per cent – up from 7.3 per cent in March 2020, when 44 fewer models were available. EVs alone saw an 88.2 per cent rise in market share, while PHEVs were up 152.2 per cent. Conventional hybrids also saw a 42 per cent boost.
The best-selling new car in March 2021 was the Vauxhall Corsa, which remains at the top of the table for the year-to-date. Whether the UK's long-time favourite – the Ford Fiesta – can climb from second place to regain the top spot remains to be seen.
Mike Hawes, chief executive of the SMMT, said: "The past year has been the toughest in modern history and the automotive sector has, like many others, been hit hard. However, with showrooms opening in less than a week, there is optimism that consumer confidence – and hence the market – will return.
"We know we will see record-breaking growth next month, given April 2020 was a washout, but a strong and sustainable market is possible if customers are attracted to the choice and competitive offer the industry is able to provide within the safest of showroom environments."
Find out the best cars coming out in 2021 here…
Source: Read Full Article