Only a very small number of UK 4 Series Convertible buyers opt for this unusual derivative, but are they missing out?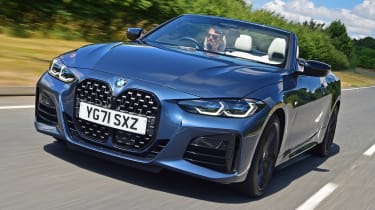 4.0 out of 5
Buy used for less at Buyacar
Verdict
A high-performance diesel drop-top might seem like a strange concept on paper, but the M440d Convertible works far better in practice than you might expect, thanks in large part to its smooth, refined and superbly punchy inline-six engine. The looks won't be to everyone's taste and it's not cheap but – at the moment – it's without any obvious rivals.
When we reviewed the all-new BMW M4 Convertible recently, we noted how lonely this latest version now looks, with Audi and Mercedes no longer occupying this part of the premium drop-top market. It's become a bit of an oddity, but things get even more niche in the 4 Series Convertible range when you get to this M440d, another car lacking any obvious rivals right now.
A performance diesel cabriolet might seem like an odd thing to build in 2022, and sure enough, it's not a particularly popular version of the 4er Convertible. In the last three months just 7.6 per cent of 4 Series Convertible buyers have opted for it, compared to 25 per cent for the most popular derivative – the 420i – and 17 per cent for the M440i.
Best convertibles and cabriolets 2022

These figures don't come as a huge surprise. Even before the sullying of diesel's image, the prospect of an oil burning convertible didn't seem hugely appealing, with a stowed roof exposing the car's occupants to agricultural engine noises.

More reviews

In-depth reviews

BMW 4 Series review
Used BMW 4 Series (Mk1, 2014-2020) review

Long-term tests

BMW M440i xDrive: long term test review

Road tests

New BMW M4 Convertible 2022 review
New BMW M4 manual 2022 review
New BMW M440i xDrive Gran Coupe 2022 review
New BMW 4 Series Gran Coupe 2021 review
New BMW M440i Convertible 2021 review

The thing is, as also mentioned in our M4 Convertible review, the 420i doesn't exactly sound spectacular with the roof down, and the same goes for the M440i. On the other hand, diesel engines have become very quiet and refined, especially the six-cylinder unit found in the M440d. It's hushed at idle, with none of that stereotypical diesel clatter, and smooth under full load, if not quite as silky as its petrol counterpart.

Someone who isn't clued up on cars may not even realise it's a diesel – one passenger during our one-week test didn't twig until right near the end of a 180-mile journey, which was done mostly with the top down.

It's fast, too. The 345bhp power figure and 0-62mph time of 4.9 seconds sound impressive enough, but these numbers don't tell the full story. Of more importance is the 700Nm of torque (comfortably more than a Lamborghini Huracan, by the way) which is offered up as low as 1,750rpm.

This gives the M440d a supremely punchy mid-range that makes it feel like a rocketship when you put your foot down at cruising speeds, with the folded roof adding to the sense of acceleration even further. An eight-speed automatic gearbox meanwhile shifts smoothly and seamlessly, making the most of the 3.0-litre engine's typically narrow diesel power band.

And yet, for all that performance, it's incredibly frugal. The official fuel economy figure of 45.6mpg can be improved upon on a long run with the roof up – on one trip with the roof up we achieved around 55mpg without really trying.

The M440d Convertible's performance becomes a little less impressive in the corners. No 4 Series drop-top is light, but this one's the weightiest of the lot, tipping the scales some 90kg more than the M440i and comfortably north of two tonnes. You do feel that weight in the corners, where the M440d doesn't seem as keen to change direction as other, lighter versions of the 4 Series. This is not helped by the lost rigidity compared to the fixed roof model – although BMW does say this convertible is four per cent stiffer than its predecessor.

Once the car starts to understeer and the front tyres protest, however, you can counter this with a little more throttle. The 'xDrive' all-wheel drive system responds by shuffling a good dose of torque to the rear, helping the car rotate.

Unlike BMWs of old, the steering doesn't offer up much in the way of feedback, but it does feel predictable and consistent through the lock. The steering wheel rim is needlessly thick, though, and the weighting of the electric power-assisted setup is a little excessive in the Sport setting. Meanwhile, the standard-fit adaptive dampers do a good job of keeping excessive body roll at bay, while also offering an impressive amount of ride comfort in all driving modes.

It's comfort and refinement that the M440d Convertible excels at the most, really. This is a fantastic long-distance cruiser, helped by an appealing, solidly-built and logically-laid-out cabin. BMW's iDrive infotainment system, as ever, should be singled out for praise, even if this car runs the older seventh-generation operating system.

Unlike the previous-generation 4-Series Convertible and the 3-Series Convertible that came before that, there's no folding hard-top this time. Such mechanisms are complicated and heavy, and BMW claims its 'panel bow soft top' offers "the best of both worlds," said to be significantly better in terms of acoustic shielding than the average folding fabric roof, and 40 per cent lighter than the old hardtop arrangement.

We found the M440d Convertible to be more than quiet enough on the move, to the point where you very quickly forgot the roof isn't fixed. It also opens and closes a little quicker than before – it takes 18 seconds to perform either operation, an improvement of two seconds. You can deploy or retract the roof at speeds of up to 31mph, which is fairly common for a modern convertible.

Headroom in the rear is a little tight with the roof up, but you do get more boot space this time due to the less complex folding arrangement. With the roof down, there's 300 litres of luggage space, an improvement of 80 litres on the old car. Meanwhile, the compartment the hood folds into can be moved by hand to a vertical position when the roof is up, giving a total of 385 litres, 15 more than last time.

Regardless of where the roof sits, the 4-Series Convertible is still a challenging thing for the eyes, and not just because of the controversial grille. There's a whole lot of metal above the rear wheel arch, making even our car's sizeable 19-inch wheels seem small. On the drop top, this effect is merely exaggerated further. You soon forget about the looks on the move, however, where the M440d Convertible is always quick to impress. It seems a shame more 4 Series buyers aren't tempted in its direction.

| | |
| --- | --- |
| Model: | BMW M440d xDrive Convertible |
| Price: | £59,695 (£66,745 as tested) |
| Engine: | 3.0-litre 6cyl turbodiesel |
| Power/torque: | 335bhp/700Nm |
| Transmission: | Eight-speed automatic, four-wheel drive |
| 0-62mph: | 4.9 seconds |
| Top speed: | 155mph (limited) |
| Economy: | 45.6mpg |
| CO2: | 163g/km |
| On sale: | Now |

Next Steps

Source: Read Full Article