A new look brings the luxury Bentley Bentayga SUV into line with the rest of the brand's line-up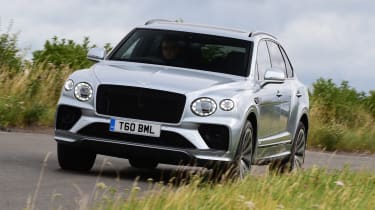 4.0 out of 5
Verdict
This feels like a very worthy mid-life upgrade for the Bentayga – even though the unchanged V8 engine remains at the core of the vehicle's appeal. Where this car really stands out next to its VW Group stablemates, though, is in the personal touches and British craftsmanship in the cabin. Prospective buyers must decide whether these factors are worth the hefty premium that the Bentayga commands over the Porsche Cayenne.
Advertisement – Article continues below
Bentley's sales figures may have been affected by Covid-19 as much as anyone else's, but you can't fault the British luxury brand for effort. We've already had the all-new Continental GT and the flagship Flying Spur in the past 12 months – and now the Bentayga SUV has been brought more into line with the family look.
So here is the facelifted Bentayga – and it probably garners more attention than most mid-life revamps, given that the original look was so controversial. It's had more than a nip and tuck, too. Granted, the front end is still clearly identifiable as Bentley's most polarising model, but at the back, there have been sheet metal changes to accommodate the new tailgate and lights.
Best luxury cars 2020

Customers will decide, of course, whether the new styling is an improvement – but to us, in the metal, the rear looks neater, cleaner and less bulky than before. The front, which gains higher-set headlights and a larger, more upright grille, is still best described as imposing.

What hasn't changed much are the oily bits – which is to say that the Bentayga continues to sit on the VW Group's MLB Evo platform, which it shares with the likes of the Audi Q7, Porsche Cayenne and (whisper it) Volkswagen Touareg. However, the rear track has been widened by 20mm in a bid to improve the steering response.

More reviews for Bentayga SUV

Car group tests

Mercedes-AMG G 63 vs Bentley Bentayga V8
Bentley Bentayga vs Range Rover

In-depth reviews

Road tests

New Bentley Bentayga Hybrid 2019 review
New Bentley Bentayga Speed 2019 review
New Bentley Bentayga V8 2018 review
New Bentley Bentayga Diesel 2017 review
New Bentley Bentayga SUV review

The only engine available at launch is the 4.0-litre twin-turbocharged V8, which is essentially unaltered from before; that means 542bhp, a 0-62mph time of 4.5 seconds and a top speed of 180mph. Four-wheel drive is standard, of course, as is an eight-speed automatic gearbox. Other versions in the pipeline include the Bentayga Speed, which will have the 6.0-litre W12 engine, and a six-cylinder plug-in hybrid.

On the road, the good news is that the revised Bentayga still does a good job of feeling smaller than it really is. The V8 is perfectly happy with the job in hand, delivering oodles of low-down torque accompanied by a satisfying burble when you squeeze the throttle. Push hard and the Bentayga V8 will quickly accelerate to speeds where you may need to remind yourself of the car's bulk and brake accordingly. The gearbox is smart enough, too, to realise when you're in a hurry, delivering quick, smooth shifts.

This configuration, we suspect, will continue to be the pick of the range; the smaller powerplant in the nose gives better poise, without the weight of the W12 or the complexity of the hybrid, and lets the well judged air suspension deliver surprising agility. Purists will hate to hear this, but it is perfectly possible to enjoy a cross-country drive in a Bentayga – assuming you don't throw it around like a hot hatch, that is.

The ride is, in general, excellent, with most major undulations dismissed easily. However, the updates have not eliminated the slight shimmer that you can get back through the steering and chassis on sharp imperfections and broken surfaces.

Inside, you can have the car as a four-, five- or seven-seater, with pretty much limitless scope to personalise and tailor the finish to your own specifications. It's here where Bentley works its greatest magic, taking a cabin architecture that it does share with other brands, but carving out something that still manages to feel genuinely special. You won't find any nasty plastics, the leathers and carpets are of the highest quality, and the brushed aluminium finish on our test vehicle looked a million dollars. Speccing your own Bentayga should be every bit as involved and enjoyable a process as it is with, say, a Conti GT.

Second-row passengers won't feel hard done by, either; there's a bit more legroom than before thanks to a new design of seat, and the control tablet gets an upgrade to its software and hardware.

| | |
| --- | --- |
| Model: | Bentley Bentayga V8 |
| Price: | £146,700 |
| Engine: | 4.0-litre twin-turbo V8 petrol |
| Power/Torque: | 542bhp/770Nm |
| Transmission: | Eight-speed automatic, four-wheel drive |
| 0-62mph: | 4.5 seconds |
| Top speed: | 180mph |
| Economy: | 21.2mpg |
| CO2: | 302g/km |
| On sale: | Now |

Source: Read Full Article