Lexus has teased a future electric car, which looks likely to take design elements from the LF-30 concept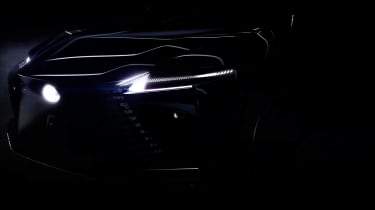 This is our first glimpse at Lexus's first bespoke electric vehicle – a car that should arrive on a similar timeframe to the first Toyota BZ Series model.
Previewed in this shadowy teaser, the new model appears to use some of the front-end treatment of the LF-30, a futuristic show car revealed at last year's Tokyo Motor Show. There's an illuminated badge (that would almost certainly be switched off for European markets) and a more aggressive bonnet lip over what seems to be a typically complex 'spindle' front grille.
New Lexus LF-30 electric car concept wows Tokyo show
Lexus is hoping that a sophisticated new four-wheel drive system will help to differentiate its EVs from those of mainstream brand Toyota. Called DIRECT4, the new set-up uses a motor on each axle and features sophisticated computer hardware and software that can split power and torque depending on the dynamic experience required.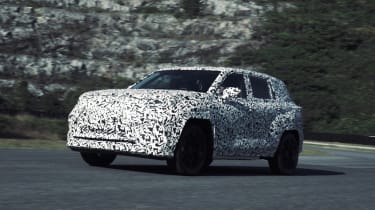 The car – previewed by a concept that's likely to be revealed in the first quarter of 2021 – will be based on e-TNGA, the new EV platform developed by Toyota in collaboration with renowned four-wheel drive specialist Subaru. An on-sale date in 2022 seems likely for the production model.
Speaking on EV design in general, Koichi Suga, the general manager of Lexus Design Division, said, "Design is not only about styling. It's also based on engineering and expressing it as a shape. People said Lexus had no face but after lots of trial and error, the spindle grille shape became the unique, functional expression of Lexus.
"But with electrification, the engine cooling radiator is eliminated. So making something new with our designs, something never seen before. I think it's a chance to express our unique designs."
Click here for our review of the Lexus UX 300e…
Source: Read Full Article