Our first look at Hyundai's biggest model shows a major design change is coming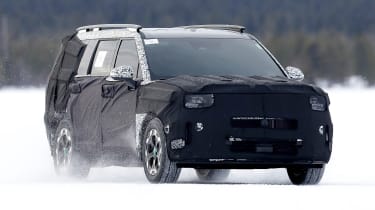 Hyundai and sister company Kia are spending a lot of money on their EV offerings, but internal-combustion engined cars are clearly still important to the Korean brands because Hyundai has the next-generation of its Santa Fe SUV in development.
The seven-seat SUV should return in 2024, with a full reveal potentially happening later this year. Our latest spy shots show the new car will certainly be one of Hyundai's larger models, acting as an alternative to the new all-electric Ioniq 7 SUV.
Top 10 best large SUVs to buy 2023
Despite heavy camouflage, we can see the overall shape of the Santa Fe will be much more angular and blocky than the outgoing car. We don't expect it'll feature a retro-futuristic design theme similar to the Ioniq 5, but it will have a rather bluff front end. 
There's a large overhang on the rear axle, allowing for a third row of seating to make it an seven-seat SUV. To the rear we can also spot a single-exit exhaust tip. 
Hyundai's facelift of the current fourth-generation Santa Fe in 2021 actually involved a new platform being used, making it wider, taller and longer than before. The new N3 platform also allowed for hybrid and plug-in hybrid versions to be added to the range.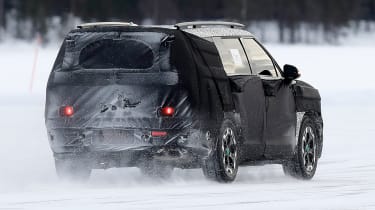 We expect the new fifth-generation Santa Fe to retain the same N3 platform, with the current engine lineup potentially gaining tweaks to become more efficient. No pure-electric Santa Fe will be made, with the Ioniq 7 due to take up the role of a family-friendly, all-electric large SUV in the Hyundai lineup.
The interior will probably borrow technology from the new Ioniq 6. We should see a pair of 12-inch screens next to each other on the dash and, as the upcoming Kona has shown, the overall clean, minimalist cabin design of Hyundai's electric cars will be carried over. 
Now read our review of the Hyundai Ioniq 5 Namsan Edition…
Source: Read Full Article