New compact BMW 2 Series coupe will appeal to purists with rear-wheel-drive, manual gearbox and straight-six power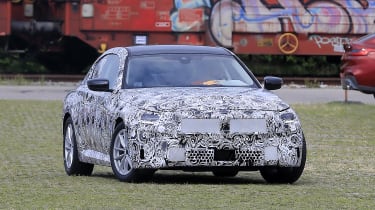 BMW is readying a replacement for the 2 Series coupe, and our spy photographers have caught it on camera for the first time.
To be introduced in 2021, the new coupe variant will make the 2 Series model range the most diverse in BMW's line-up. It will sit alongside the new 2 Series Gran Coupe and the firm's duo of 2 Series badged MPVs – the Active Tourer and the Gran Tourer.
New 2021 BMW 4 Series Convertible spied again
This new car will share very little beneath the skin with those models, however. Speaking to Auto Express last year, 2 Series Gran Coupe product manager Gernot Stuhl confirmed that the upcoming model will be rear-wheel drive, and will retain six-cylinder power.
"There will be a successor that will be on a rear-wheel drive platform, so customers who want and need a new 2 Series coupe will find that in our line-up, as well as those who want a six-cylinder," Stuhl revealed.
While the 2 Series Gran Coupe, Gran Tourer and Active Tourer models use BMW's front-wheel drive UKL platform, the rear-wheel drive 2 Series coupe will likely make use of an adapted version of the CLAR architecture underpinning the latest 3 Series.
The majority of the powertrain line-up will consist of three and four-cylinder petrol engines. Six-cylinder power may be kept in reserve for an M2 version, as the current M235i in the 2 Series Gran Coupe uses a 302bhp 2.0-litre four-cylinder engine.
The next M2 will likely use a version of the 503bhp 3.0-litre twin-turbocharged straight-six found in the X3 and X4 M SUVs. A six-speed manual gearbox should be made available. The hot coupe will be offered in both standard and Competition variants, though BMW UK only takes the flagship Competition versions of current M cars.
Spy shots reveal that the proportions of the new 2 Series coupe will change thanks to a longer bonnet, sloping shoulder-line and more angular bodywork. The front-end of the car should mimic the look of the 2 Series Gran Coupe.
Are you looking forward to a new BMW M2? Let us know in the comments below…
Source: Read Full Article