MINI's Oxfordshire plant is closed this week due to ongoing supply chain issues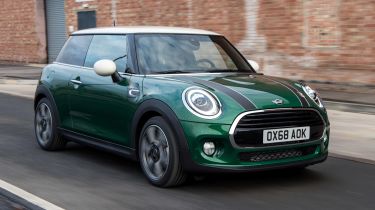 The MINI plant in Cowley, Oxfordshire has temporarily closed due to a semiconductor chip shortage. The BMW Group advises that a week-long closure has been planned to lift on 25 February, and this is a "short-term adjustment to the production schedule."
A statement from the brand read: "Plant Swindon and Plant Hams Hall have also been affected however not exactly in the same way – a small number of shifts have been impacted in specific areas and this has been communicated locally to our associates.
Best-selling cars 2022: the UK's top 10 most popular models
"The BMW Group expects the supply situation for semiconductor components to remain difficult and cannot rule out the possibility of this impacting sales during the rest of the year.
"There may also be some impact on the availability of specific equipment, due to the semiconductor supply bottlenecks. Together with our retail partners, we aim to offer our customers viable, alternative equipment variants to continue to ensure a high degree of individualisation in our vehicles."
In April 2021 the same shortages affected the plant and production was halted for three days. The Cowley plant currently employs 3800 staff who will be affected by this week's closure but there will be no impact to their pay. The site produces the MINI Hatch, both petrol powered and electric versions, and the Clubman estate.
The semiconductor chip shortage is a global supply chain issue that has been affecting manufacturers around the world. In cars the semiconductor is a key component in most modern car equipment, such as touchscreen infotainment systems, reversing cameras and air bags.
The shortage has been created by supply chain disruptions due to the ongoing COVID-19 pandemic. Since the pandemic started, manufacturers globally have had to temporarily close production facilities due to lockdown restrictions and a lack of parts, which has created a large backlog for new cars.
Check out our in-depth review of the MINI hatch here…
Source: Read Full Article