Monday mornings might not be everyone's favorite time of the week — more so when it's Monday the 13th — but for GT Sport players it's the dawn of a new set of Daily Races. This week's set of three include a one-make for fans of the Prancing Horse, some classic GT Sport fare, and an even more classic Le Mans event.
If you're a Ferrari fan, it's Race A where you'll need to set your sights this week. It's a one-make event, using loaner 458 Italia models, so you don't even have to own the car. The circuit is a little unusual though, with the race taking place at the East variant of Lago Maggiore. This is the layout which skips the bowl hairpin out, instead hooking right at the crest of the straight back onto the pit straight.
Race B is a regulation GT Sport event, and one that could even have been a race in the Beta version of the game back in summer 2017. It's a simple five-lap affair, using your preferred choice of Gr.3 race car at the Interlagos circuit in Brazil.
Fans of classic Le Mans will need look no further than Race C. This takes you to the "No Chicane" version of the famous Circuit de la Sarthe — a modern interpretation of the pre-90 circuit which has a straight run down Ligne Droite des Hunaudieres, but with the reprofiled turns and colored asphalt of the 2015 course.
With straight line speed so crucial to this race, the Group C cars become the weapons of choice, rather than modern, higher downforce prototypes and Gr.X Vision GT cars. That means it'll be a race between the Nissan R92CP, Jaguar XJR-9, Sauber C9, and the screaming Mazda 787B. Tire wear and fuel use multipliers are low enough that neither will impact the six-lap race, so go nuts.
These three races will run through to Monday, July 20, when another new set of three will replace them.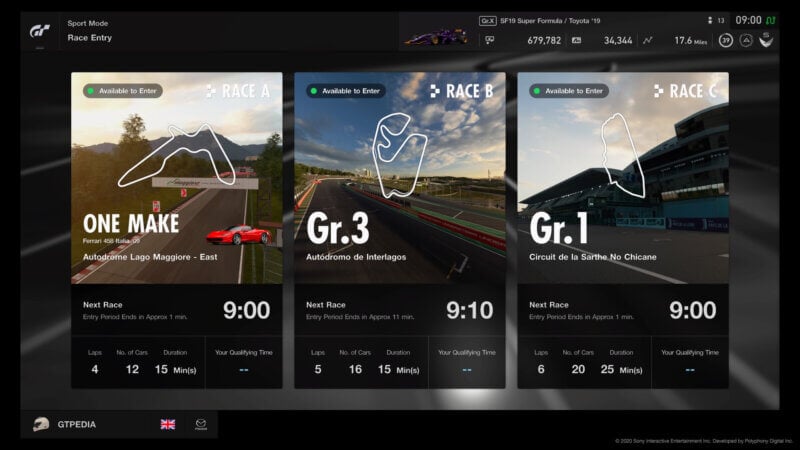 Race A
Track: Autodrome Lago Maggiore – East, 4 laps
Car: Ferrari 458 Italia '09 – Provided Car
Tires: Sports Hard
Start Type: Grid Start
Fuel use: Off
Tire use: Off
Race B
Track: Autodromo de Interlagos, 5 laps
Car: Gr.3 – Garage Car
Tires: Racing Hard
Start Type: Rolling Start
Fuel use: Off
Tire use: Off
Race C
Track: Circuit de la Sarthe – No Chicane, 6 laps
Car: Gr.1 – Garage Car
Tires: Racing Hard
Start Type: Rolling Start
Fuel use: 1x
Tire use: 5x
Source: Read Full Article