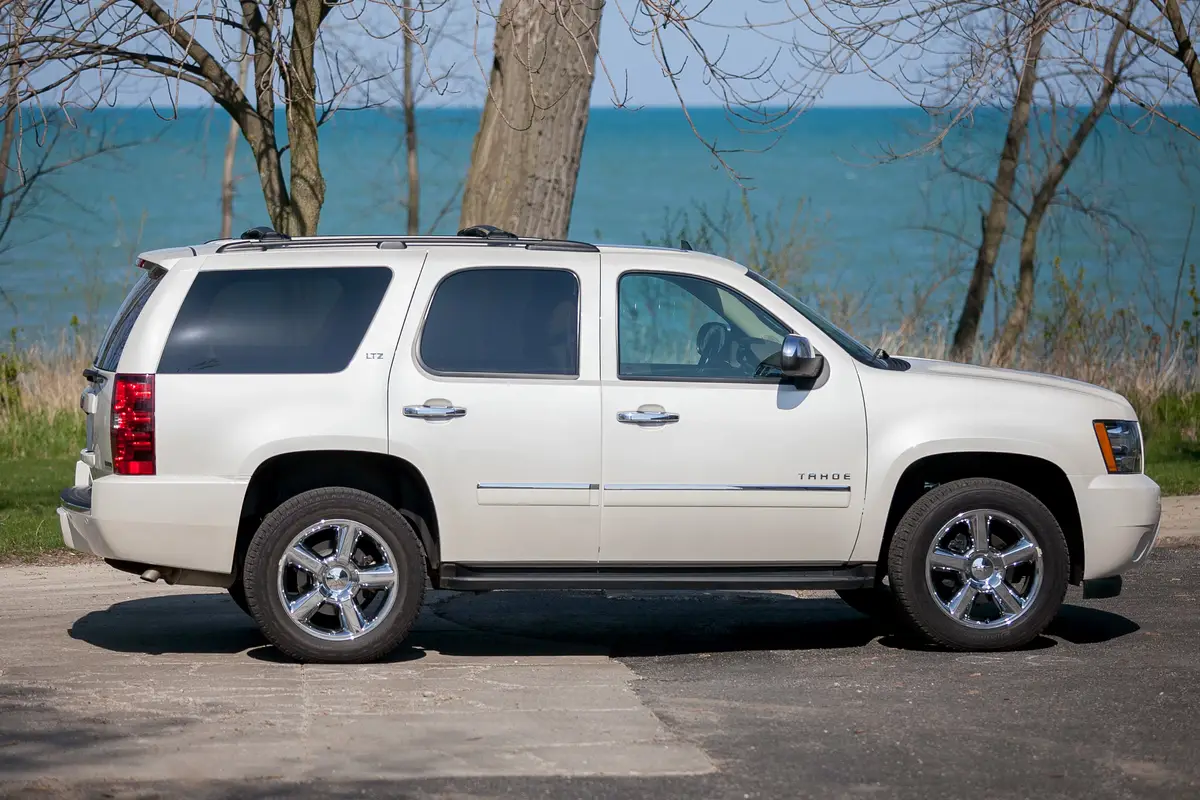 GM will recall nearly 6 million SUVs and pickup trucks from the 2007-14 model years for defective Takata airbag inflators. The move comes after federal authorities denied a petition for exemption by the Detroit automaker that cited differences in how the inflators are designed and integrated into the vehicle. GM said it disagrees with the decision but will comply.
Related: More on the Takata Airbag Recall
As you may recall, former auto supplier Takata Corp. is responsible for the largest automotive recall in U.S. history, accounting for some 63 million inflator recalls in tens of millions of vehicles before today's announcement. Takata's faulty inflators can degrade after long-term humidity exposure and inflate with too much force during an airbag deployment, sending metal fragments into the vehicle's cabin. Authorities have linked the crisis to at least 18 U.S. deaths and hundreds of injuries. After Takata filed for bankruptcy in 2017, Chinese auto-parts maker Ningbo Joyson Electronic purchased most of its assets.
If you own an affected GM vehicle, here's what you should know: 
Which Vehicles Are Affected?
GM installed the affected inflators into millions of Cadillac, Chevrolet and GMC vehicles from the automaker's GMT900 platform, a group of full-size pickup trucks and related SUVs. (GM's U.S. brands are Buick, Cadillac, Chevrolet and GMC.) Specifically at issue are these vehicles — again, from the 2007-14 model years:
Cadillac Escalade

,

Escalade ESV

,

Escalade EXT

Chevrolet Avalanche

Chevrolet Silverado 1500

/

2500

/

3500

Chevrolet Tahoe

,

Suburban

GMC Sierra 1500

/

2500

/

3500

GMC Yukon

,

Yukon XL
You might note that many of the nameplates above are already under Takata recall. The latest batch of recalls comes atop any existing recalls stemming from the potentially faulty airbag inflators. Such vehicles have non-desiccated Takata inflators categorized as SPI "YP" and PSPI-L "YD" variants. GM claimed it would cost $1.2 billion to replace inflators it tried to avoid fixing, according to Reuters.
Does the Recall Only Involve Vehicles in Certain Regions?
No. GM's petition involved vehicles in Zones A, B and C of NHTSA's risk map set up in 2016. In effect, that's the whole country. (Regardless of specifics, all Takata inflators in all three zones have been under recall across the industry as of Dec. 31, 2019, anyway.)
Which Airbag Inflators Are in Question?
The inflators in question are installed in the passenger-side frontal airbags.
Why Did This Take So Long?
Although GM has recalled many other vehicles as part of the Takata crisis, this batch has not been recalled until now. As Takata filed successive waves of defect information reports from 2016 to 2019, GM filed four separate so-called "petitions for inconsequentiality" with NHTSA for certain GMT900 vehicles with SPI YP and PSPI-L YD inflators, according to a 60-page notice issued Nov. 23 by the agency. GM cited two main arguments, according to the agency:
First, the automaker alleged unique design differences to reduce rupture risk in its YD and YP inflators, including thinner propellant wafers that age more slowly, larger ventilation areas and steel endcaps that seal out moisture better than the aluminum used elsewhere.

Second, the automaker claimed the physical environment of its GMT900 vehicles protects against the extreme temperature cycling that causes such ruptures. The automaker cited "larger cabin volumes than other vehicles equipped with Takata PSAN inflators" as well as solar-absorbing glass windows, NHTSA said.
NHTSA said GM also asserted proper functionality for the inflators in question for "at least 30 to 35 years of service in the field," citing ballistics testing, aging studies and other analyses. Among the evidence, the automaker procured more than 4,200 inflators from real-world GMT900 vehicles, claiming zero ruptures in Takata's ballistics testing. It also cited data on some 67,000 real-world crashes where a GMT900's passenger airbag deployed, citing zero alleged inflator ruptures.
Still, the agency rejected the automaker's petition.
"What GM presents here, while valuable and informative in certain respects, suffers from far too many shortcomings, both when the evidence is assessed individually and in its totality, to demonstrate that the defect in GMT900 inflators is not important or can otherwise be ignored as a matter of safety," the agency said. NHTSA rejected the automaker's design rationale, too, adding that "many of GM's enumerated features that allegedly make the GMT900 inflators uniquely resilient to rupture are, in fact, not unique to the GMT900 inflators. Other inflators that possess those characteristics have experienced field and testing ruptures, as well as abnormally high-pressure events indicative of propellant degradation."
More From Cars.com:
Volkswagen Airbag Recall Unlikely to Be Takata Crisis All Over Again

New Deadly Takata Airbag Defect Prompts 1.4M-Car Recall: What You Need to Know

What's the Best Compact Sedan?

2020 Compact Sedan Challenge: Honda Civic Vs. Nissan Sentra Vs. Toyota Corolla

How to Buy a Beater: 5 Tips for Bargain-Basement Used-Car Shopping
What Happens Next?
GM plans to replace the airbag inflators in its affected GMT900 vehicles. In a Nov. 23 statement, the automaker said that it doesn't agree with the agency's decision but will nonetheless comply.
"Although we believe a recall of these vehicles is not warranted based on the factual and scientific record, NHTSA has directed that we replace the airbag inflators in the vehicles in question," GM said. "Based on data generated through independent scientific evaluation conducted over several years, we disagree with NHTSA's position. However, we will abide by NHTSA's decision and begin taking the necessary steps."
Those next steps include a proposed schedule of owner notification, which we should see by late December. NHTSA said GM has 30 days to propose the schedule, as well as the launch of a remedy, with the agency.
Related Video:
Cars.com's Editorial department is your source for automotive news and reviews. In line with Cars.com's long-standing ethics policy, editors and reviewers don't accept gifts or free trips from automakers. The Editorial department is independent of Cars.com's advertising, sales and sponsored content departments.
Source: Read Full Article