South Africa's relationship with the car is an eye-opener, with next to no EVs in sight.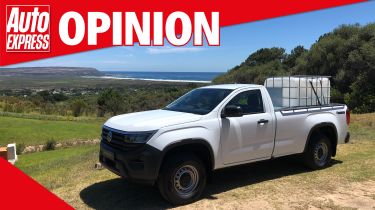 It's easy to be wrapped up in your own bubble, and in the automotive world, the UK and Europe have such a strong focus on electrification, that it comes as a shock when you visit another part of the world where EVs aren't the main focus of vehicle development. That's what happened when I visited South Africa to drive the new Volkswagen Amarok.
South Africa is a country of major contrasts, and they are obvious as soon as you leave the airport. The motorway out of Cape Town International is lined by miles of shacks in townships that stretch as far as the eye can see. In some areas, the corrugated buildings, often no bigger than a garden shed, are crammed in so tight that it's hard to believe that people live there. And strung on poles above them all is a rats nest of power cables supplying electricity.
Best electric cars to buy 2022 / 2023
There are processes in place to turn these townships into more habitable locations, but it's a slow process. Meanwhile, at the other end of the spectrum, the well-off live in high-security housing with barbed wire or electric fencing to keep undesirables out. Gated complexes with private security are common, although this isn't of much use when driving, where the risk of carjacking, kidnapping or robbery is very real if you stop at traffic lights in the wrong place at the wrong time.
Cars are scarce in the townships, and the majority of residents walk. And they'll walk anywhere they can, whether it's on the hard shoulder of the motorway – where many people thumb for lifts – along sewer banks or even between lanes of slow-moving traffic – because that's the only thing that they can afford to do.
If you're earning some Rand, then you could take one of the 350,000 minibus taxis that are available across the country. These machines are everywhere, almost all of which are white Toyota Hiaces with yellow flashes along the side. They're a better option than local buses, which run ancient diesel machines and are too dangerous for tourists to take, according to UK travel advice.
When it comes to car ownership, the South African way is similar to the UK's in some ways, yet very different in others. Yes, they drive on the left, but you'll find 30-40-year-old Volkswagen CitiGolfs and Toyota Corollas – cars that some might be called modern classics over here – being used as daily drivers. Ungainly saloon versions of the Toyota Yaris, VW Polo, Honda Jazz and Toyota Corolla are everywhere, too.
As for new cars, it's a real hodgepodge of the familiar and the alien. Toyota, Hyundai and Renault are all present, although the latter largely sells rebadged Dacias, while all three offer small SUVs that aren't available over here. Suzuki is a popular brand, too, and it has cornered the small SUV market with the Jimny (now only sold in the UK as a commercial vehicle) and the smaller S-Presso. This is a tiny machine that's even dwarfed by the Ignis that we get in the UK, but has real Jimny-esque looks, and South Africa can't get enough of them. 
Chinese firms are also gaining a foothold in South Africa. Great Wall Motors (the company bringing the Ora Funky Cat to the UK) sells pick-ups there, while its sub-brand Haval is almost as common as Nissan (which also sells budget Datsuns here, by the way). Chery and BAIC are making their presence felt, too.
'We still need small cars and Fiat is coming to the rescue'
Premium brands do appear, but not in the kind of numbers you'll see in the UK. Medium-sized BMW, Audi and Mercedes SUVs are the most common sight, but not regularly, and you'll spot the odd Porsche or Mercedes sports car if you're in the right place at the right time.
And of course, there are plenty of 'bakkies', otherwise known as pick-up trucks to you and me. But while one-tonne trucks such as the Amarok, Toyota Hilux and Ford Ranger are the same as we get in the UK (albeit with more workmanlike variants), there's a smaller half-tonne category. This features older models based on cars such as the Opel Corsa and the Nissan NP200, which is based on the Dacia Logan.
What's most obvious is the complete absence of EVs of any description. The only electric car that I saw in my three-day trip to Cape Town was an Audi e-tron GT, and that was in the Audi dealership next door to the hotel we were staying at downtown.
Electric cars are unlikely to have much of a take-up in the near future, too, thanks to the country's policy of load shedding. This is a phrase you might have heard associated with the UK's potential power grid issues this winter, but in South Africa load shedding – a scheduled power outage that's designed to help the grid meet power demands – has been commonplace for 15 years. When petrol stations are selling unleaded for around £1.10 per litre, then the attraction of an expensive EV – and the hit-and-miss opportunities to charge it, even at home – is greatly diminished.
The race to electrification is non-existent in South Africa, but the sheer number of small cars on the roads, and those that have kept running for decades with everyday repairs, offer a different approach to reducing the impact on the environment. One day the country might be able to look to electrification, but for now, it seems like this is the balance that works, especially because it's got bigger issues with attempting to improve other areas of everyday life.
Do you think that electric cars will eventually become dominant right around the world? Have your say in the comments…
More of our Opinion columns
"The expanded ULEZ is heinously undemocratic"
'The Toyota C-HR Prologue shows why the Prius isn't needed in the UK'
'With an exploding population we're soon going to run out of cars'
Source: Read Full Article