Bosses of 23 public EV charging providers have called on the Government to slash VAT on charging from 20 per cent to five per cent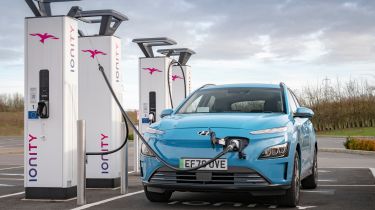 Public EV charging providers are calling on the Government to cut the rate of VAT paid on topping up an electric car at a public chargepoint. A total of 23 charging firm bosses signed a letter from the Fair Charge campaign to the Treasury, calling for public chargepoint VAT to be slashed from 20 per cent to five per cent.
It comes after high energy prices forced public charging providers to increase the prices they charge to consumers. Osprey Charging, whose CEO Ian Johnston signed the letter, recently announced a rate of £1 per kWh across its network. The letter describes "the severe threat that high and volatile electricity costs are having on… the switch to electric vehicles".
Best electric car chargepoint providers 2022
It continues: "One quick solution that is totally within your control is to heed the Fair Charge campaign's call for an immediate cut in VAT on the electricity delivered by our networks. Such a cut would immediately feed through to a reduction in prices. Further, it would show the strength of the Government's continued commitment to transport decarbonisation."
The Government has announced a new energy bill relief scheme for businesses, but it remains to be seen what effect this will have in reducing public EV charging prices. Under the scheme, businesses and other non-domestic energy users will be given a discount on wholesale electricity prices from October 1 to March 31 2023.
RAC EV spokesperson Simon Williams commented: "Chargepoint operators have had no choice in recent months but to increase their charges to reflect the enormous increases in the wholesale cost of electricity, and this is something we could well see worsen in the next few months.
Best small electric cars 2022
"Cutting the 20-per-cent VAT rate on public chargers to match the five per cent charged on domestic electricity would cost the Government little in the grand scheme of things and is absolutely the right thing to do.
"What's more, it would be those drivers who depend on the public charging network – including those who can't charge at home – who would benefit the most, helping to end the current inequity between those with driveways and those without."
Now read our list of the best electric cars to buy…
Source: Read Full Article