Campaigners consult with lawyers over whether closing roads to cars without public consultation is legal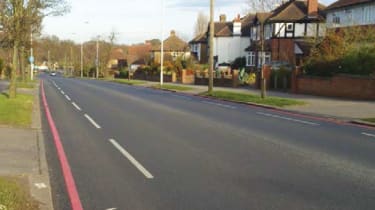 Councils in the UK could face legal action from concerned motorists, after a campaign group announced it is in consultation with a team of lawyers over the legality of roads being closed to cars without public consultation.
The Alliance of British Drivers (ABD) is opposing local authorities that have been narrowing roads to create cycle lanes, or closing roads to cars altogether, after the Department for Transport allowed councils to bid for funding from a £250 million pot for promoting walking and cycling in order to ease pressure on public transport.
Councils blame growing number of cars for worsening road conditions
In order to make these changes to the roads, councils have been using Temporary Traffic Regulation Orders, which allow local authorities to regulate traffic in their areas of jurisdiction.
"Temporary Traffic Orders, historically, have been used for emergency purposes, like the road's caved in or there's a burst water main," Roger Lawson, campaign director at the ABD, told Auto Express. "They're not supposed to be used for longer-term purposes and, clearly, the intention of many of these councils is to introduce schemes that they had planned months ago."
The ABD argues that cars are the best way for people to travel with social distancing in place, but says measures being taken by councils to close and narrow roads – particularly in London – are making congestion worse, which makes it harder for emergency service vehicles, couriers, social workers and others to get to their destinations.
In addition, councils have been accused of discriminating against elderly and disabled people in cities who can't walk or cycle very far, and need a car to get around.
"There are some people whose journey times have been increased by an hour within a small local area, which is absolutely ridiculous," Lawson continued. "There are lots of elderly and disabled people who need to use a car."
Edmund King, president of the AA, commented: "A recent AA survey shows that drivers want to cycle more and the emergency funding to create more space for safe cycling is welcome.
"However, councils are being pushed to use the cash quickly without normal consultation processes. As local authorities rush to get their schemes in place, some have created unintended consequences such as increased congestion and delivery restrictions on local businesses who are desperate to bounce back and aid the economic recovery.
Best folding bikes 2020
"While schemes are being constantly reviewed, should a pop-up cycle lane cause more trouble than it is worth, councils should not be afraid to act. Making adjustments to the initial plans might benefit everyone and they should not be afraid to remove the lane completely if it simply isn't working."
Do you think there should be a public consultation over road closures? Let us know in the comments below…
Source: Read Full Article