Which quick detailing spray wax products top up your car's shine in a flash?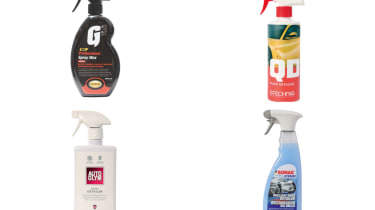 Waxing is taxing, so how do you get the shine without putting in the time? A detailer spray is the answer. These products can remove light grime and restore the shine to any treatment applied the hard way. Most will also prolong that protective layer, adding to its water-repelling abilities. 
Application is quick, too, with most just needing to be sprayed on and wiped off – perfect for the summer when you'd rather be enjoying the sun than working in the heat. So which is the one for your car when the weather improves? We sprayed on a selection of products to find out.
Car Product Awards 2020: the winners
How we tested them
We cleaned and sectioned off a previously waxed panel with each detailer. But they were hard to separate, as was the shine they left, so our focus became how well and how long they repelled water for. 
The wet spring allowed us to make several wet journeys and assess how much grime had been left on each section. We also applied each to a bonnet and monitored beading over four weeks. A fine spray, easy application and a keen price based on online figures and those from the maker were also on our tick list.
Verdict
FarEcla's G3 Professional Spray Wax and the new Artisans of Car Care Exterior Detailer prove you don't need a pricey ceramic product to get exceptional results. It was a close finish, though, and for those prepared to pay out a little more upfront the latest ceramic sprays do an excellent job too – the truth is there's not a lot to split our top performers.
Reviews
Farécla G3 Professional Spray Wax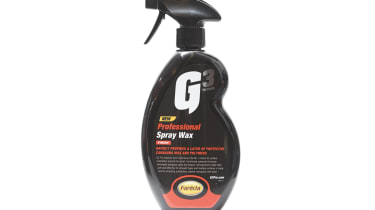 Price: Around £12
Size: 500ml
Rating: 5 stars
New for 2018, this Spray Wax is, despite the name, designed to revive the gloss of a previously applied treatment rather than create one of its own. It takes the win here largely because it was a step in front of rivals at repelling grime during our wet drives. It was also among the best in the durability test. There's no mention of cleaning, so it's good that it can be used on both dry and wet panels. Keen price secures the win for paint treatment specialist Farécla.
Buy the Farecla G3 Professional Spray Wax from eBay here
Artisans of Car Care Exterior Detailer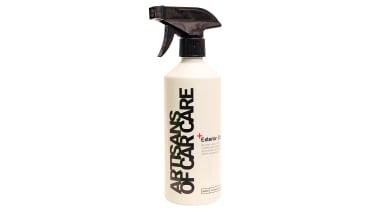 Price: £13.49  
Size: 500ml  
Rating: 5 stars 
Artisans of Car Care is a new British firm founded by detailers who have worked in marine and motorsport environments for more than a decade. Its first product may not have ceramics, but the formula does contain synthetic gloss enhancers. 
The fine spray economically covers a wide area with a prominent but pleasant cinnamon perfume. Wipe with a cloth, then buff with a clean one. It makes no claims for cleaning, but was effective on our slightly grubby body panel. Its impressive water repelling was the best for most of the test after a slowish start, before dropping back slightly in the final weeks. Keen price, decent cleaning and test-topping durability all add up to a victory for the fledgling British brand.
Buy now from Artisans of Car Care
Sonax Xtreme Brilliant Shine Detailer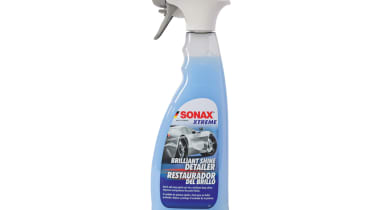 Price: Around £8
Size: 750ml
Rating: 4.5 stars
Our winner makes no mention of cleaning, so if that is what you primarily want from a detailer then this Sonax is the one to go for. It's also the product for you if you want longevity; it was the star of our durability test, which included a few days under snow. A couple of weeks into the test and it was beading faster than rivals, although it was only mid-pack in the driving test. A big pack helps here, ensuring we could look beyond the slightly thick spray.
Buy the Sonax Xtreme Brilliant Shine Detailer from Amazon here
Meguiar's Hybrid Ceramic Detailer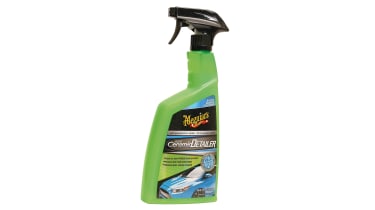 Price: £20 
Size: 768ml  
Rating: 4.5 stars 
MEGUIAR'S is our current waterless wash choice, so it was no surprise to see it top the cleaning part of our test. The fine spray is wiped with a cloth to spread the Si02 formula and lift grime before wiping with a dry cloth. It started the beading test at the top, but slipped just behind Artisans. Beading slowed towards the end after starting a little earlier than rivals, but impressed for a product used between waxes.
Buy now from Meguiars
Turtle Wax Hybrid Solutions Ceramic 3 in 1 Detailer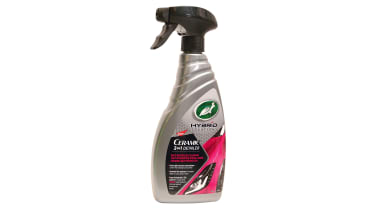 Price: £20  
Size: 500ml  
Rating: 4.5 stars 
Part of a new ceramic products range from Turtle Wax, this detailer aims to clean, shine and protect, and it makes a decent job of it. It was marginally the weakest cleaner, but after a
slow start in the durability test, it matched our winner overall and was the strongest at the end of the process. Yet a relativewly high price hurts it, and it was a likely winner had it been able to match less expensive rivals.
Buy now from Amazon
Gtechniq QD Quick Detailer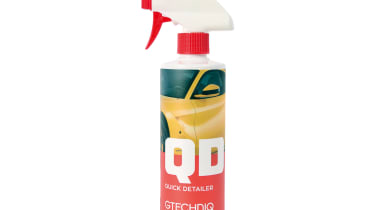 Price: around £10
Size: 500ml
Rating: 4 stars
Another fine performance from detailing specialist Gtechniq, which has shown well across a number of tests. As with the Sonax, it fared best in the durability assessment, where it was beaten only by the German brand. QD's cleaning ability is limited to water marks and fingerprints after washing, but it works with all Gtechniq's coatings and can be layered to boost shine and longevity. It was also one of the best to use, with a fine spray, so a little went a long way.
Buy the Gtechniq QD Quick Detailer from Amazon here
Autoglym Rapid Detailer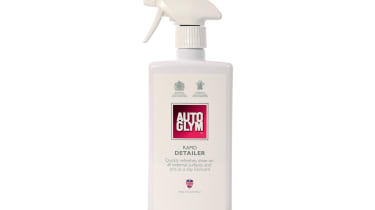 Price: Around £11
Size: 500ml
Rating: 4 stars
Autoglym's Rapid Detailer has been there or thereabouts in our detailer tests, and this one is no exception. Unlike some, this cleans, refreshes the shine and also adds a water-repellent coating, and it was just behind our winner when it came to keeping our panel clean during a wet drive.
Best clay bars: 2020 group test
It was only mid-pack in the durability test, but was still clearly working a few weeks into the test. One of the easiest to use with a fine spray and pleasant fragrance.
Buy the Autoglym Rapid Detailer from Amazon here
Soft99 Luxury Gloss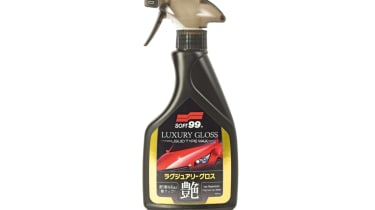 Price: Around £10
Size: 500ml
Rating: 4 stars
Japanese producer Soft99 has been a star of our wax and sealant tests for the past few years, and this is much more of a liquid wax than a versatile detailer. It needs clean paintwork before being applied, and aims to leave a gloss finish. In our tests it performed best at keeping dirt at bay, and it was still working after two weeks in the durability test. Soft99 says this is the first product it has tweaked for overseas users, adding a mango scent to overcome the chemical odour.
Buy the Soft99 Luxury Gloss from Amazon here
KochChemie Allround QuickShine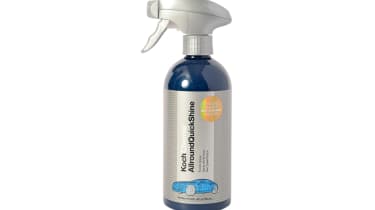 Price: Around £11
Size: 500ml 
Rating: 3 stars
German car care specialist KochChemie meant it when it called this detailer AllroundQuickShine. It does everything – cleans, adds shine and tops up existing coatings, plus it's durable. This was one of the dirt-repelling top performers, matching Autoglym and just behind our winner. Sadly it wasn't as good on the durability bonnet, where it struggled to overcome the wintry conditions as well as some rivals.
Buy the Koch Chemie Allround Quick Shine from Amazon here
Angelwax Enigma QED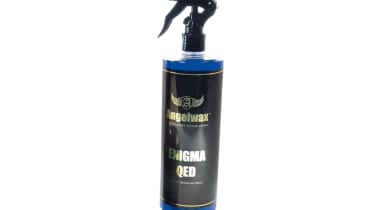 Price: Around £19
Size: 500ml
Rating: 3 stars
The standard QED has won this test in the past, but this version is part of the Scottish firm's new ceramic Enigma range. That explains the price as ceramic doesn't come cheap. It's designed to work best with the Enigma wax and shampoo, extending the life of the former. Our more basic surfaces meant QED was only mid-pack in the tests, but still clearly present and working. It was good to use, though, with a fine spray. Expensive, but goes a long way.
Buy the Angelwaz Enigma QED from Amazon here
Meguiar's Mirror Bright Detailing Spray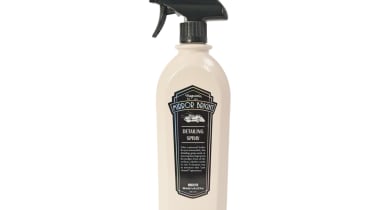 Price: £13
Size: 650ml
Rating: 3 stars
This detailer from Meguiar's retro-themed Mirror Bright range focuses on cleaning with no claims for durability or topping up waxes. It can be used to provide a quick shine, including removing bird droppings and the like. No surprise then that it struggled to match the best in the long-term test, although it was still present. It performed better at keeping grime at bay. Meguiar's likens the spray to a 'personal butler' for your car, so it can also be used inside, including on gauges and screens.
Buy the Meguiar's Mirror Bright Detailing Spray from Amazon here
Also tested
Simoniz Quickshine Detailer
Price: £5.75Size: 500mlRating: 3.0
Buy the Simoniz Quickshine Detailer from Wilko here
Turtle Wax Clean & Shine
Price: £6Size: 500mlRating: 3.0
Buy the Turtle Wax Clean & Shine from Halfords here
Enjoyed this product test but would still prefer a tradition wax and polish? Then read our best car wax and polish group test…
Source: Read Full Article