We drive hundreds of cars every year and some stand out more than others…
Best new cars coming in 2021 – Audi to McLaren

Best new cars coming in 2021 – Mercedes to Volvo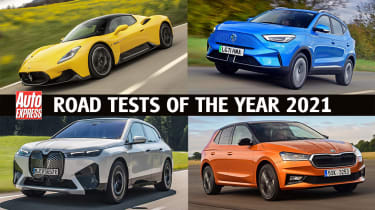 Wow, 2021 flew by and all too soon we were looking back down the long list of new cars we'd tested over the last 12 months, trying to pick out some highlights. As usual, we've had the keys to some superb vehicles and others that didn't quite deliver the goods but on this page we're focused very much on the year's stand-out automotive offerings.
Best new cars coming in 2022
If you're looking to buy a new car over the next few months, you could do a lot worse than seeking out one of the models featured here. We've got everything from thoroughbred sports cars to the mainstream hatchbacks and SUVs that most of us end up driving, every one of them has excelled in its own way.
So without further ado, here are the best cars we drove in 2021, our road tests of the year…
January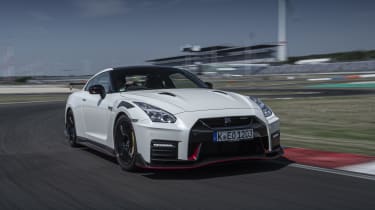 Nissan GT-R Nismo
Driving the GT-R Nismo proved how far Nissan's supercar slayer has come – not least when it comes to price. At more than £180,000 it boasted a supercar price tag, but despite the cheap-feeling interior, it had 592bhp and parts from Nissan's GT3 race car, so it could also genuinely compete with them for ability. However, our test proved that not everyone could live with the looks, nor the ride, which was better, but still firm.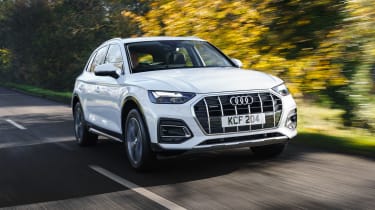 Audi Q5
Despite 2021 following on from where 2020 left off when it came to the charge to full electrification, cars such as the newly updated Audi Q5, which we drove in January, showed that buyers still want premium, combustion-engined SUVs. A refining of the formula here proved that the Q5 could still cut it in its class, with subtly tweaked styling, mild-hybrid tech and improvements inside. Despite the popularity of diesel dropping, our 40 TDI test car was smooth, efficient and refined, and suited the chunky SUV well.
February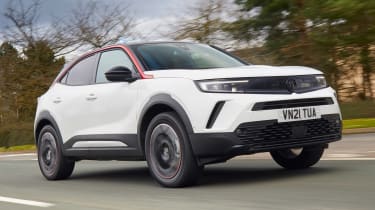 Vauxhall Mokka
Despite its puzzling popularity, the old Vauxhall Mokka was far from competitive – particularly towards the end of its life. Vauxhall clearly felt the need to inject some pizzazz into the new model, with its striking exterior design and bold colour schemes. But was it any better to drive?
Sharing its mechanicals with the Peugeot 2008 and Citroen C4, the new model was also much shorter than before and more hi-tech, with a new twin-screen infotainment set-up. But the biggest change was the addition of a fully electric Mokka-e. However, our first go behind the wheel was in a version with 1.2-litre turbo petrol power.
We found that the Mokka felt reasonably swift with this engine connected to a smooth eight-speed automatic gearbox. Despite its large 18-inch wheels, the ride quality seemed okay, although poor surfaces did cause issues and the crossover didn't exactly involve us in the driving experience. A Ford Puma is a much more rewarding rival to drive.
Still, the tech on offer impressed, as did the design of the revised cabin. We were disappointed by the total amount of space on offer, however.
March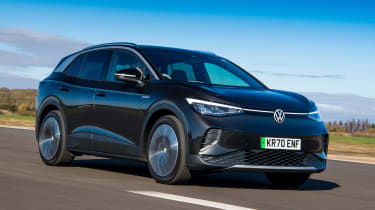 Volkswagen ID.4
Our first chance to drive the brand-new Volkswagen ID.4 electric SUV came in March, when we found that the family crossover was even more impressive than the brand's ID.3 hatchback – the first ID. model – that we'd previously tried.
The ID.4 was more practical and spacious than the smaller car, yet all the best ID. bits remained, such as a decent real-world range, good standard equipment, rapid-charging tech and smooth, quiet performance from the electric motor. We did want better regenerative braking, though.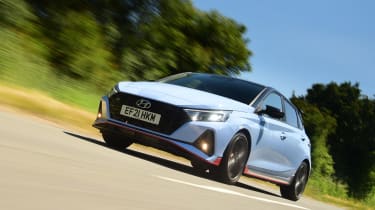 Hyundai i20 N
Our first drive of the Hyundai i20 N was exciting – and not just because of this hot hatchback's punchy 201bhp 1.6-litre turbo petrol engine. The hot supermini proved that the excellent i30 N was not a one-off.
The i20 N followed a similar formula to its sibling, offering punchy performance while also being great on twisty roads, thanks to advanced chassis kit such as a mechanical limited-slip differential.
Hyundai's second N model offered as much fun as the Ford Fiesta ST and did so in a more practical package, with all the kit you'd want. We were impressed by the i20 N's grippy chassis and fairly composed ride, although the quick-but-numb steering was one setback. Overall, though, we loved the new Hyundai hot hatch.
Best hot hatchbacks 2021
April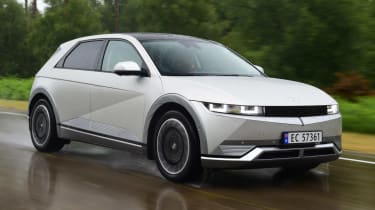 Hyundai Ioniq 5
It's safe to say that we were beyond impressed with the Hyundai Ioniq 5 when we got behind the wheel for the first time in April.
The new electric car exceeded all expectations, with a stunning and roomy interior packed with tech, a quiet and comfortable driving experience and, best of all, a long real-world range. Not only that, the rapid-charging tech also felt like something from five years in the future.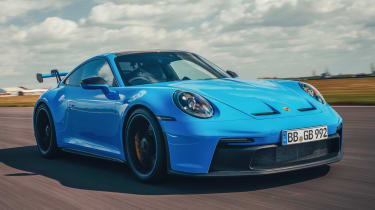 Porsche 911 GT3
For sports car fans, the launch of a new Porsche 911 GT3 is a huge event. We found that the new model was even more focused than before and was supremely fast and confidence-inspiring on track.
Its engine was a delight, the chassis was close to perfection and we even praised its price, which looked cheap next to rival cars. Yet we felt that the huge demand for the 911 GT3 was its downfall, making it very difficult to get hold of one.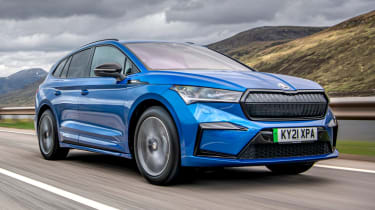 Skoda Enyaq iV
We got behind the wheel of an early left-hand-drive Skoda Enyaq iV in April this year, and we discovered that the new model was to be one of the most appealing new electric cars of 2021. It was impressively comfortable even on bumpy UK roads and the interior was both high in quality and well equipped. Even sitting on the left-hand side, where you tend to notice more bumps and dips at the edge of the road, we felt the Enyaq was smooth and comfortable enough.
The Enyaq's 77kWh battery provided a range of 333 miles (lesser 58kWh models can drive for up to 256 miles), which we felt was plenty, although performance was only adequate. We'd come to expect punchy power delivery from EVs, so the softened responses of the Skoda felt a little lacking. However, we were pleased to find that the interior was roomy as well as pleasant to sit in, with plenty of headroom and legroom in the rear, plus a big boot.
May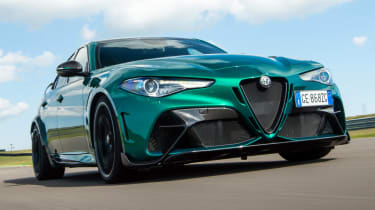 Alfa Romeo Giulia GTAm
We called the Alfa Romeo Giulia GTAm "a crazy car for an insane amount of money" in our verdict, but one that was also "the most exciting saloon we've ever driven."
This limited-run version of the already very special Giulia Quadrifoglio had incredible grip, a great soundtrack, a very involving chassis and fantastic brakes, plus it looked stunning. No wonder the Alfa received a fantastic verdict from Steve Sutcliffe when he drove it.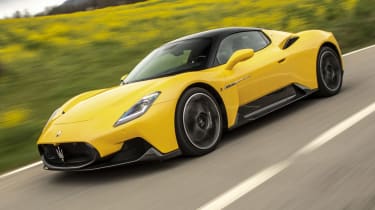 Maserati MC20
Our long-awaited chance to drive Maserati's first new supercar in a generation came in May. In recent years the Italian brand has focused on saloons and SUVs, but new owner Stellantis has allowed it to launch the MC20. This is constructed using carbon fibre and features a mid-mounted 621bhp twin-turbo V6 engine.
Best supercars 2021
Thanks to 730Nm of torque and a low 1,475kg kerbweight, the MC20 can go from 0-62mph in just 2.9 seconds and up to a top speed of more than 200mph. Yet this supercar isn't a pure combustion dinosaur, because there are also plans for an electric model to join the range later on. We got to try the petrol model, which proved to be a masterclass in performance and handling up there with the very best cars of its type.
We tried it on some seriously rough roads in Italy, where the complex suspension dealt with bumps easily, yet still brought excellent body control. We compared it favourably to the stunning Alpine A110, and said the steering was better than on most Ferrari models. On our track test the Maserati was just as good, with explosive performance and loads of grip.
June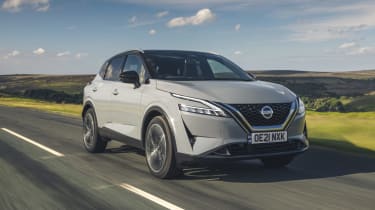 Nissan Qashqai
We got behind the wheel of the all-new Nissan Qashqai in June. The second-generation model had fallen behind the mid-size SUV pack, so we found out if the Mk3 had the talent to compete in a segment that Nissan helped to create.
The new Qashqai wasn't the most complete car to drive in its class, but it offered all the right ingredients for a family SUV: it was practical, easy to drive, smooth and had all the tech you could want.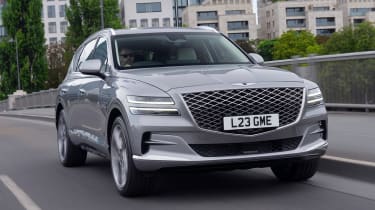 Genesis GV80
Our first chance to drive the Genesis GV80 SUV came in June. This new luxury car had the kind of quality seen on the best cars of its type, a huge amount of impressive tech and a fantastic interior.
It was also comfortable and easy to drive, although the ride was a bit fidgety on some roads. In fact, we said that the GV80 represented a better start for a new car maker than anything since the arrival of Lexus in the 1990s.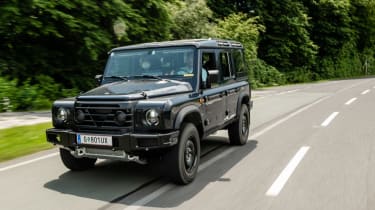 Ineos Grenadier
We got the chance to drive a car from a new car manufacturer this year: the Ineos Grenadier. It's positioning itself as a substitute for the old Land Rover Defender, since the new Defender is aiming for more upmarket appeal.
The Grenadier is a rough-and-tumble 4×4 with stocky looks and impressive off-road ability as a result. It proved to be more secure on the road than we expected, while also being in its element on tough off-road trails.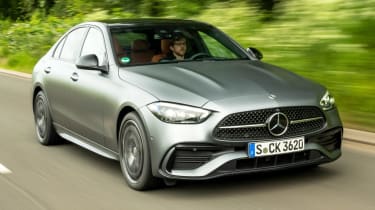 Mercedes C-Class
Mercedes pulled out all the stops for its latest version of the C-Class. This small executive saloon is packed with tech, including some form of electrification for every powertrain, and we got behind the wheel in June to find out what it was like.
The new C-Class sticks with the same platform as the previous version, but the Modular Rear Architecture (MRA) has been heavily updated. It features 48-volt mild-hybrid assistance on the C 220 d that we tried, and although we barely noticed it when driving, it's able to improve efficiency and keep company car tax costs down.
Best executive cars 2021
We said that the C-Class was punchy, efficient and quiet, all key elements for a typical buyer. Other impressive elements on the new model included the level of comfort and cabin quality, which was excellent for the price, and it even proved to be nearly as good to drive as a BMW 3 Series. There was loads of hi-tech kit in the superb interior as well, so we were very impressed after our first drive of the small Mercedes saloon.
Click on to page two to see the best new cars we drove in the second half of 2021…
Continue Reading
1

Best new cars coming in 2021 – Audi to McLaren

– currently reading

We drive hundreds of cars every year and some stand out more than others…

2

Best new cars coming in 2021 – Mercedes to Volvo

We drive hundreds of cars every year and some stand out more than others…

Source: Read Full Article