From electric SUVs to exotic supercars, we look at the best cars due to arrive in 2020

Best new cars for 2020

2020 Cars – K to M

2020 Cars – P to V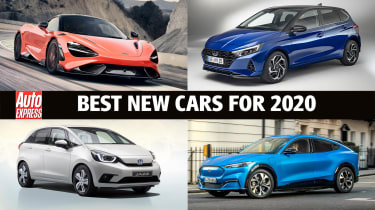 It's been a rather tumultuous start to the automotive year, with the coronavirus outbreak cancelling motor shows and closing dealerships. But one thing is still certain – there is a tidal wave of new cars coming to showrooms in the next 12 months to get excited about.
From convertible SUVs to £2m electric hypercars, and everything in between, there has never been a more varied or exciting time if you're in the market for a new motor. This year will eventually see the roll-out of VW's much-anticipated ID. range of electric cars, while the future of Aston Martin potentially hangs in the balance with the DBX. These are the best cars coming in 2020.
Best electric cars to buy 2020
Scroll down to find out about the cars set to make an impact over the coming year.
Aston Martin DBX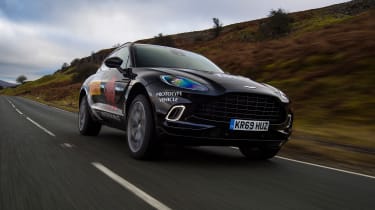 Price: From £158,000
On sale: Now
A huge amount is riding on Aston Martin's DBX: a new factory, a growing workforce and, some might say, the future of the company itself. The signs are very good indeed. The car has been developed by one of the best engineers in the business, and on the road it feels more like an Audi RS6 or Mercedes-AMG E 63 estate than it does a high-riding SUV. And yet it's capable off road, comfortable and provides plenty of space, something that's helped by the lack of electrification — for the next few years at least. Plus, it feels worthy of its £158,000-plus price tag.
Aston Martin V12 Speedster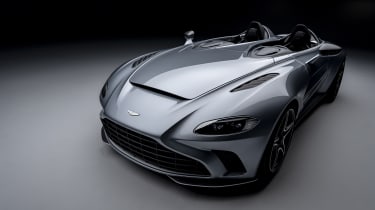 Price: From £765,000
On sale: Now
In a world of limited-run Astons, the V12 Speedster is streets ahead, at least in terms of its exclusivity. Just 88 examples of the 690bhp roofless sports car are going to be built by Q by Aston Martin, the company's customisation division. The V12 Speedster takes chassis components from the DBS Superleggera and Vantage to create a unique platform, while power comes from Aston's familiar 5.2-litre V12 engine.
The company says the new model can cover 0-62mph in 3.5 seconds. But the star is the car's carbon-fibre bodywork, which does without a windscreen, and features a spine that runs between driver and passenger. Climb aboard, and you'll find that the interior design takes some of its influence from the McDonnell Douglas F/A-18 Hornet fighter jet.
Aston Martin Vantage Roadster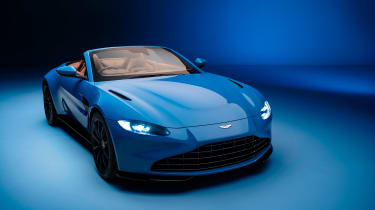 Price: From £126,950
On sale: Now
Aston Martin's deft touch at making its coupés even prettier by removing the roof continues with the latest Vantage Roadster.
The newcomer is fractionally slower than the coupé, largely due to a 60kg weight increase, yet few will complain about its 0-62mph time of 3.8 seconds. But its party piece is the folding roof, which takes seven seconds to fully retract, making it the fastest folding top of any car on sale today.
The Roadster is powered by the same Mercedes-AMG-sourced 503bhp 4.0-litre V8 as the coupé, with power sent to the rear through an eight-speed automatic gearbox. It also uses the same electronic diff, but there's a bespoke suspension set-up, and the Sport, Sport+ and Track drive modes have new calibrations specifically for the Roadster.
Audi A3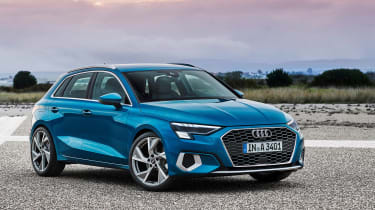 Price: From £24,000 (est)
On sale: Summer
It might not look that way, but the latest Audi A3 is entirely new. It's longer and wider than the car it replaces, and like its predecessor, it's strictly a five-door affair.
It's inside where the most obvious changes happen, with a striking new dash centred around a 10.1-inch touchscreen and a 10.25-inch digital instrument panel (a 12.3-inch version is also available). This new A3 rides on a modified version of the VW Group's MQB platform, and a familiar range of petrol and diesel engines will be offered alongside a new mild-hybrid powertrain claimed to save around 0.4 litres of fuel every 62 miles. Quattro, plug-in hybrid, S3 and RS3 models are in the pipeline.
Audi e-tron Sportback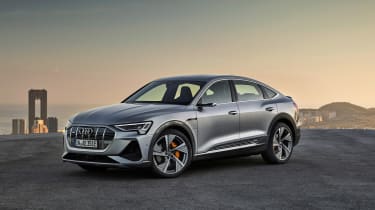 Price: From £77,150
On sale: Now
Audi is set to inject more style into its e-tron SUV range with the introduction of this sleeker Sportback variant. Two versions of the e-tron Sportback will be offered; a 50 model with 308bhp and a 71kWh battery arrives later in the year, but the more potent 55 version, which has a 95kWh battery and 402bhp, is available to order now. Audi claims battery ranges of 216 miles for the 50, and 278 miles for the 55.
As well as a sportier look, the Sportback introduces some new technology which will also make its way into the standard e-tron SUV. These include a battery that can be recharged to a slightly higher capacity, increased brake regeneration to allow one-pedal driving, and a front motor that can decouple when not needed to save energy and help increase range on the move.
Bentley Bacalar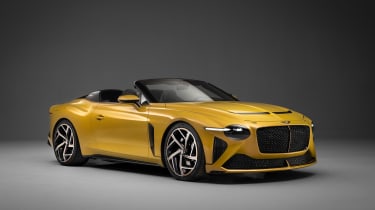 Price: From £1.5million
On sale: Sold out
Bentley has a history of restrained elegance, but the British luxury brand has broken a few of its own rules with the Bacalar roadster.
Limited to just 12 examples, the Bacalar is based on the Continental GT convertible but only that car's door handles are carried over; the rest of the bodywork is bespoke, and the cabin features some materials previously only seen on the EXP 100 concept car. The 6.0-litre W12 motor produces 650bhp and 900Nm of torque, which is enough for a 0-62mph time of 3.6 seconds.
The car costs from £1.5m (plus taxes) but all 12 are already sold – to buyers who placed an order without even seeing it.
BMW iX3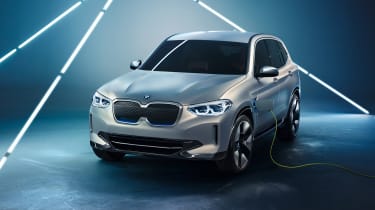 Price: From £50,000 (est)
On sale: Late 2020
A safer bet than the slightly wacky i4 is the iX3, which will become BMW's first pure-electric SUV when it reaches showrooms later this year. It makes the X3 the first range to be offered with petrol, diesel and pure-EV power.
The family-sized SUV will get a 282bhp electric motor, driving the rear wheels only, and a 74kWh battery pack that's capable of taking the car 273 miles on a single charge.
Externally, expect tweaks to the grille to signify that this version of the X3 is pure-electric, plus new wheel trims that have been designed to prioritise aerodynamic efficiency over brake cooling or sporty styling.
BMW M3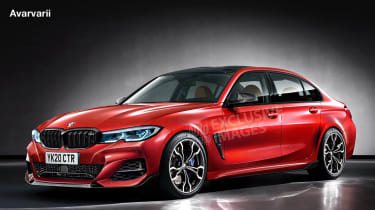 Price: From £65,000 (est)
On sale: Autumn 2020
A world away from the new pure-electric i models, BMW is also putting the finishing touches to a new generation of M3 super-saloon – and the model should reach customers before the end of 2020.
The new M3 will revert back to six-cylinder power, switching to an M division-tuned 3.0-litre twin-turbocharged straight-six engine. Regular cars will produce around 480bhp, while the more potent Competition edition – likely to be the only choice for UK customers, at a price of roughly £65,000 – will pack in a mighty 510bhp.
Like the saloon's bigger brother, the M5, the new M3 will have a selectable four-wheel-drive system that's capable of sending all of the power to the rear wheels if so desired.
Cupra Formentor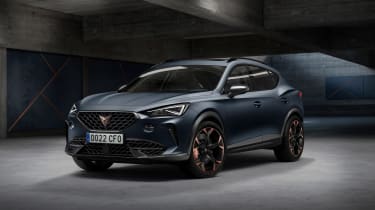 Price: From £38,000
On sale: Summer 2020
SEAT's performance spin-off brand Cupra has officially launched its first unique model – the Formentor SUV. Like the show car that appeared before it, the showroom model features an aggressive bodykit, flared wheelarches and a full-width rear light bar.
Two powertrains are available: a 306bhp 2.0-litre petrol or a performance-focused PHEV drivetrain from the Golf GTE, featuring a turbocharged 1.4-litre four-cylinder petrol engine, compact electric motor and 13kWh lithium-ion battery pack. The system produces a combined output of 242bhp and 400Nm of torque, while the Formentor's battery pack provides a maximum claimed range of 31 miles.
Cupra Leon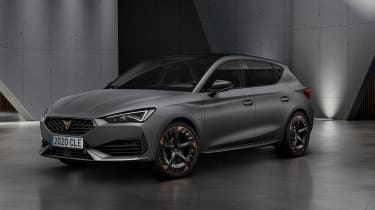 Price: From £32,000 (est)
On sale: Summer 2020
Cupra is pushing hard to establish itself as a standalone brand – and it'll soon launch its warmed-up take on the all-new Leon, which will rival the Hyundai i30 N and Ford Focus ST. Its broad range of powertrains will include a 1.4-litre four-cylinder plug-in hybrid offering 242bhp and an electric-only range of 37 miles.
VW's 2.0-litre turbo is offered with either 242bhp/370Nm or 296bhp/400Nm – and all three have front-wheel drive, an electronic limited-slip diff and a dual-clutch auto as standard. A more potent, four-wheel-drive version of the same engine is reserved for the estate; with 306bhp, it'll reach 0-62mph in 4.8 seconds and hit a top speed of 155mph.
Ferrari 812 GTS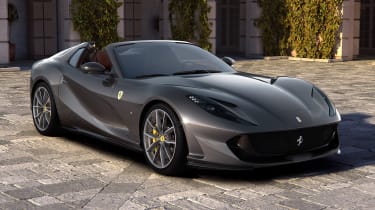 Price: From £290,000 (est)
On sale: Late 2020
Ferrari must have worried that the standard 812 Superfast wasn't eye-catching enough, because it's now launched a brand-new convertible version. Called the 812 GTS, the latest drop-top offering features a folding hard-top that can be lowered in only 14 seconds at speeds of up to 29mph. There's a new retractable electric screen positioned between the car's rear buttresses as well, which acts as a windbreaker.
It's powered by a naturally aspirated 6.5-litre V12, which develops an impressive 789bhp and 718Nm of torque. Drive goes to the rear wheels via a seven-speed dual-clutch automatic transmission – and Ferrari says the GTS has a 0-62mph time of "less than three seconds".
Ferrari Roma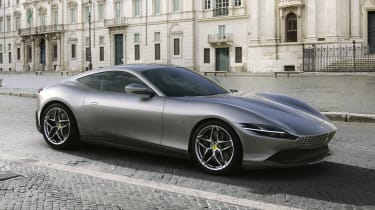 Price: From £170,000 (est)
On sale: Spring 2020
Late last year, Ferrari unveiled an all-new grand tourer called the Roma. It's a front-engined, rear-wheel-drive coupé that slots into the company's line-up between the drop-top Portofino and mid-engined F8 Tributo. Ferrari says that, when penning the Roma, it drew inspiration from the Italian car designs of the fifties and sixties – specifically its own 250 GT Berlinetta Lusso and 250 GT 2+2. The model is quite unlike anything else in the company's range, with futuristic body lines and a new minimalist grille.
Thankfully, though, the Roma's powertrain is a thoroughly modern design. It's a turbocharged 3.9-litre V8, developing 612bhp and 760Nm of torque – enough for a 0-62mph time of 3.4 seconds and a top speed in excess of 200mph.
Ferrari SF90 Stradale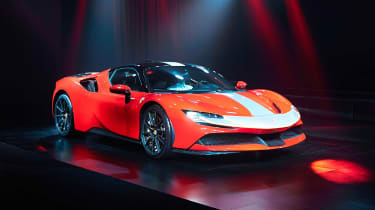 Price: From £400,000 (est)
On sale: Summer 2020
Not to be outdone by the likes of McLaren and Porsche, Ferrari has launched its first plug-in hybrid hypercar. Called the SF90 Stradale, the model is built around a brand-new 'multi-material' chassis. This features a combination of carbon fibre and forged aluminium in a bid to keep the bulk at bay. And it looks like the measures have worked; Ferrari claims a kerbweight of 1,570kg.
It's propelled by a turbocharged 4.0-litre V8 engine, a trio of electric motors, and a compact 7.9kWh battery pack mounted behind the rear bulkhead. The system's total output stands at 986bhp and 800Nm of torque, which is enough for a claimed 0-62mph time of 2.5 seconds and a top speed of 211mph. However, the Stradale is going to cost in excess of £400,000, so such excellent performance doesn't come cheap.
Ford Kuga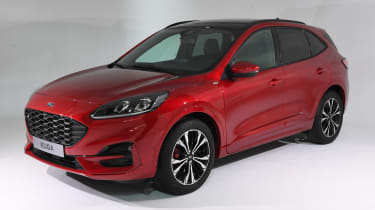 Price: From £23,995
On sale: Now
Ford's latest Nissan Qashqai rival is on sale now. It's a thoroughly redesigned successor to the Kuga Mk2, and alongside the radical cosmetic overhaul, there's a fresh platform, a new eight-inch touchscreen, an active noise-cancelling system and a new range of eco-friendly powertrains.
As well as the usual range of petrol and diesel engines, it's available with a choice of two mild-hybrid powertrains and as a plug-in hybrid, too.
The flagship PHEV is powered by a 2.5-litre petrol engine and an electric motor that's connected to a 10.3kWh battery pack, and Ford says that this set-up develops 223bhp and helps the Kuga return upwards of 200mpg.
Ford Mustang Mach-e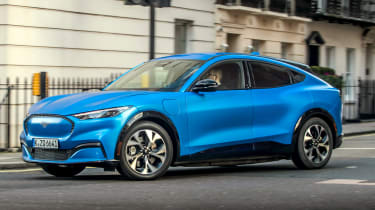 Price: From £40,270
On sale: Late 2020
Ford's rival for the Jaguar I-Pace is a real headline-grabber. It's an all-electric SUV called (somewhat controversially) the Mustang Mach-E – and it currently has the longest claimed range of any model in its class, with a maximum of 370 miles.
From launch, the Mach-E will be offered with a variety of powertrains, with outputs ranging between 255bhp and 333bhp, and both rear and four-wheel-drive versions will be available. Later in the SUV's lifespan, Ford will introduce a flagship GT version of the car, with 458bhp, 830Nm of torque and a claimed 0-62mph time of less than five seconds.
Honda Jazz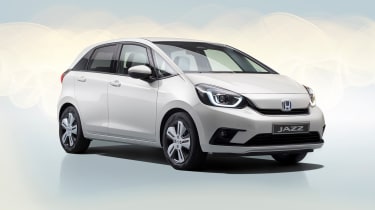 Price: From £18,980
On sale: Now
Honda has launched a new Jazz, with chunkier bumpers and simpler panels than its predecessor, plus stacks of new tech. There's also an SUV-inspired Jazz Crosstar model, which Honda hopes will muscle in on the Nissan Juke's territory. This adds rugged plastic body mouldings, jacked-up suspension and – unusually – waterproof seat covers.
The twin-motor petrol-hybrid set-up comprises a naturally aspirated 1.5-litre petrol engine, two electric motors and a lithium-ion battery pack. It puts out 108bhp and 253Nm of torque – and Honda says it'll return up to 62.8mpg.
Hyundai i20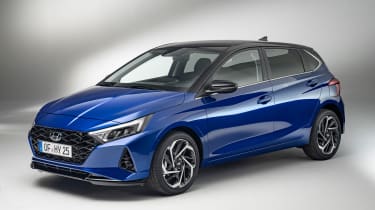 Price: From £15,500 (est)
On sale: September 2020
Hyundai recently took the wraps off the i20, which the Korean brand hopes will take the fight to supermini class-leaders such as the Ford Fiesta and Renault Clio.
It shares its basic platform with its predecessor, but everything has been overhauled. There's a significantly sharper, more contemporary look outside, while the cabin of top-spec versions gets a pair of 10.25-inch digital displays across the dashboard. The already-roomy cabin becomes even more accommodating, too.
The i20 is likely to come to the UK with a single engine option: a 1.0-litre, three-cylinder turbocharged petrol with 100bhp and mild-hybrid tech.
Jeep Renegade PHEV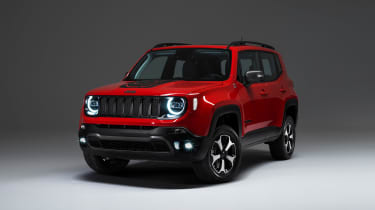 Price: From £35,000
On sale: June 2020
Jeep's Renegade is set to get a much-needed shot in the arm in June, with the introduction of an all-new plug-in hybrid powertrain. The set-up will make the Renegade fairly unusual in the crossover class, with only Kia and Renault currently offering plug-in petrol/electric options in that sector.
The Jeep will be more potent than either, though; the mix of a 1.3-litre turbocharged engine and an electric motor will produce up to 237bhp. That means a 0-62mph time of less than seven seconds, yet the Renegade should be capable of a 31-mile electric-only range, thanks to an 11.4kWh battery. The electric motor will also drive the rear axle, making the PHEV Renegade four-wheel drive.
Continue Reading
1

Best new cars for 2020

– currently reading

From electric SUVs to exotic supercars, we look at the best cars due to arrive in 2020

2

2020 Cars – K to M

From electric SUVs to exotic supercars, we look at the best cars due to arrive in 2020

3

2020 Cars – P to V

From electric SUVs to exotic supercars, we look at the best cars due to arrive in 2020
Source: Read Full Article