From mild to plug-in hybrid, we reveal the best hybrid SUVs you can buy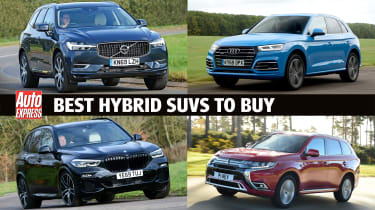 It used to be thought that SUVs and 4x4s with diesel engines were a match made in heaven. Diesels offer lots of low-down grunt to move big, heavy cars, and they're superbly economical too. Then diesel car emissions and localised air pollution became front page news and the backlash against the fuel began. This opened the door to the hybrid SUVs and these cars have been growing in popularity ever since.
Hybrid SUV powertrains combining petrol engines with electric motors are a viable, environmentally-friendly alternative to diesel. The electric motors do a fine job of replicating a diesel's low-end torque but with lower emissions, while fuel economy tends to be much improved compared to pure petrol SUV options.
• What is a hybrid car?
Not so long ago, if you wanted to drive a hybrid SUV Toyota was about the only option. Lexus hybrid SUVs shared the Toyota family tech too, but that was about it. Nowadays there's a far wider range of hybrid SUVs in UK dealers, as manufacturers respond to increasing demand and ever-tightening emissions regulations.
The greater choice of hybrid powertrains makes it far easier to find a hybrid SUV or crossover that's right for you, and we've compiled a list of our top 10 favourite models on the market today below.
Our selection includes everything from super-luxurious – and expensive – plug-in hybrids like the Range Rover P400e to the mild-hybrid Volvo XC60 and more affordable small SUVs like the Kia Niro. There should be something to suit all requirements and every car that makes the list is a top class option.
What is a hybrid?
There's still some confusion around about the different types of SUV hybrid, but nowadays the two main options are usually described as PHEVs (Plug-in Hybrid Electric Vehicles) or self-charging hybrids, which you can't plug in even if you wanted to.
The SUV PHEV is a sort of half-way house between a hybrid and a fully electric vehicle, because it has a battery big enough to run the car on electricity alone – typically for 25 to 35 miles – after one charge of a few hours. A PHEV also has a petrol engine, and most of the time you're likely to be driving on a mix of petrol and electricity. When the battery runs out, you're down to petrol power alone, but with a heavy battery on board that will blunt fuel economy.
A self-charging hybrid works because it uses a much smaller battery, which the engine can cope with recharging on the go – impossible with the bigger batteries required in an SUV PHEV.
The downside is that you have much more limited electric-only range in a self-charging hybrid, typically just a few miles if you're lucky. The self-charging hybrid gains its major advantage by greatly increasing fuel economy, as the electric motor continually assists the petrol engine on a run.
Best electric cars to buy 2020
Plug-in SUV hybrids are extremely efficient if you do the right sort of motoring – either commuting in EV mode only with a fully charged battery, or driving distances that don't exhaust the battery and force you to rely on the petrol motor.
In that case you'll benefit from the efficiency of a diesel – or better – but with the smoothness of a petrol engine, or even silent electric running. However, if you fail to keep a hybrid SUV battery topped up, you're presented with a false economy. A plug-in hybrid SUV with a flat battery that has to rely on its petrol engine, will actually be less efficient due to the extra weight of the hybrid system and certainly less cost-effective than a regular petrol alternative. Especially so, once you've factored in the significantly higher prices manufacturers currently demand for hybrid options.
Why buy a hybrid SUV?
Aside from the tax benefits and incentives available with any hybrid car, one benefit of the hybrid SUV is that their size means there's not much compromise in terms of passenger space. The hybrid system usually takes up space under the boot floor, and many makers fit a smaller fuel tank to make room for it, the reasoning being that the charged battery and electric motor will more than make up for the smaller fuel tank range. As a result, there are a few seven-seat hybrid SUVs on sale that feature a third row in the boot.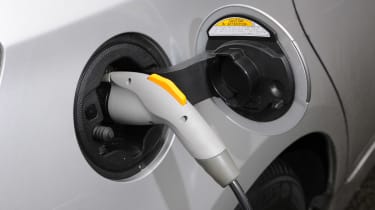 If you're looking for a hybrid SUV or crossover, your options are wider than ever. At the lower end of the range in terms of size, the Kia Niro is more of a hatchback with SUV styling cues than a full crossover.
Where the real expansion is taking place is in the plug-in hybrid market. The Mitsubishi Outlander PHEV was the first to arrive in 2012, but since then it's been joined by many others including the BMW X3 xDrive30e, the Ford Kuga PHEV, Peugeot's 3008 and Vauxhall's Grandland X Hybrid4 models and Citroen's C5 Aircross plug-in hybrid.
But which hybrid SUVs are our favourites? Check out our top 10 below…
1. BMW X5 45e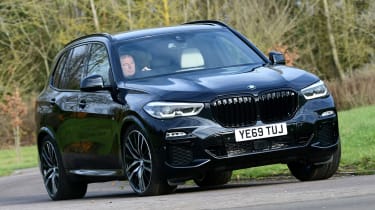 The X5 xDrive45e fits the template of the big hybrid SUV perfectly. It combines a smooth 3.0-litre six-cylinder petrol engine with a 24kWh battery – that's nearly as big as the pack you'll find in the MINI Electric. It means you'll be able to cover up to 54 miles on electric power, a benchmark for all plug-in models. A full charge does take seven hours, though.
Having such a large battery means some buyers will barely ever use the engine, but the two power sources are well integrated, adding to the X5's air of luxury. The six-cylinder engine is refined and quiet at speed, but still delivers strong performance in tandem with the electric motor – BMW says 0-62mph takes 5.6 seconds. Given its size, the X5 isn't the most agile PHEV on sale, but the steering is sharp and the ride is smooth when you take it easy.
2. Volvo XC60 T8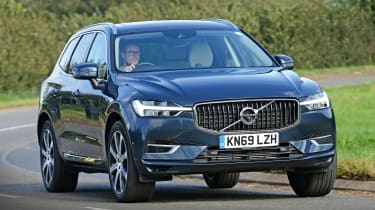 Since 2019, every new Volvo has been available with some form of electric motor, ranging from starter-generators in the firm's B4 and B5-badged mild hybrids, right up to the 385bhp version of the T8.
Volvo's SPA platform was designed with electrification in mind. It's the base for all of Volvo's larger models, which is why they feature the same petrol-electric system. The XC60 is the sister SUV to the S60 and V60 (above), but it has the widest range of plug-in options. It comes in T6 and T8 guises like the V60, plus there's a Polestar Engineered version.
In its fastest form, the XC60 manages 0-62mph in 5.4 seconds, but like the saloon and estate, we'd choose a lower-powered option. Then you can enjoy plug-in refinement, the design-led interior, exceptional build quality and comfortable ride.
3. Volvo XC90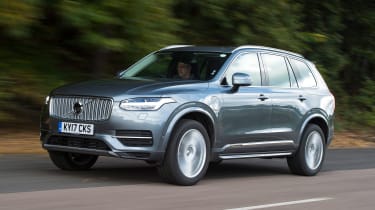 The XC90 is a former Auto Express Car of the Year, and it's still a great luxury family SUV. There are petrol and diesel options available, but the XC90 was the first car in Volvo's current line-up to get the T8 plug-in hybrid system.
Since it's such a large SUV, the XC90 delivers the poorest figures of any T8-equipped Volvo, but there's still an electric range of up to 31 miles, and low emissions help its cause as a company car, too.
Even better is the fact there's no sacrifice in practicality or luxury. Unlike some rival SUVs, the XC90 is still a seven-seater, and the cabin is just as roomy. The hybrid system encroaches on the fuel tank instead, the theory being that if you charge the battery regularly and use electric drive, you won't notice the reduced range from the petrol engine.
4. Audi Q5 TFSI e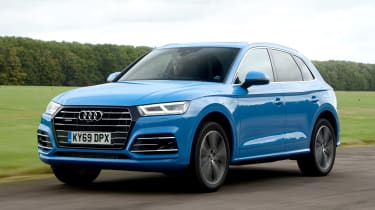 As an all-round ownership prospect, the Q5 TFSI e is the pick of Audi's plug-in range. Five trims are offered across two power outputs, both of which combine a 2.0-litre four-cylinder petrol engine with a 14.1kW electric motor. The '50' model produces a combined 295bhp, while the '55' has 362bhp, but performance is exceptional whichever version you choose.
Refinement is good, too. In pure EV mode, there's precious little road or wind noise, and it's possible to travel on electric power at motorway speeds. We wouldn't recommend it, though, since you'll halve the 26-mile range in the process. Charging from a three-pin socket takes around six hours, or it's two hours using a 7kW wallbox.
The necessary cables come as standard, even if there are no special cubbies in the boot to store them. While the Q5 TFSI e is fast, it's not as much fun to drive as the range flagship, the SQ5. But then that model doesn't offer the promise of exceptional running costs.
5. Toyota C-HR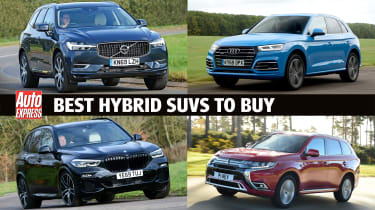 While small crossovers are all the rage right now, few have the style and head-turning ability of the Toyota C-HR. Completely modern visually from any angle, the striking little SUV won't be to everyone's taste, but beneath the bold body is a capable family car.
Using established tech from Toyota's hybrid pioneer, the Prius, the 122bhp C-HR is predictably refined. While not necessarily a car for keen drivers, the small footprint and impressive economy make it a great everyday option, and the perfect first step into hybrid ownership. A 2.0-litre, 184bhp version is also available but unsurprisingly it's less efficient and pumps out more CO2 than the less-powerful 1.8-litre version.
With its coupe-styling, the C-HR does lose out on practicality compared to the Kia Niro, but there's plenty of passenger space throughout its futuristic and upmarket cabin.
6. Kia Niro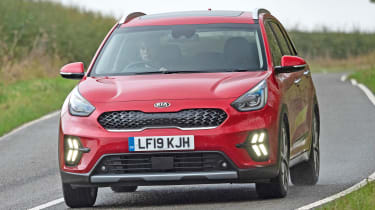 The Kia Niro is a good-looking crossover/SUV alternative to the Toyota Prius hatch Small crossovers are all the rage right now, so it's no wonder that Kia decided to give its Niro hybrid an SUV look. There's a choice between a conventional Prius-style hybrid model and a plug-in hybrid version, but there is also the full-electric e-Niro.
The Niro was designed as a hybrid from the outset, so while it sits between the Ceed hatch and Sportage crossover in Kia's range, the way the battery and electric motor are packaged means space isn't compromised inside. There's plenty of kit on all models, while gloss white fittings are a subtle hint at the Niro's eco credentials.
The Niro hybrid is a little behind the Toyota Prius, in terms of outright economy, but for most people it'll be efficient enough. And besides, its more conventional crossover looks will be an attraction for those put off by the radical looks of the Prius.
7. Toyota RAV4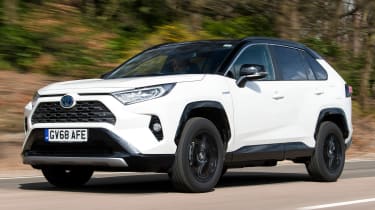 The RAV4 has been around for 25 years in one form or another, but the latest version stands out with much funkier styling than its predecessors. The design is not as 'out there' as the smaller Toyota C-HR with its sporty coupe-style roofline, but compared to the RAV4 of old, it's a much more appealing package for anyone who wants to make a style statement.
Now available with hybrid powertrain only, like the C-HR the RAV4 shares much of its tech with the more humdrum Prius. In this case you get a 2.5-litre petrol engine and electric motor combo that together offer just short of 220bhp, as well as the option of four-wheel drive. You also get a CVT automatic gearbox, which sounds characteristically strained under vigorous acceleration, which for some buyers will spoil the experience. The ride and driving experience are otherwise quite pleasant.
If you want a mid-size SUV hybrid that doesn't need plugging-in, there's still not really anything else out there to tempt you from the RAV4. It's not a cheap car though, and at around £30k you'll need to be keen on the powertrain to pick a RAV4 over a diesel Skoda Kodiaq which is £5k cheaper and not much less economical.
8. Porsche Cayenne E-Hybrid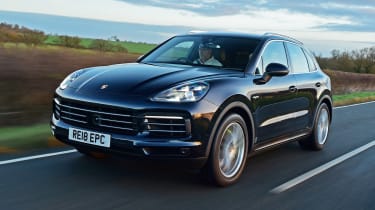 The petrol-powered Cayenne famously offers sports car driving dynamics in an SUV body, while the hybrid models are just as fast, but with improved economy.
Buyers have a choice of two powertrains. The entry-level E-Hybrid has a 3.0-litre V6 petrol engine and electric motor for a combined output of 456bhp, while the flagship Turbo S uses a 4.0-litre V8 and electric motor for 671bhp and 900Nm of torque. That's enough for a 0–62mph time of 3.8 seconds.
In practical terms, both versions have slightly smaller boots than standard, thanks to the addition of the hybrid system's 14.1kWh battery, although they still offer a decent amount of practicality. That battery takes 2.3 hours to charge from a 7.2kW source, and is good for a driving range of up to 22 miles.
9. Lexus UX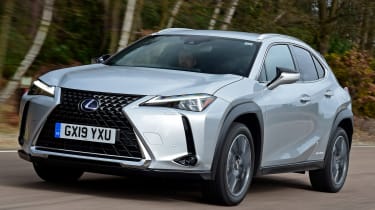 The Lexus UX 250h is another member of the Toyota family that shares its powertrain tech with the Prius hatchback. It's a well-tried system, and put to good effect in this latest Lexus SUV/crossover, where even the oft-criticised CVT transmission seems perky and less strained than in its similarly-equipped Toyota group siblings.
You get a 2.0-litre petrol engine as well as the electric motor and Lexus promises economy of up to 68.9mpg, in official tests at least. That's easily a match for many SUV diesels, and CO2 emissions are low too. Like the other Toyota powertrains in this list, a four-wheel drive version is also offered – fuel economy drops to 47mpg should you choose it however.
As a 'self-charging' hybrid you don't need to plug the UX 250h in – if that's your thing, then the forthcoming electric-only UX 300e is worth a look instead.
As well as great economy the UX 250h offers all the usual Lexus qualities of peerless build quality, top-notch reliability, and a luxurious ambience. It's not the most practical SUV out there though, with a relatively small boot. You also have to put up with Lexus's fiddly infotainment system, and you still can't get Android Auto or Apple CarPlay.
10. Mitsubishi Outlander PHEV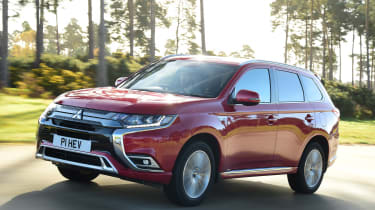 When it was launched in 2013, the Mitsubishi Outlander was a plug-in hybrid pioneer, because it was the first plug-in hybrid SUV on the market. However today, and despite relentless updates, the Outlander is starting to show its age.
Mitsubishi still sells plenty of Outlanders, though, because the car suits the needs of city-dwelling families. In 2018, the firm fitted a new 2.4-litre petrol engine, a better electric motor and a larger battery to keep the car competitive – and the resulting performance figures were reasonable, with a combined output of 221bhp and a 0–62mph time of 10.5 seconds. The car's running costs are competitive, and it can accept a 22kW charge, taking the battery from 10-80% in just 30 minutes.
Would you ever consider buying a hybrid SUV? Let us know your thoughts in the comments below…
Source: Read Full Article