A good estate car delivers practicality, space and low running costs – here are the 10 best estates on sale in the UK today

Introduction

1. Skoda Octavia Estate

2. BMW 5 Series Touring

3. Toyota Corolla Touring Sports

4. Mercedes E-Class Estate

5. Skoda Superb Estate

6. Audi A6 Avant

7. Volvo V90

8. Ford Focus Estate

9. Peugeot 508 SW

10. VW Passat Estate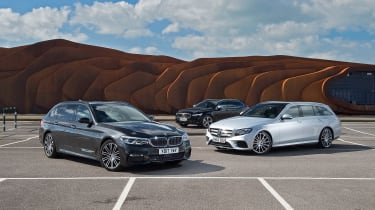 The estate car was once the must-have option for families seeking extra carrying capacity from their new vehicle. Today, competition from MPVs and, particularly SUVs, means that estates are less of a default choice, but you overlook them at your peril. With such a large variety on sale today, there's likely to be an estate car suitable for almost everyone, whether they prioritise maximum carrying capacity, style, towing ability, performance or some combination of them all.
The bread and butter of any great estate is a large, usable boot with a wide tailgate that opens high to avoid bumping your head. The best estates will also have a flat load area, with minimal intrusion from the wheelarches and seats which fold flat with ease.
Best family cars to buy 2020
Cars which offer innovative storage solutions along the sides and under the floor of the boot are winners in our book. While ski hatches, load rails and boot dividers go a long way to turning a good estate car into a great one.
While estates may lack the ultimate versatility of an MPV and the high driving position of an SUV, they tend to serve up a more appealing driving experience than either while matching or bettering them on the load capacity front. It means that, for us, the appeal of the estate car remains strong. Below you'll find what we believe are the best estate cars on the market today…
Not all is well in the estate car class. As mentioned above, SUVs and crossovers are having an impact on sales, and some makers are pandering to the demand of these models at the expense of traditional estates. For instance, while the Peugeot 207 supermini had an SW estate variant, the 208 doesn't – Peugeot launched the 2008 crossover instead.
As a result, the small estate car class has shrunk in size even when compared to just a few years ago. Beyond that, you're in the realm of the compact family estate and cars like the Ford Focus Estate, Vauxhall Astra Sports Tourer, Peugeot 308 SW and VW Golf Estate.
Best estate cars to buy in 2020

1.
Skoda Octavia Estate
2.
BMW 5 Series Touring
3.
Toyota Corolla Touring Sports
4.
Mercedes E-Class Estate
5.
Skoda Superb Estate
6.
Audi A6 Avant
7.
Volvo V90
8.
Ford Focus Estate
9.
Peugeot 508 SW
10.
Volkswagen Passat Estate
Estate car buying advice
Here are some of the key questions you should ask yourself when choosing an estate car to help you get the best model for your needs…
How much luggage space do you need? Don't assume all estates are born equal. Luggage capacity ranges from the relatively small MINI Clubman with 360 litres, to the colossal Skoda Superb with 660 litres – naturally these change significantly with the seats folded.
How much towing capacity do you need? Towing capacity can vary greatly from estate to estate as well. The Audi A6 Allroad and Volvo V90 Cross Country are amongst the best performing estates with a maximum braked towing capacity of around 2,500kg. Should you require less grunt, the Mercedes E-Class, BMW 3 Series Touring and Jaguar XF Sportbrake all offer decent towing capabilities.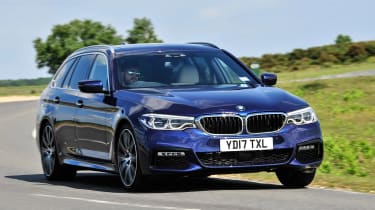 How often will you be using the car? If you are covering a lot of miles you may well want to consider a diesel or even a hybrid – the latter also comes with tax incentives helpful for company car drivers. While a traditional petrol will still prove an excellent option for those who drive less.
How many seats do you need? If it's any more than five you are going to need to look elsewhere, as the days of the seven-seat estate are no more.
Will you require off-road capabilities? Many manufacturers offer estates with extra black body cladding, a raised ride height and four wheel drive. Such models include the Skoda Octavia Scout and the Volvo V90 Cross Country.
What about optional extras? Due to the fact estate cars appeal to both private and business users, they quite often have extensive options lists. Parking sensors and blind spot monitoring systems are incredibly useful, while cruise control, heated and cooled seats, and automatic tailgates all help make life a little easier.
Other estate car options
Despite not failing to make our top then, there are many other strong estates on the market. There is the hugely affordable Dacia Logan, and the slightly less affordable Audi A4 Avant, Jaguar XF Sportbrake. In the middle of the cost spectrum are the Vauxhall Astra ST, SEAT Leon ST, VW Golf Estate and Ford Focus Estate, plus larger cars like the Ford Mondeo Estate and Mazda 6 Tourer.
Click the links above to find out which is the right choice for you.
Continue Reading
1

Introduction

– currently reading

A good estate car delivers practicality, space and low running costs – here are the 10 best estates on sale in the UK today

2

1. Skoda Octavia Estate

The Octavia is based on a Golf platform, but it's far larger and more versatile than its sibling, especially in Estate guise

3

2. BMW 5 Series Touring

The 5 Series Touring adds versatility to the latest model's hi-tech construction and kit

4

3. Toyota Corolla Touring Sports

The Toyota Corolla Touring Sports is an extremely competent package, with efficient engines and great residuals.

5

4. Mercedes E-Class Estate

The E-Class Estate leads the way for boot space in the executive class

6

5. Skoda Superb Estate

The Superb Estate is even more versatile than the hatchback on which it's based

7

6. Audi A6 Avant

Audi's A6 mixes premium luxury with serious load-lugging capability

8

7. Volvo V90

The V90 returns the Swedish maker to the front of the upmarket estate car pack

9

8. Ford Focus Estate

The Ford Focus Estate delivers a fun-driving and family-friendly option at a sensible price

10

9. Peugeot 508 SW

The versatile Peugeot 508 SW offers flexible and spacious practicality with a premium-feel interior

11

10. VW Passat Estate

Upmarket design and plenty of hi-tech kit mark out this perennial family estate
Source: Read Full Article