If you're looking for performance kicks, these sports cars will have you grinning ear-to-ear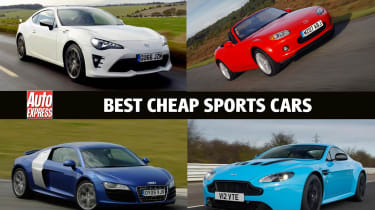 Brand new sports cars are out of most people's price range, however, if you're prepared to shop around on the used car market you might just be able to make that performance car dream a reality. Sports cars come in all shapes and sizes but a cheap used sports car model can deliver plenty of thrills for your money and there are models out there to suit all budgets.
A cheap sports car from the second hand car market is a cost-efficient way of accessing performance and driving experiences that only these types of vehicles can offer. With the right model you'll be doing so for quite a bit less than a manufacturer would charge for something factory fresh. And that should only add to the adrenaline.
Buying a used car: your complete guide
Some of the performance cars in this list aren't ideal for daily commuting so you'll have peace of mind that they've spent most of their time on driveways or garages, rather than sitting in traffic at rush hour. 
A word of caution though: sports cars are also types of vehicle that owners like to drive hard and when things do go wrong, they tend to be expensive to put right. It all means it's essential to see a detailed service history before you agree to a deal. An expert inspection might also be a good idea to ensure there are no catastrophic issues lurking under the bonnet.
There's a good mix of cheap sports cars here and while they offer varying degrees of performance and driving experiences, one thing is certain – they will all put a big smile on your face. 
Best cheap sports cars
To continue your hunt for a convertible car, check out our lists of the best used sports cars, which contains newer models than the cheaper options below and our main new sports cars round-up. To check the value of any car quickly and easily, just use our free valuation tool… 
Mazda MX-5
Year/miles: 2007/80k 
Price: £4,250 
Years produced: 2005-2015 
Engine: 2.0-litre 4cyl 
Petrol, 158bhp 
Top speed: 130mph 
0-62mph: 7.9 seconds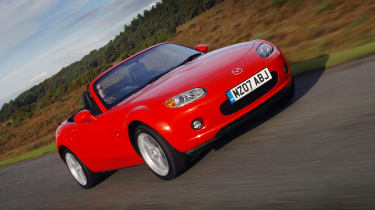 No affordable fun-car rundown would be complete without the world's best-selling roadster – and for used buyers, the third-generation machine is the pick of the bunch. 
Combining the cool, retro looks of the original with everyday usability and brilliant driving dynamics, a blast in this MX-5 will never fail to lift your spirits. Key to its appeal is a perfectly balanced rear-wheel-drive chassis that combines agility and adjustability. It's enhanced by the keen naturally aspirated 2.0-litre motor and the wrist-flick gearchanges of its manual transmission.
And the Japanese machine is even more appealing when the sun shines, because its simple fabric roof can be opened in seconds with one hand. Yet this isn't only a car for high days and holidays, because it has a cosy and well equipped cabin, plus a boot that will happily swallow luggage for a long weekend away. Crucially, it's also efficient and dependable, and there are so many cherished examples to choose from, it's easy to avoid picking a lemon.
Toyota MR2
Year/miles: 2002/79k 
Price: £2,995 
Years produced: 1999-2007 
Engine: 1.8-litre 4cyl petrol, 138bhp 
Top speed: 131mph 
0-62mph: 8.0 seconds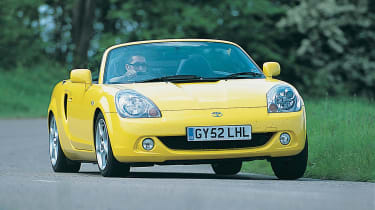 Often overshadowed by Mazda's MX-5 when new, the mid-engined MR2 now makes a great-value used buy. Its pert looks, razor-sharp chassis and drop-top thrills make it difficult to resist, especially when you can buy a cherished low-mileage car for under £3,000.
The 138bhp 1.8-litre motor gives zippy performance, while the cabin is surprisingly roomy and well equipped. Keep an eye out for crash damage, while corrosion is also an issue – but if you can avoid these pitfalls, the tearaway Toyota will deliver endless smiles per mile.
Ford Puma 1.7
Year/miles: 2000/97k 
Price: £995 
Years produced: 1997-2002 
Engine: 1.7-litre 4cyl petrol, 123bhp 
Top speed: 126mph 
0-62mph: 8.8 seconds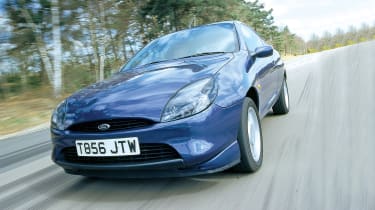 Before it ever morphed into a big-selling compact crossover, the Blue Oval's diminutive Puma was a sleek, small coupé that was as good to drive as it was to look at. Under its curvaceous bodywork sit fairly humble Fiesta hatchback-based mechanicals, but some subtle tweaks mean that even a quick blast up the road in the fleet-footed Ford will leave you grinning from ear to ear.
A quicker steering rack teamed with a retuned suspension set-up helps the Puma coupe slice through corners with poise and precision, while the smooth and rev-hungry 1.7-litre powerplant feels far more muscular than its 123bhp output would suggest. Neat design details include eye-catching turbine-style alloy wheels, along with an aluminium gearknob that looks just as cool as it feels.
As with many machines of this era from this particular manufacturer, rust can be a problem – but track down a good example and you'll be rewarded with a genuine driver's delight. You'll have to pounce now, however, because Puma prices are on the rise.
Hyundai Coupe 2.0 SE
Year/miles: 2003/112k 
Price: £475 
Years produced: 2002-2009 
Engine: 2.0-litre 4cyl petrol, 141bhp 
Top speed: 129mph
0-62mph: 9.3 seconds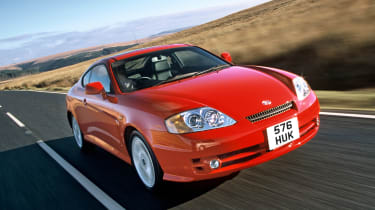 Want to get the look for less? This Hyundai should be just the ticket. Yet there's more to it than simply style, because it's also good to drive. The gutsy 2.7-litre V6 delivers the biggest punch, but the far more efficient 2.0-litre four-pot is barely any slower and feels even lighter in corners.
While rust can be an issue on early cars, the Hyundai is reassuringly reliable. Factor is a surprisingly spacious four-seat cabin and a decent boot, and this is a coupé you can buy with your head and your heart.
Alfa Romeo GTV Twin Spark
Year/miles: 1999/79k 
Price: £1,999 
Years produced: 1994-2004 
Engine: 2.0-litre 4cyl petrol, 155bhp 
Top speed: 131mph 
0-62mph: 8.4 seconds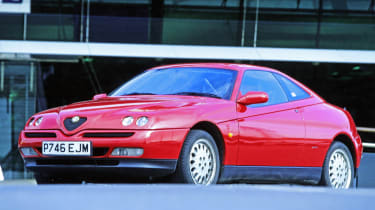 Stunning looks, a sparkling drive and Latin charm make the GTV a hugely desirable cut-price coupé. The Pininfarina-penned Alfa really cuts a dash, while its honed front-wheel-drive handling gives great poise and agility. 
As with all the best Italian cars, the engine is the star. Acceleration from the 148bhp Twin Spark unit is brisk rather than neck snapping, but it encourages you to squeeze out every last ounce of performance. Even better, this Alfa is surprisingly tough, unlike its traditionally troublesome ancestors.
Honda CR-Z
Year/miles: 2011/136k 
Price: £4,450 
Years produced: 2010-2014 
Engine: 1.5-litre 4cyl petrol/electric, 112bhp 
Top speed: 124mph 
0-62mph: 10.0 seconds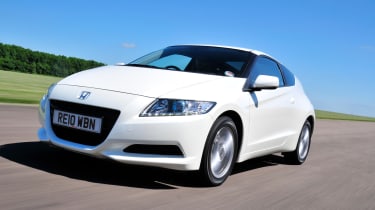 An eco-friendly hybrid doesn't sound like a recipe for fun, but the CR-Z will make you grin when going green. The compact coupé's 1.5-litre petrol-electric motor gives surprisingly eager acceleration, yet it'll also do 56.5mpg.
It feels light and responsive, its quick steering and compact dimensions helping provide confidence in the corners. The interior is a little cramped, and at this price you'll need to consider high-mileage examples, but typical Honda reliability means this shouldn't cause any sleepless nights.
BMW 650i Sport
Year/miles: 2006/53k 
Price: £7,600 
Years produced: 2006-2010 
Engine: 4.8-litre V8 petrol, 362bhp 
Top speed: 155mph 
0-62mph: 4.6 seconds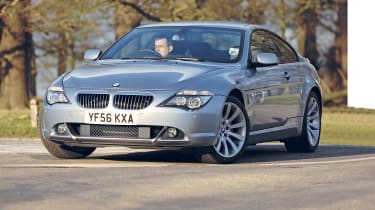 Love or loathe the bulbous-looking 6 Series, there's no denying that it delivers a lot of fast car for your cash, particularly when it's in 650i guise. 
Designed by current BMW styling boss Adrian van Hooydonk, the large four-seat coupé suffered hefty depreciation when new, meaning you can pick up a clean, low-mileage and well maintained example for less than the cost of a three-year-old Ford Fiesta. Power comes from a 362bhp 4.8-litre V8, which blends muscle-car performance with hushed refinement. Despite its size, the rear-wheel-drive 6 Series also performs with the poise and panache you'd expect from a BMW.
Porsche Boxster 2.5
Year/miles: 2001/94k 
Price: £4,000 
Years produced: 1998-2004 
Engine: 2.7-litre flat-six petrol, 220bhp 
Top speed: 155mph
0-62mph: 6.6 seconds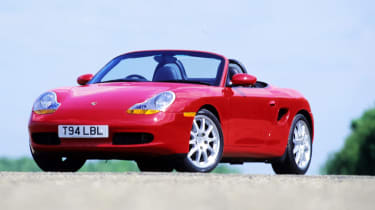 How do you fancy a Porsche for less than the cost of an entry-level Dacia Sandero? It sounds too good to be true, but with prices for early Boxsters starting at as little as £3,000, you could have a thoroughbred sports car on your drive for less than you'd think. Spend a little more, and you'll be able to choose from an array of lower-mileage, well cared-for examples. A full history is essential, plus it pays to spend a little extra for a professional inspection. Also factor in a larger budget for fuel and servicing. 
Do this, however, and you'll be rewarded with a car that leaves you grinning like the Cheshire Cat every time you hit the road. For pure thrills, the more muscular 2.7-litre cars are hard to beat, with their howling flat-six powerplants, sensationally balanced mid-engined handling and steering that's simply dripping with feedback. However, the Boxster is now closing in on classic status, so prices won't remain low for long. Strike now, before it's too late.
Maserati  4.2 GT
Year/miles: 2003/111k 
Price: £8,995 
Years produced: 2002-2007 
Engine: 4.2-litre V8 petrol, 390bhp 
Top speed: 177mph 
0-62mph: 4.9 seconds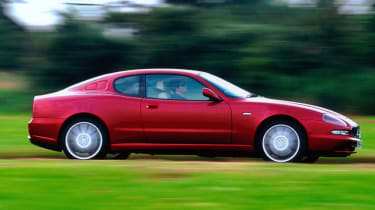 Could buying a £9,000 Maserati be a first-class ticket to financial ruin? Quite possibly, but you're guaranteed to have fun finding out. Oozing Latin charm, and powered by what's essentially a Ferrari V8, the 4.2 GT is a true blue-blood thoroughbred.
It looks the part, too, with swooping coupé lines, while the hand-finished, leather-lined 2+2 cabin makes up for in luxurious appeal what it lacks in outright space. The rear-drive Maserati is good to drive as well, while there's more than enough comfort and refinement to justify its GT badge. Yet it's the incredible V8 engine that's the real star, and its deep-chested performance and spine-tingling soundtrack will leave you grinning for hours after you've parked up.
Of course, a documented history is vital at this price point, as is a slush fund to cover any potential problems. But such is the Maserati's charm that you won't resent having to dig a bit deeper into your pockets.
Caterham Seven
Year/miles: 2006/20k
Price: £13,000
Engine: 1.8-litre 4cyl, 165bhp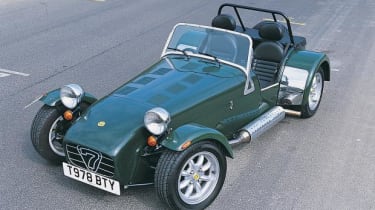 Caterham has been building its Lotus Seven-based sports cars for over 40 years, and whichever one you choose, it will put a smile on your face. Lightweight construction ensures that even with a modest 165bhp, the Seven is rapid, while direct steering and a ground-scraping ride height mean every journey is exhilarating.
A factory-built car will give peace of mind over a home-built kit, but buying a Seven gives you access to a world of helpful owners and factory assistance, although you'll need to be prepared to get your hands dirty keeping it running. 
Toyota GT 86
Year/miles: 2012/55k
Price: £10,000
Engine: 2.0-litre 4-cyl, 200bhp
Economy: 36.2mpg
CO2: 183g/km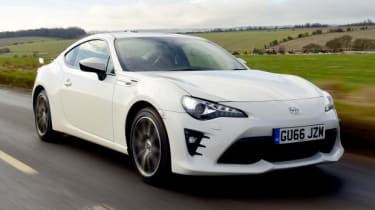 Lightweight body, old-school rear-wheel drive handling and loveable boxer engine all made the GT86 one of our favourite sports cars when it was launched in 2012. It received a mid-life nip and tuck in 2017, but the older cars still represent huge bags of fun.
All GT 86s have 200bhp on tap, which gives a decent power per tonne ratio with a kerb weight of just 1,300kg. There is the option of an automatic, but the six-speed manual is the one best suited for a bit of cheap sports car fun.
Nissan 370Z
Year/miles: 2011/70k miles
Price: £10,000
Engine: 3.7-litre V6, 326bhp
Economy: 26.7mpg
CO2: 256g/km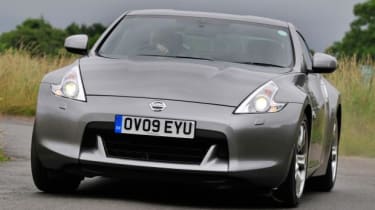 Brawny coupes are in short supply in the UK, so the Nissan 370Z really stands out when you see it on the road. With its bulging wheelarches and bulbous curves, it isn't quite as elegant as the 350Z it replaced, but its wide stance and squat body signify its sports car intent.
The 370Z is a decent performer thanks to that big V6 under the bonnet – although it doesn't sound as meaty as it should – and the handling is sharp for a car that's relatively heavy. But that big engine has big costs associated with it, while the auto version really numbs the driving experience.
Lotus Elise
Year/miles: 2004/51k
Price: £17,000
Engine: 1.8-litre 4cyl, 189bhp
Economy: 32.1mpg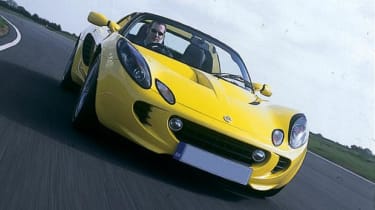 The Elise is a perennial sports car favourite. It's not quite as spartan as a Caterham, and it feels more like a real car than a kit, but its lightweight build and nimble handling are true to the philosophy of Lotus founder Colin Chapman.
A £17k budget stretches to a Series 2, the sharper-looking model that shared its chassis with the Vauxhall VX220. The standard car had a 120bhp Rover K Series engine, which is plenty to enjoy on back roads.  However, in 2004 the Lotus added a Toyota engine in the 111R edition, giving it 189bhp and this is more reliable model is the one to go for.  
Jaguar XKR-S
Year/miles: XKR-S (2011/50k)
Price: £23,000
Engine: 5.0-litre V8, 543bhp
Economy: 23.0mpg
CO2: 294g/km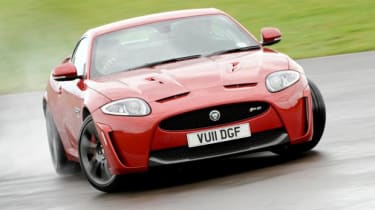 By the time the XKR-S arrived in showrooms in 2012, Jaguar had transformed itself from a grown-up, sensible luxury car maker to a dynamic and youthful firm. And that couldn't be better demonstrated with the tyre-shredding last hurrah for Jag's GT coupé.
The supercharged V8 delivered big numbers, with a stonking 543bhp and 680Nm of torque. It was backed up by revised suspension settings, so the XK was more nimble than before. There's a convertible version available, and we think the XKR-S looks best in the exclusive French Racing Blue paint option, like the one we found.
Audi R8
Year/miles: 2009/50k
Price: £32,000
Engine: 5.2-litre V10, 518bhp
Economy: 19.2mpg
CO2: 229g/km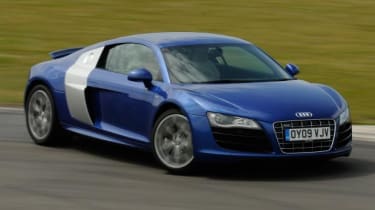 If ever a model could be called the everyday supercar, it's the Audi R8. While the concept-car looks mean it'll turn heads wherever you go, it's as docile as an A3 when you're taking it easy. Go for a version with magnetic ride dampers, and it'll be pretty comfortable, too. But bury the throttle, and all hell breaks loose, with the V10 model in particular delivering a hard-edged growl that will send a tingle up your spine. 
Aston Martin Vantage S
Year/miles: 2015/50k 
Price: £69,000
Engine: 6.0-litre V12, 565bhp
Economy: 17.0mpg
CO2: 343g/km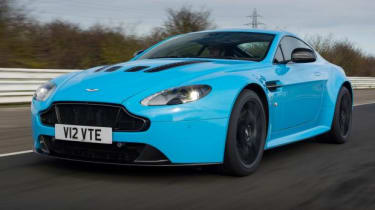 This Vantage was replaced with a new model in 2018 but it still remains one of the most beautiful cars on the road. During its life it had almost continual development, meaning it can still go toe to toe with the best sports cars from other manufacturers.
While the limited-edition GT12 and GT8 pay homage to the brand's GT racing models, you can have just as much fun with the ultimate production version of the standard car, the V12 Vantage S.
This model takes the standard V12 Vantage and gives it a makeover into a more focused sports car, featuring a new V12 engine with 565bhp. This means a 205mph top speed. If you find one that has racked up more miles than the one we did, be sure to check it has service history thoroughly.
Read more of our guides to cheap and tempting used cars…
Best cheap fast cars
Best cheap family cars
Best cheap 4x4s and SUVs
Best cheap convertibles
Best cheap hot hatches
Best cheap supercars
Best cheap, fuel efficient used cars
​
Source: Read Full Article