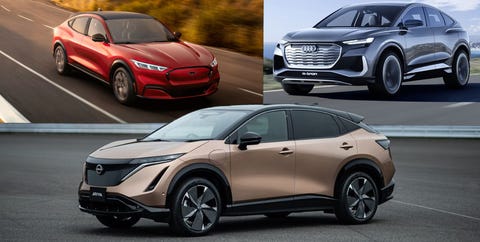 The field of electric crossovers and SUVs is about to get very crowded, with most new entries targeting starting prices below the $50,000 mark. This will be a big change even from two years ago, when the handful of entries in these segments were all well above that price point and aimed squarely at early adopters with deep pockets. The Volkswagen ID.4, unveiled yesterday, will seek to put those big price tags well in the rearview mirror as automakers start offering models within reach of regular crossover SUV buyers. And soon the ID.4 itself will have plenty of competition.
Here are 7 electric crossovers and SUVs worth waiting for.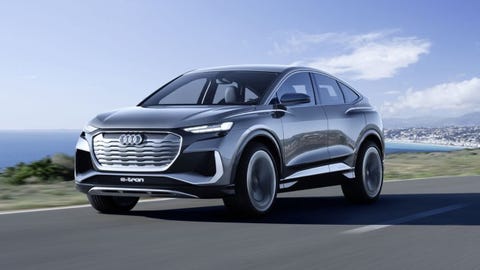 Meant to be a junior companion to the larger e-tron battery-electric SUV, the four-seat Q4 e-tron will use Volkswagen's MEB platform that will underpin all ID models while offering a relatively modest footprint. Under the floor the Q4 e-tron will stash a 82.0-kWh battery, which will give it a range comparable to the ID.4 or perhaps even a little more, up to 280 miles, but it will offer a more upscale interior and exterior styling largely borrowed from its larger e-tron sibling. Since this will be an Audi model all-wheel drive will be standard, offering a 300-hp output. Expect pricing to start around $45,000, which is about where the well-equipped ID.4 First Edition will land as well. The timing is a little unclear at the moment: The Q4 e-tron was originally announced for late 2020, but it remains to be seen whether Audi will be able to hit this mark due to all the delays the early EVs from the Volkswagen Group have experienced this year. This model is now expected to arrive by the middle of 2021 as a 2022 model.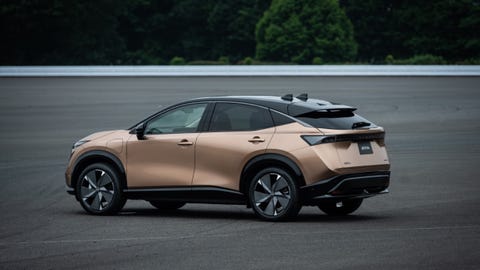 Nissan took the wraps off the production-ready Ariya earlier this summer, showcasing a futuristic design while also showing the world something that will be on sale in a very short period of time. Nissan's next EV will rely on Leaf underpinnings while offering a popular bodystyle that's also designed to be affordable, and not aimed solely at early adopters. Quite a lot is known about the production version at this point: a front-wheel-drive version set to offer 215 hp and 221 lb-ft of torque, while the all-wheel drive variant will be far more hair-raising with 389 hp and 443 lb-ft of torque on tap. The Ariya will also offer up to 300 miles of range on the EPA cycle when optioned with an 87-kWh battery pack, while the shorter-range (and less expensive) model will be powered by a 63-kWh battery good for about 225 miles. How much will it cost? The crossover will start at around $40,000, prior to the application of any federal or local credits.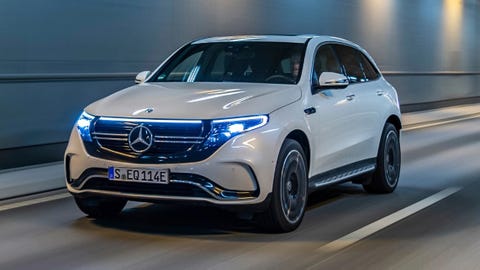 The delayed Mercedes-Benz EQC400 will be the first battery-electric model from Mercedes to land stateside, aimed at getting longtime Mercedes buyers and new buyers alike into a luxury EV based on the GLC-Class. The EQC will serve up a heady 402 hp and 561 lb-ft of torque, which it will need because it won't be exactly lightweight. Expect a range of about 200 miles. The SUV will be powered by a pretty large 93.2-kWh battery of which 80-kWh will actually be used, in order to prolong the life of the battery. Those expecting GLC-Class pricing will need to set aside a little more funds, because the EQC is expected to have a starting price around $70,000. But, on the other hand, it will be a luxury crossover inside, with an interior quite close to the gas-engined GLC-Class.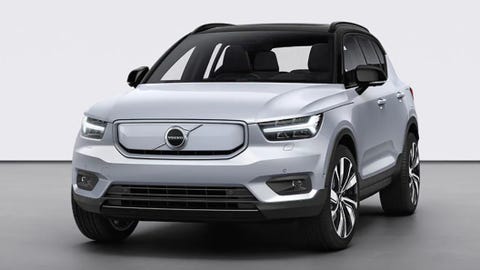 Volvo's first battery-electric SUV may not get much press with most of the focus on Polestar models at the moment, but it's just around the corner. The XC40 Recharge is due to land in late 2020 with a 78.0-kWh battery pack and a range over 200 miles. Offering all-wheel drive, the XC40 Recharge will produce a serious 408 hp that will be needed to propel its 4,840-lb weight. Most of the SUV should be quite similar to the gas-engined XC40, offering seating for five, a vertical infotainment screen and relatively modest exterior dimensions. Aimed at other luxury electric crossovers of this general size, the XC40 Recharge will land about where you'd expect when it comes to price, with an starting price just under $50,000.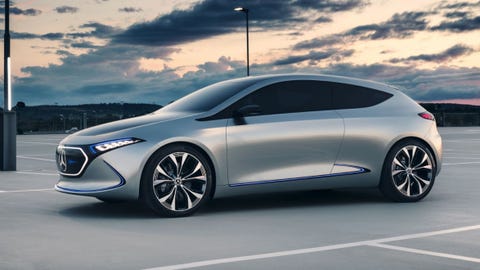 Mercedes is busy turning its gas-engined range into battery-electric vehicles. For those that want a pocket SUV even smaller than the EQC, you can wait for the EQA, seen above in concept form. Expected to be based closely on the gas-engined GLA-Class, the EQA is expected to arrive in 2021 with sleek styling and a battery smaller than the EQC's. Mercedes says range will exceed 250 miles on a full charge, surpassing the EQC's. That's because it won't be as large or as heavy as the EQC, and will have to compete with range figures of its rivals. The EQA will come in the second half of 2021 as a 2022 model. It will have four doors, unlike the concept, and will have quite a few competitors, including the Nissan Ariya and the Tesla Model Y.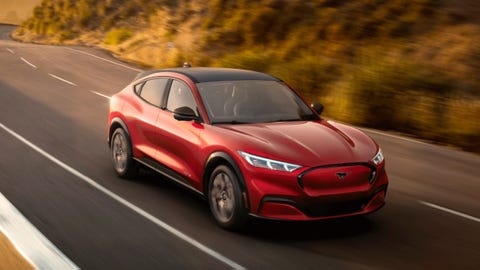 About to go on sale later this fall, the Mach-E will take the pony brand into performance EV territory with a popular bodystyle, seating for five, a sleek design and plenty of (silently delivered) power. The base model will serve up to 332 horsepower and 417 lb-ft, while the GT version will dial that up to 459 hp and 612 lb-ft of torque. The Mach-E will be available with rear- or all-wheel drive in the standard version, while the GT version will be all-wheel drive, serving up launches from 0 to 60 in under four seconds. Buyers will have a choice of two battery sizes: 75.7 kWh or 98.8 kWh, with the extended-range rear-wheel drive version giving it a range of up to 300 miles on a full charge. The all-wheel drive extended-range version will have a range of 210 miles. The Mach-E will start at $44,995, meaning the base versions will land on the lower end of the price spectrum.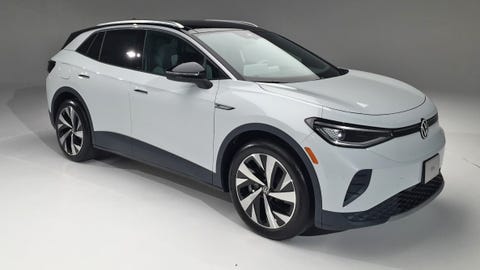 The compact electric crossover will be the first in a line of ID-branded vehicles from Wolfsburg, ushering in a new era for the brand amid a rush of competitors to fill this segment. The ID.4 will be powered by a 82-kWh battery giving it a range of 250 on a full charge. The first examples are rear-wheel-drive, with 201 hp and 228 lb-ft of torque. True to genre norms, the interior of the ID.4 will feature a centrally-mounted screen measuring 10 inches across, and smaller 5.3-inch digital instrument cluster. With the rear seats folded down, the ID.4 will also serve up 64 cubic feet of room. Volkswagen will throw in three years of free charging at Electrify America stations. The First Edition version will be a little pricey, requiring $43,695, but once the full range of trims materializes the car buying public will see them start at $35,000 before the application of any federal or local tax credits. Yes, it really will be that inexpensive in base form.
Source: Read Full Article