The all-electric EX90 will sit at the top of Volvo's model range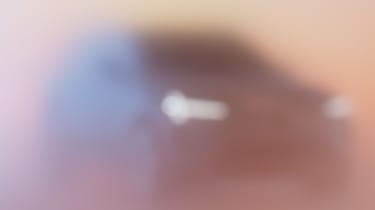 Volvo has given us a first glancing look at its upcoming flagship electric SUV – the EX90 – which will start a new era for Volvo on 9 November when it is revealed. Sitting alongside the internal-combustion engined XC90, the EX90 will use the new EV-only SPA2 platform and will eventually replace the XC90. 
The new teaser images show Volvo's 'Thor's Hammer' headlight signature will be carried over and the rear lights will have an L-shape to them. We can also see a smooth front grille, flush door hands and aero-dynamically efficient alloy wheels. As an EV, aerodynamics is key for the EX90 and Volvo claims an impressive drag coefficient for its large electric SUV of 0.29. 
New Volvo XC40 Recharge Single Motor 2022 review
We already have a pretty good idea as to how the new EX90 will look from the outside. Our exclusive images – derived from patent drawings filed with the European Union Intellectual Property Office – indicate an evolutionary design over the XC90, but the EX90's tech suite will far surpass its predecessor. The Swedish firm has confirmed that bi-directional charging will be available, allowing the EX90 to power external electrical devices and feed energy back into a home. 
The system will also be capable of charging other electric Volvos, and the firm's charge management software could reduce energy costs for the user by charging during periods of low demand. When energy demand is high, the car can also sell energy back to the grid, although these features will depend on particular market rules.
"We are fusing our understanding of the outside environment with our more detailed understanding of driver attention. When all our safety systems,sensors, software and computing power come together, they create a preventative shield of safety around you – and you won't even know it's there until you need it."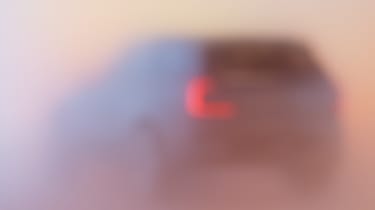 Systems to be offered on the EX90 as a result include a new LIDAR set-up (light detection and ranging) which uses a scanning laser light to detect objects ahead. Volvo claims the tech can pick up a tyre lying in the road up to 120 metres ahead of the car's path, for example, while it can pick up pedestrians up to 250 metres down the road.
This detection method works at highway speeds as well as in daylight and at nighttime; unlike a camera-based system light is not required for the LIDAR to work, so the level of protection offered is the same regardless of driving conditions. With LIDAR, Volvo claims accidents with severe outcomes can be reduced by up to 20 per cent, with overall crash avoidance improved by nine per cent.
In the EX90 the LIDAR system is accompanied by five radars, eight cameras and 16 ultrasonic sensors. The latter includes parking sensors, for example, while much of the other tech will still be used for pedestrian detection and lane keep assist, plus convenience features, such as surround-view when parking and semi-autonomous adaptive cruise control.
Sustainability is the key inside the EX90. Volvo says 50kg of recycled plastics and "bio-based materials" are used to create the interior. The cabin design itself should use a new, minimalistic design ethos, although buyers will be able to choose from seven different "rooms" – design schemes which combine different materials and colours.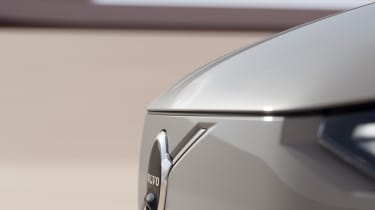 The EX90 will also be fitted with plenty of interior safety technology, including a driver understanding system that features two cameras trained on the driver to understand their concentration and attention levels.
The tech observes a driver's eye-gaze patterns, measuring how much time is spent focusing on the road. Volvo believes a driver can actually focus too much on the road ahead and suffer from cognitive distraction, focusing on their thoughts and not the task of driving. Obviously too little attention paid to the road shows that they are visually distracted, potentially by a mobile phone or another device.
Combined with a capacitive steering wheel sensor that knows when the driver is gripping the wheel, the gaze monitoring tech will look to build a bank of driver behaviour data and intervene in a manner of different ways when needed.
Best electric SUVs to buy now
This could be by a simple warning that grows in volume depending on the severity of the danger ahead sensed by the system, or the car can even bring itself to a stop by the side of the road and activate the hazard warning lights if no driver action is received.
As per the all-electric powertrain offering, the EX90's grille has been blanked off to reduce drag, with the new car based on Volvo's new SPA2 platform that features a fully flat floor to house the car's battery. Specifics on the propulsion system and a target range have not yet been revealed, although the interior teaser images indicate at least 302 miles of range.
It was originally thought that the new car could be called 'Embla'. However, Volvo changed its CEO in March this year, with Briton Jim Rowan taking over. This could have been a key factor behind the brand's U-turn on the car's name; Volvo has also trademarked EX60, EX40, ES60, ES90, EV60 and EV90, potentially for all-electric version of its smaller SUVs and its saloon and estate models. 
As such, there will be no pure petrol or diesel-powered versions of Volvo's next big SUV that will rival cars such as the Audi Q7, BMW X5 and Volkswagen Touareg in the large SUV segment. Indeed, by 2025 Volvo is aiming for 50 per cent of its sales to be of fully electric models and by 2040 the firm is aiming to be fully climate neutral.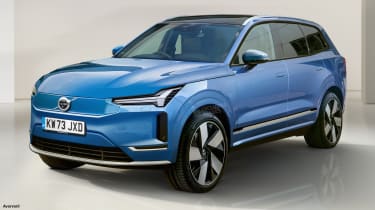 The new EXC90 will introduce a new-generation interior for Volvo. As per the Concept Recharge that previewed this new car, the EX90 will still use a portrait-style central touchscreen, but the panel will be integrated into a much more minimalist environment. The steering wheel in the teaser image is also new and will feature touch sensitive buttons rather than physical ones. In fact, it looks like there will be hardly any physical controls in the cabin, with most of the car's controls being operated from the touchscreen.
The 15-inch central display will run a new-generation software called VolvoCars.OS, and will sit on a floating style dashboard; the pure electric powertrain and underfloor batteries make a central tunnel unnecessary, opening up further space inside the cabin and boosting practicality in the process. Given the XC90's seven-seat capacity, we expect Volvo to offer the EX90 with seating for seven as well.
Click here for our list of the best electric SUVs on sale right now…
Source: Read Full Article