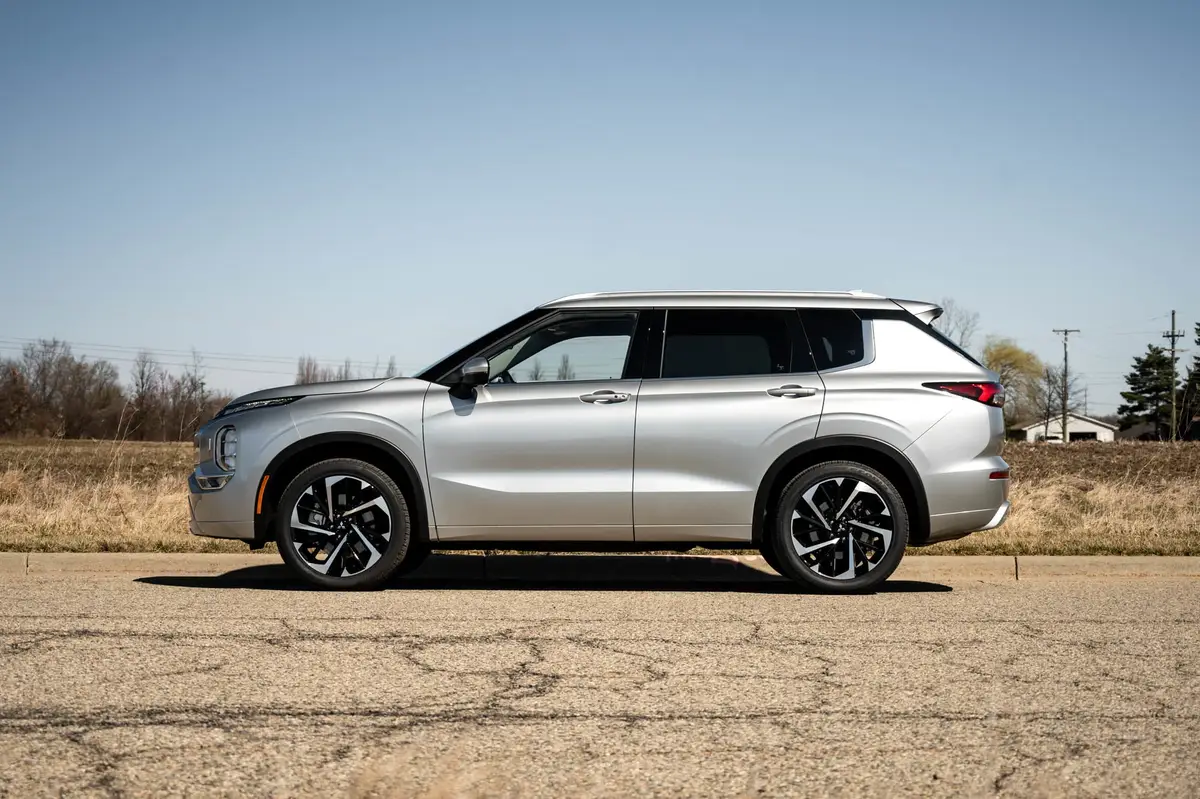 The verdict: An all-new platform transforms the 2022 Mitsubishi Outlander from a quirky, dated entry in the compact crossover field to a sophisticated, technology-packed, desirable SUV.
Versus the competition: Shared parts and technology with the latest Nissan Rogue have made the all-new Mitsubishi Outlander fully competitive with offerings like the Ford Escape, Honda CR-V, Hyundai Tucson, Toyota RAV4 and others. 
Automakers often throw around phrases like "all-new" and "significantly redesigned" when introducing new models, but let's be honest: Usually, an "all-new" model has a lot of the old model's parts and equipment in it. Such is not the case with the 2022 Mitsubishi Outlander, at least not when compared with the outgoing 2020 Outlander (there was no 2021 model). The new one really is all new from Mitsubishi's standpoint because it's a product of the brand's new partnership with the global Renault-Nissan Alliance — meaning that the bones of the new Outlander are largely the same as those of the new 2021 Nissan Rogue. Same engines, same transmissions, same chassis underneath, but with very different-looking styling, a different interior and a different tuning of things like the suspension and all-wheel-drive software. And after driving the new '22 Outlander through the farmlands of rural Michigan for a day, I came away mightily impressed with the fully competitive new compact crossover that Mitsubishi is bringing to play in the already-crowded field of worthy alternatives.
It Looks a Lot Better in Person
You're going to have to trust me on this one, at least until the new Outlander starts showing up on American roads, but it actually does look considerably better in person than it does in pictures and videos. The extremely bold (and a little weird) front end does take some getting used to, but the new Outlander's overall look is decidedly distinctive and shows some interesting styling elements that differentiate it from other SUVs.
As more new models go for more carlike looks (such as the latest Ford Escape), the Outlander instead maintains its upright, faceted trucky/SUV profile with a flat roof instead of a sloping one. Prominent fenders and blunt elements in the face and tail emphasize horizontal width instead of vertical tallness. It most certainly does not look like the Nissan Rogue with which it shares its bones; they both have their own family styling that makes them appropriate in their own showrooms. It also features optional 20-inch wheels in addition to the standard 18-inchers, but you're actually much more likely to see it with those 20s out in the world, as they come standard on all but the Outlander's base trim level. Mitsubishi says that means likely 80-90% of Outlanders will have those big wheels, adding to its distinctiveness. I'm actually going to call the Outlander's styling one of its more successful elements — it's certainly going to stand out in a parking lot full of lookalike two-box crossover blobs. 
Drives Like a Proper Modern Crossover
Perhaps the most striking thing about the new Outlander is how much more competitive it is in its class versus the quirky, old-style model it replaces. Some people will lament the passing of one of the last true Japanese-style SUVs from our shores, but Mitsubishi is likely to find a lot more success with the new Outlander, as it is much, much more in tune with shoppers' tastes these days. It starts with the powertrain, a naturally aspirated 2.5-liter four-cylinder engine that pumps out an uninspiring 181 horsepower and 181 pounds-feet of torque. It's mated to a continuously variable automatic transmission that's surprisingly well tuned to the four-banger's meager output, allowing for acceptably responsive around-town driving. It features paddle shifters for some reason (CVTs don't actually have any gears to shift) and software that approximates the feel of a gear-type transmission so that it doesn't feel too different in how it operates; suffice it to say you'll almost never touch these paddle shifters. Front-wheel drive is standard for the Outlander and all-wheel drive an option. Despite sharing the same components you'd find underneath a 2021 Nissan Rogue, the AWD system is tuned to Mitsubishi's requirements, the company says, allowing it to receive Mitsu's Super All-Wheel Control system branding. 
Don't ask too much of this powertrain and you'll be happy enough calmly motoring around town. Put your foot down and ask it to give it all she's got, however, and you'll definitely be left wondering why the Outlander doesn't have a turbocharger to assist in moving around its sizable figure. Highway entrance ramps and two-lane passing maneuvers require advance planning and maybe a shift into the Outlander's Tarmac mode to improve transmission performance and throttle response. For the vast majority of owners, the Outlander's acceleration will be adequate since it's not meant to be a sports car. 
What the Outlander lacks in driveline entertainment, it instead provides in chassis refinement, handling balance and excellent body control. Despite the 20-inch wheels and low-profile tires, the Outlander rides relatively smoothly, soaking up Michigan's cratered road imperfections with a sophistication missing from the previous model in my testing. The worst roads do still affect the Zen of the cabin, but there's no harshness or bounciness as in some short-wheelbase crossovers with big wheels. The steering feel is on the heavy side, but the huge, girthy steering wheel feels great in your hands, giving you the sensation of extra control without changing much except the size of the rim. Despite it being a fairly tall SUV, the Outlander doesn't feel tippy or top-heavy at all — body control is excellent in sweepers or in urban environments, making for a comfortable, pleasant, decidedly unquirky driving experience. This is something of a contrast from how the Outlander used to be and is a welcome development that gives us hope for Mitsu's future products. 
So Good Inside, Let's Call It the 'Winterior'
The dramatic departure from the prior Outlander doesn't stop with the way it looks outside — the interior also is a massive improvement over the outgoing model. It's larger in both width and length, providing more legroom for occupants front and rear. It also includes something of questionable utility: a standard third row, sized only for kids who have graduated from child-safety seats but aren't yet approaching adult dimensions. Even Mitsubishi admits the third row is only for occasional use, and I almost wish there were a delete option for this feature so that the rear cargo area could be maximized instead. Even with the sliding second row and the uncommon 40/20/40 split to the folding rear seatbacks, the third row really feels more like a foreign-market tax compliance feature than useful kit. 
Regardless of the third-row quirkiness, the rest of the interior is extremely well done. My test vehicle was a top SEL version the with Touring Package, meaning it had exclusive semi-aniline leather done up in a quilted and stitched pattern on the seats, dash and doors. But the attention to detail of the interior goes well beyond the soft-touch padding and authentic leather and metal materials everywhere (you won't find any wood, fake or otherwise, in the Outlander). It's small items like the way every knob and window switch features a knurled texture, or the enormous 12.3-inch digital gauge cluster that's big, bright and highly legible, and can also be switched for something more custom looking at the touch of a button. This trim level features a head-up display, but it does come with the odd quirk of locating the speedometer readout slightly off to one side instead of centered in front of the driver.  
The interior layout is very different from the old Outlander, as well. You sit a lot lower in the new one, with a tall dash and beltline all around you that creates a more imposing, trucklike feel. The seats are comfortable and supportive front and rear, and backseat legroom is plentiful thanks to the sliding second row. A 9-inch touchscreen is standard in higher trims (an 8-inch touchscreen is standard), and it too is a vast improvement over the positively ancient systems Mitsubishi had been using in the old model. Knobs are present instead of touch-sensitive sliders, and the overall design is big, bright and easy to use.
The whole vehicle feels a class above a Toyota RAV4 or Volkswagen Tiguan. Mitsubishi's focus on providing a premium experience was quite evident even in the preproduction model I drove. Mitsubishi is gunning for the top offerings from Hyundai and Kia, and it shows with surprise-and-delight items like headlight washers (AWD models) and separate power close and lock buttons on the liftgate. The additional lock button is one you typically find only on German luxury SUVs that cost two to three times as much as an Outlander. 
Priced in the Sweet Spot
The new Outlander starts at the higher end of compact SUV pricing, with a base price of $26,990 (prices include destination) for a FWD SE trim coming in a little higher than some of its competitors. Prices range up to a high end of $37,640 for an AWD SEL with the Touring Package, which is also pretty much on par with the top trims for competing models, all of which tend to operate within this price range. 
What do competing models have that the Outlander doesn't? Hybrid and plug-in-hybrid models. (Mitsubishi continues to sell the Outlander PHEV with a powertrain revision for 2021, but it's based on the old Outlander.) Ford, Honda, Hyundai and Toyota all offer electrified versions of their new compact SUVs, but for now, the all-new Outlander will soldier on with a conventional gasoline engine only. If that's not an impediment to your consideration, then it's time to add a stop at your local Mitsubishi dealer to your to-do list as you shop for a new compact crossover. The new 2022 Outlander is fully competitive in the compact crossover class, and even offers among the best warranty coverage — better than the Nissan Rogue. It deserves to be on your shopping list.
Cars.com's Editorial department is your source for automotive news and reviews. In line with Cars.com's long-standing ethics policy, editors and reviewers don't accept gifts or free trips from automakers. The Editorial department is independent of Cars.com's advertising, sales and sponsored content departments.
Source: Read Full Article