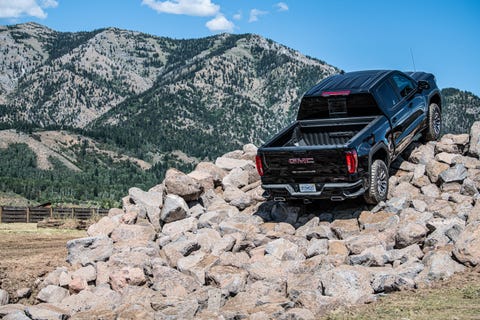 Chevy introduced the latest Silverado pickup late in 2017 as a 2019 model year. Styling was met with a resounding…ummmm. The heavy-duty version looked a little better, but if you're in the market for a GM built truck that looks great, you'll have to step slightly up to the GMC Sierra. And if you want something really sharp, get the AT4 off-road version.
I first noticed the headlights. They are very Ford-like in their "C-Clampy-ness." But the giant, squared off nose, muscular sheetmetal and big tires all look great together.
That tough-looking AT4 package adds a 2-inch factory suspension lift, standard 4WD with a two-speed transfer case, locking rear differential, skid plates, Rancho monotube shocks, 18-inch wheels with available Goodyear Wrangler DuraTrac tires, Hill Descent Control, Traction Select System, MultiPro Tailgate, exclusive exterior and interior trim, red vertical recovery hooks and a standard 5.3-liter V8 engine.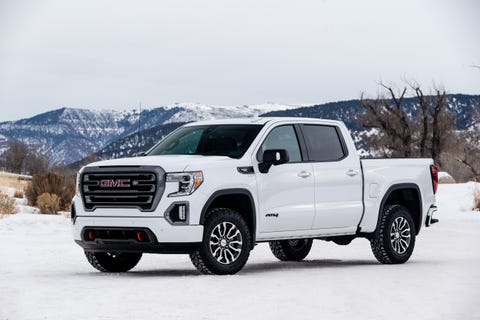 The cheapest way to set yourself up with a Sierra AT4 is with the double cab configuration for $52,895 before any discounts. If you swap to the crew cab, like this vehicle, you'll be out $55,295. And if you want the big, 420-hp, 460 lb-ft 6.2-liter V8 it'll be another $2,500 or so.
Aside from the design, the powertrain is the best thing going for the Sierra AT4. The ten-speed/V8 combo is powerful. And while the V8 is sort of loud, it's also super smooth. During a moderate 20-80 mph run the tach just bounces between 2,000 and 3,000 rpms with a very slight torque gap between the gears. The penalty for that power is an EPA rating of just 15 mpg in the city and 19 mpg on the highway. With the crew cab you're looking at a 24-gallon gas tank, meaning about 400 miles in a tank when you're not towing its max weight of 9,200 pounds.
The suspension feels stiffer than the last GM pickup I drove, a regular Silverado. I packed the kids up for a trip to the cottage up-north—with no step bars I had to toss them on the floor of the rear, then hop up and plant them in their car seats. The roads near my family cabin are dirt and not well taken care of. On them, the Sierra got surprisingly squirrelly over the washboard parts. The truck might just skip sideways 20 degrees and at speed, it's a little disconcerting. Like I said I don't remember the last pickup I drove up there being so sloppy. On the highway it was perfectly fine, with a little road noise from the optional knobby tires.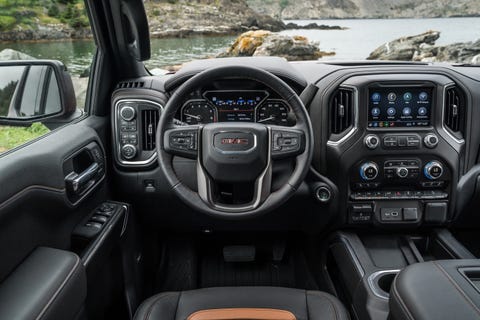 The interior is plain, but also fine. All the leather is stitched well and I like GM's format of all the four-wheel drive stuff on the left, and all of the lane keeping, parking sensors, and auto stop/start "off" switches in the center. The climate control, volume and tuning are all knobs, which is a blessing and the infotainment and Apple CarPlay worked glitch free.
The multifunction tailgate is the biggest star with it's six positions and grab bar to help you climb into the bed. I brought a ton of stuff up north—bikes, coolers, tools, a bounce house (you can buy them now for reasonable prices)—and it all fit easily. I do appreciate pickups for their "bring whatever you want, wherever you want" utility. I haven't gone camping in a while, but this is the type of vehicle you can get a week's worth, or more, of stuff into.
I don't expect I'd convince a Ford F-150 guy or a Ram girl to switch to GM, but if you're deciding between a Chevy and a GMC, you have to go with the Sierra. The exterior looks, the tailgate and the packages make it a winner. Just get the step bars if you have kids.
Specifications
2020 GMC Sierra AT4 Crew Cab
2020 GMC Sierra AT4 Crew Cab
On Sale:
Now
Base Price:
$57,705 (Sierra AT4 crew cab with 6.2-liter V8)
Powertrain:
6.2-liter V8, 10-speed automatic, 4WD
Output:
420 hp @ 5,600 rpm; 460 lb-ft @ 4,100 rpm
Wheelbase:
147.5 inches
Length/Width/Height:
231.7/81.2/78.4 inches
Fuel Economy (city/highway/combined):
15/19/17 mpg
Pros:
The best-looking trim of one of the best-looking pickups.
Cons:
Off-road suspension makes it a little wonky on rhythmically bumpy roads.
Source: Read Full Article