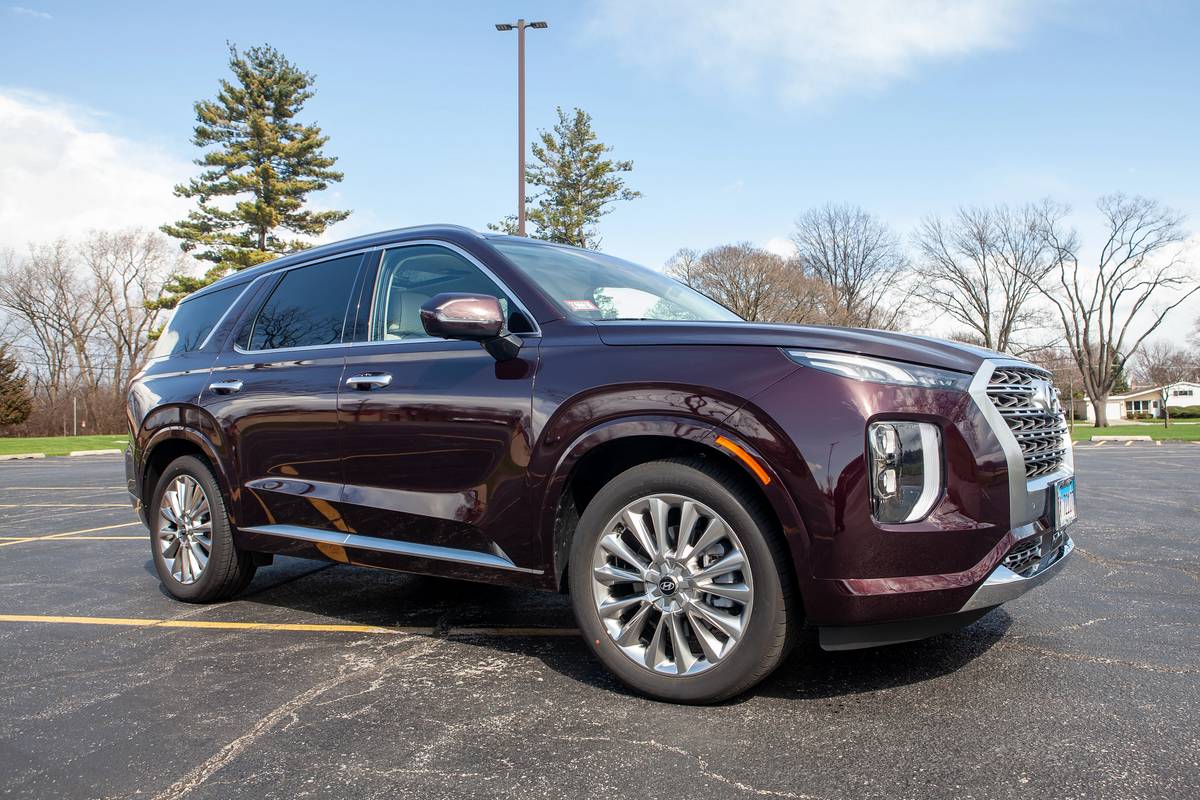 With December already here and some three-quarters of 2020 spent in varying states of quarantine, courtesy of the (checks over shoulder … yep, still with us) ongoing COVID-19 pandemic, it feels like the year that wasn't. Speaking of which, the editors at Cars.com have certainly had some good times with the Hyundai Palisade that earned our Best of 2020 award and subsequently joined our fleet of long-term test cars. But a sizable chunk of our year with the all-new SUV was similarly lost — but not to coronavirus protocols. Instead, the Palisade was socially distanced for weeks on end at the dealership because, well, some editors thought it smelled like a supermarket dumpster in the dead of summer.
Related: How Does the Rear Door Alert Work on Our 2020 Hyundai Palisade?
In one of the most popular Cars.com news articles of November, we concluded our three-part series chronicling the smelly-SUV saga that wound up overpowering the entire second half of its year with us. It began when the weather got warm and we started detecting a foul odor that's been described in many colorful ways in our ongoing coverage of the issue.
That led to a trial-and-error investigation by our Hyundai dealer that narrowed the suspected source of the smell down to the leather upholstery, then further down to the head restraints, resulting in a failed deodorizing treatment. As we caught wind of other Palisade owners' similar complaints, we took comfort in knowing that it wasn't a they-who-smelt-it-dealt-it sitch.
At last, early in November, we were able to declare a tentative victory after Hyundai replaced our Palisade's head restraints outright and the mystery funk finally faded … just in time for when we typically prepare to sell our annual fleet purchase to make way for the next one. That was just a whiff, but you can get the full story by following the link below to our No. 2 story of the month.
Edging out our putrid-Palisade coverage is our roundup of the best new-car deals for this past Black Friday retail holiday, which took first place in November's countdown. While the biggest deal on that list in terms of raw dollars — $3,500 to $4,000 off a 2020 Chevrolet Blazer SUV — expired Nov. 30, you can still score a sweet 6-12% off a 2020 Ford Fusion or Hyundai Elantra through Jan. 4. Follow the link below to our No. 1 story from November for the full scoop on those sales.
Rounding out November's top five stories are the results of our comparison test between four top competitors to find the best affordable small SUV for 2020 (it's the 2021 Kia Seltos SX Turbo AWD), at No. 3; our report on Consumer Reports' ranking of the most reliable new-car brands for 2020, at No. 4; and an explainer on exactly why we chose the Seltos as the best affordable small SUV, at No. 5.
Beyond that, we have headlines on the Honda CR-V, Kia Sorento and Sorento Hybrid, and Toyota RAV4, so make like Pearl Jam's first album and take it all the way to "Ten". Here are the top 10 news stories Cars.com readers couldn't get enough of in the past month:
1. What Are the Best Black Friday New-Car Deals for 2020?
2. 2020 Hyundai Palisade Car Smell Investigation Part 3: Case Closed?
3. What's the Best Affordable Small SUV?
4. What's the Most Reliable New-Car Brand for 2020?
5. Why the 2021 Kia Seltos Is the Best Affordable Small SUV
6. Honda CR-V: Which Should You Buy, 2020 or 2021?
7. Tips for Washing Your Car in Winter
8. Pricing Slides Higher for Redesigned 2021 Kia Sorento
9. 2021 Kia Sorento Hybrid Puts a Premium on Efficiency
10. Toyota RAV4: Which Should You Buy, 2020 or 2021?
Related Video:
Cars.com's Editorial department is your source for automotive news and reviews. In line with Cars.com's long-standing ethics policy, editors and reviewers don't accept gifts or free trips from automakers. The Editorial department is independent of Cars.com's advertising, sales and sponsored content departments.
Source: Read Full Article