If I have to buy a petrol automatic once again at a price below 15L in Bangalore, I will again pick the Jazz over a Magnite / Kiger CVT, a Venue / Sonet DCT or an S-Cross.
BHPian mbudhraja recently shared this with other enthusiasts.
Quick Intro
Buying a car was always on the cards, but it was only in the middle of Covid Wave 1 that my wife and I realized that we will never go back to booking shared rides if and when the pandemic gets over. Hence began the hunt of our first car to be. We are based in Bangalore and the car was primarily to be used within city plus a few 500km trips around Bangalore every year.
Shortlisting :
Once we decided to buy a car, I immediately announced that this is a husband's space and I will be the one setting the ground rules  I set the magical figure of 10 lakhs as our budget and also expressed my clear dislike for compact sedans (though over the last year, I have come to acknowledge the practicality of compact sedans over the Balenos of the world)
Zeroing In :
The ground rules made it pretty simple for us. Given Bangalore's super generous road tax structure, Compact SUVs were hardly making the cut of < 10L and compact sedans were never considered. We anyway loved the Premium Hatchback segment and that is where we would focus on. I never wanted a Baleno or an I20 because of safety concerns, and Jazz because of the dated design. My wife's love for Indian companies, the 5 star safety rating, fresh appealing design and all the online reviewers made it further simple – ALTROZ it will be
However all of this changed when the lockdown was lifted and we tried the Altroz. The horrendous experience in Tata Motors showroom and panel gaps in Altroz was a heartbreak. In came Ford Freestyle and we were sold the moment I put it on Gear 1 and pressed the gas. I have never experienced the same joy in driving any car as I did on the freestyle. In July 2020, massive car discounts ensured that I could get the top variant Titanium+ @ 8.70L on road. The decision was made – White Ford Freestyle it will be.
Go Corona Go :
I am pretty sure we got infected while test driving the Altroz that day in Tata motors Hebbal, there was zero sanitization of the vehicle or anywhere else in the showroom. Both of us went down with Covid in wave 1 itself and travelled back to our hometown for the next 6 months, hence the car wasn't booked
Paradox of choices :
What do couples do when the are home, in the middle of Covid, with no friends around, planning to buy a car and ample time in hand – they youtube the hell out of car reviews. New launches like Kia Sonet, cosmetic features like led DRLs, expert family member opinions, they all made freestyle seem too boring a choice
Holding the ground :
We fully understood during this time that freestyle or ford in general had very boring interiors (though we both loved the simplicity of the dash layout), had very little cosmetic features like led head lamps, fog lamps or tale lamps, had an unpractically low boot space and no armrests (I shared a screenshot with Ford India that their Gallery showed the freestyle with front armrest in the website and they immediately took that picture off). All of that aside, Dil to Bachha hai Ji . Feb 2021 – we were back in Bangalore and in the first week itself, we wanted to make the booking. By this time, 2020 discounts were gone and there was a price increase in Jan 2021. The Titanium+ was now costing us 9.08L.
Father in law is always correct :
With the absolute taste of quality that my FIL has, he did ask me to check a Japanese make hatchback (he was referring to Toyota or Honda and not Maruti Suzuki) before I made the booking. With Glanza being a Baleno, we went to check the Jazz – and boy was he correct. In all honesty, we both still love the freestyle exteriors more than the Jazz (every freestyle we see on the road, we still feel it's our own), however it is the cabin of the Jazz that made the decision Black and White (I mean literally, never again can I sit in a car with black interiors)
We were getting Jazz VX MT @ 9.6L compared to Freestyle Titanium+ at 9.1L. The additional 50k was making sense given way more space, beige interiors, higher visibility, a lot better interiors and a few cosmetic features (we were trading 4 airbags in exchange but the safety aspect and build quality of both the cars seemed to be good). We made the booking and got the delivery within 2 weeks.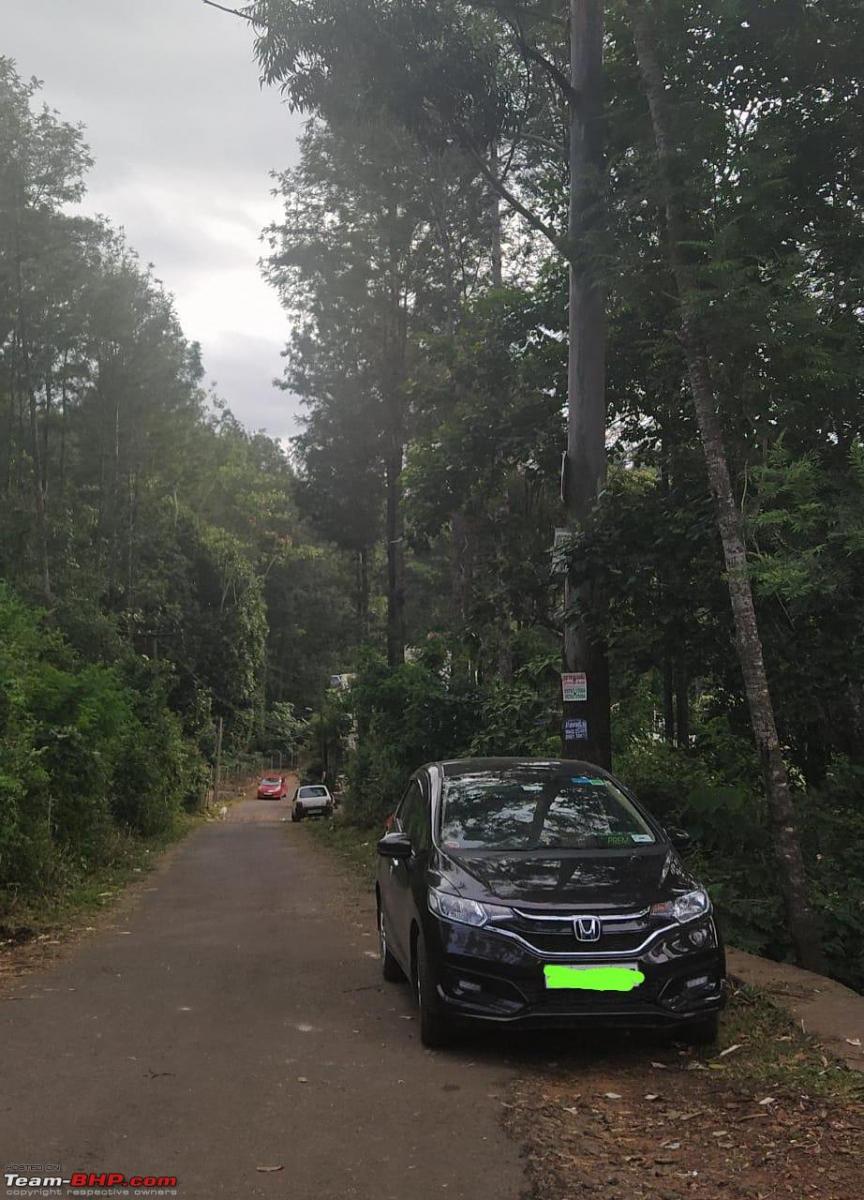 The CVT instead of MT was decided last minute once the salesman convinced me to take a test drive (it did finally make us go beyond 10L, we ended up spending 11L with accessories), but I count my blessings each day of the last 15months that I bought a Jazz CVT over Freestyle, or over any of the compact SUVs.
15 months / 8000 KM Done :
Fast forward 15 months – I cherish every moment I am behind the wheels of this Breezy machine. I think the weather in Bangalore and the Jazz CVT complement each other – not sure which of the two is more soothing. Listing down some of my key observations experienced during city drives, a trip each to Yercaud (500KM), Pondicherry (800KM) and Wayanad (900KM).
Pros:
Cons:
Conclusion
If I have to buy a petrol automatic once again (true automatic, not AMTs) at a price below 15L in Bangalore, I will again pick the Jazz over a Magnite / Kiger CVT, a Venue / Sonet DCT or an S-Cross torque convertor while the jury is still out on Altroz's DCA.
Read BHPian comments for more insights and information.
Source: Read Full Article