This was the only SUV among all the ones I test drove that pulled on my heartstrings.
BHPian shady8701 recently shared this with other enthusiasts.
Let me just start this with a disclaimer that all opinions expressed are entirely my own and I mean no disrespect to anyone with contrary opinions and purchases.
A bit of background
We were currently owning a VW Vento and despite the DSG scares that we read about, the car is an absolute hoot to drive and we've had it for 5 years. I was bitten by the bug to buy a second car, but I had to put off my plans because of the pandemic and the fact that our cars were barely seeing any runtime at all.
Finally in 2022, with a new job coming up and the potential to start using our vehicles again, I decided to start looking for one.
The criteria I had for the car were the following:
SUV – we live in Bangalore and the nearby area has broken roads. There's metro construction going on all over the place and the condition of the roads isn't going to improve anytime soon. Didn't want to buy a sedan and have it bouncing all over the place. I know, technically the monocoque SUVs do not have an advantage over a car but it does have more ground clearance and an all-around tough image. The larger tyres also help.
I was looking to spend not more than about 35 L for this, also wasn't willing to buy pre-owned. Again, I know the benefits of buying something in the 3-5 year range, but I just didn't want the headache.
Petrol: My commute and my road trips aren't frequent enough to really justify getting a diesel call. The diesel clatter is also something that does not really lend itself to a very smooth experience.
5-seater and not a 7-seater: the typical 7 seater car (save for maybe the Kia Carnival is just a 5 seater with another row of seats in the boot and that doesn't serve the purpose of seating another two adults and also makes carrying some luggage a hassle.
Should be bigger than the Creta (for instance)
Naturally, I'd been following the Tata Harrier threads and at least on paper, it did seem like a pretty good contender, but more on that later.
Options considered:
Jeep Compass
Test drove it and loved the experience. The better half really liked it too because of the well put together interiors and the fact that it seemed pretty solid. What it lacked in was just space. The rear seat didn't seem all that much bigger than the Vento and the overall cabin also didn't inspire a sense of space. However, we wanted to keep our option open for the Jeep.
Another challenge with the Jeep was that the Diesel auto was only available in the 4×4 trim and I have no use for a 4×4. I was looking for a 4×2 vehicle.
Tata Harrier
Now, this is what I'd been angling for in my head. It was, somehow, very difficult to get hold of a Tata sales guy who'd bring a vehicle over for a test drive. I managed to get one from after about a month's time. The condition of the vehicle was deplorable. It'd done about 35k kms and was rattling all over. The brakes were spongy, the acceleration was weak and the SA basically just said – sir, imagine this same car but without the squeaks and rattles and running better.
Mahindra XUV700
On paper, this seemed alright, however, the insanely long wait times, the overdesigned looks and the new car niggles that we've usually seen with Mahindra cars in the past gave me pause. In addition to all that, the 5 seater configuration was only available in the AX5 trim and not the AX7. Buying an XUV 700 without the ADAS and other new features that it offers would feel like missing the point a little bit.
Skoda Octavia
Obviously does not fulfil the criteria of the SUV but I thought about it nonetheless. The base variant is what would fit closer to my planned budget and the L&K version had some ease of life changes that I felt that I could live without, however, the fact that this did not seem as roomy as the SUVs and this would feel like an enhanced version of the Vento eventually had me decide not in favour of this car. Moreover, the two Skoda dealers I talked to just forgot to bring this over for a test drive. Got me thinking – if this is how it is for selling their cars, how would it be once I actually finish the sales cycle.
Hyundai Tucson
This is the one that finally pulled the heartstrings. The fit and finish looked great, the car felt powerful (especially given that the dealer brought over the diesel test drive car), had all (well, almost) the bells and whistles and a ton of comfort features to boot. Even the missus drove it for a while and gave it a thumbs up.
By now (we're talking MAR'22) it was common knowledge that Hyundai is finally going to bring out the new Tucson in India. Some folks think that it might be the long-wheelbase version (if there's such a thing) with a 7-seater configuration. It should certainly be loaded to the brim with new-age features, maybe even ADAS. There would almost certainly be a price bump as well. After seeing multiple reviews of the new (and I use that term loosely since it has been around since 2020) Tucson, I must say that I didn't quite like its overdesigned looks of it. In fact, I'd go so far as to say that the parametric design language adopted by Hyundai doesn't quite agree with my taste in aesthetics.
So all in all – this was the time to bring home the outgoing Tucson.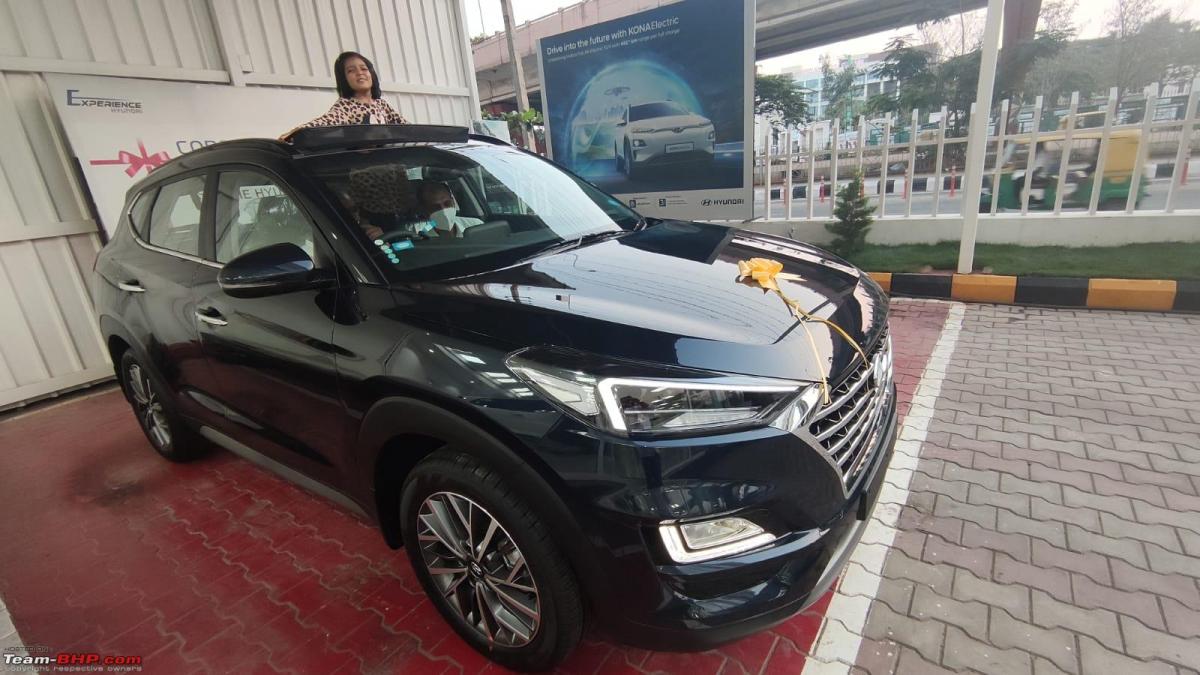 Sales and Booking experience
I spoke with three Hyundai dealers in BLR about the Tucson – Lakshmi Hyundai, Trident Hyundai and Advaith Hyundai.
Lakshmi Hyundai was quite clear on two things – they do not have it in stock, and they do not have a test drive car. They agreed to match (and exceed) any discount offered by any other dealer though. The experience was a dud since I couldn't decide to buy without driving the car at all.
Advaith Hyundai directed me to their sales manager – a chap called Niren. He mentioned that they have diesel only in the AWD variant and he'd try to bring the car over for a test drive at his earliest convenience. By now I was really surprised at the way Hyundai dealers were going about selling their priciest car. He calls me after a week saying that he'll try to bring it over this week and that doesn't happen either. Then he calls me the week next and (almost in a smug voice) tells me that they've sold out the petrol car and if I want that I'd have to rush. I bid him good luck with his sales and moved on.
Trident Hyundai – we'd purchased an i20 from them back in the day as well, had, by far the best sales experience of all. In fact, it was just about perfect. I was redirected to their sales guy (Mr Kiran) who promptly brought the car over the next day for a test drive and inspection. He's also the only sales guy I saw who was really knowledgeable about the car and its myriad features. I took the car for a fairly long drive and it felt right. Felt planted, powerful, especially around the mid-range and stable on bad roads.
My kid loved the fact that it had a panoramic sunroof!
Since my wife wasn't able to join me on this drive (she actually goes to work physically), I had to ask them to get the car over one more time. The magic works! My wife likes the car and all approvals are granted.
I negotiated a decently sized discount on the 2WD GLS Diesel in the starry night colour. I was initially angling for the black but this looks awesome. Looks black in white light, but the blue shine through direct sunlight.
The booking and the paperwork were a breeze. We decided to book it in the wife's name. They even got all the documents over to our home for us to sign.
Then finally, delivery was done in about 2 weeks since Trident had that car in their stock and it was Jan'22 vehicle. Got the vehicle from the showroom – drove nervously in absolutely amazing Bangalore traffic and got back home.
Obligatory pooja is done over the weekend and she's all set.
Overall impressions after 4-5 days and 250 km. Most of my driving so far has been in traffic. The car is really easy to manage in traffic with a steady crawl speed of 7kmph once you take your foot off the brake. The road presence seems pretty good without the boxy looks. So far, the car data shows me about 11kmpl within the city limits. The eco mode has actually been enough for the city traffic conditions. Tried the comfort mode and sport mode on open roads, however, I haven't been able to drive so much on better roads yet so I'll update this thread once I've driven this a little more, especially on outer roads or highways.
A couple of interesting points
Thanks a lot for reading through and if you've made it all the way here, please do provide input on whether I should go for a ceramic coating (I think PPF is crazy expensive in India right now). Even the ceramic coating feels like a bit of an overkill since cars would be just fine without as well.
Check out BHPian comments for more insights and information.
Source: Read Full Article