Its instrument cluster has been taken from the Hyundai Verna & the infotainment system & steering have been borrowed from the Hyundai Creta.
BHPian derick recently shared this with other enthusiasts.
Hello, fellow BHPians,
Previously, I posted about my 10-year-old Ertiga and my hunt for a new car. I thank everyone who took the time to read my post and give their valuable suggestions. I will admit that I had made a decision and booked an i20 Asta (O) iVT MT in the colour "Starry Night" but I wanted to read suggestions from other people and post a buying experience separately. Inserting pictures in between.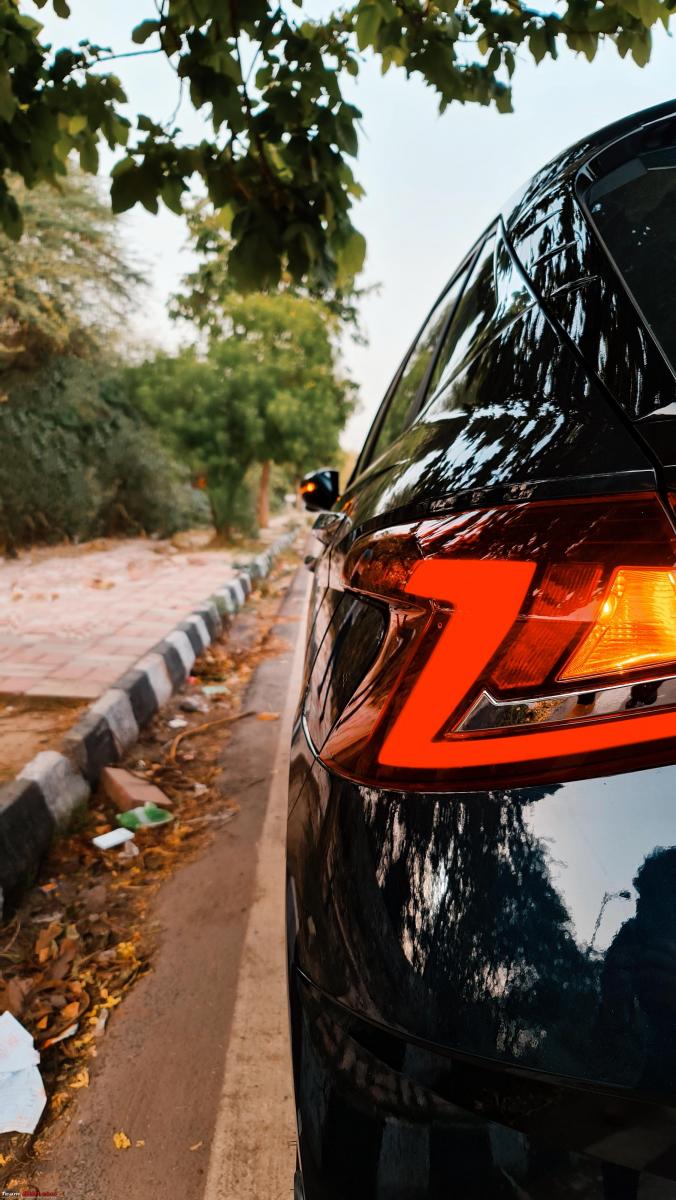 What made me book the i20
Honestly, there is no perfect car for everyone but I think you have to find your requirements and whatever ticks those boxes is the perfect car for you. Having driven almost all cars around my budget, the i20 met my needs well. The top-most requirement was that I needed a relaxed driving experience which cocoons me when I drive back home after a long day at work.
The i20 is the smoothest, it cocoons me extremely well and oh that Bose sound system! Yes, it's a little expensive but you do notice where all the extra money has gone, the price finally justifies.
You may skip the dealer section if you don't need drama.
Dealing with the Dealer
On 12th March 2022, I booked my car by paying 21,000/- at Koncept Hyundai, Green Park, New Delhi. The price quoted was with no discounts and a pretty high insurance amount. I knew I wanted the insurance offered by the dealer even if I had to pay extra. The final amount quoted was 10,63,138/- including a full cover insurance of 41,200. No added warranty and no basic kit. This would be the biggest transaction of my life.
The promised delivery was in two months i.e 12th May 2022. And the wait began. I read many buying experiences here on Team-BHP and was expecting regular updates of my car getting manufactured, pictures etc. But the only time I got any updates was when I called.
In mid-April, I got a call from my SA stating the same car is available with another dealer which they will exchange and my delivery could be within a week. I got super excited and proceeded to ship my car to my parents. A week later I had sent my car and there was no sign of my new car. My SA called me and was asking for payment to which I requested to see the car in person and take the check by hand. Few days later, he informed me that the car had dents so they didn't accept it. This was a little alarming to me, what if I had paid him before seeing the car? Would my money be stuck with the dealer?
Having sent my car, I was facing a lot of inconvenience traveling to work every day, thankfully, my sister was kind enough to offer me her car.
In late April I was getting a little frustrated since my SA wasn't picking up my phone, I went to the dealership and requested to be assigned someone else, I was assigned my SA's team lead who promised me 5th May as my delivery date.
Soon the 5th passed, I was pretty anxious on the inside but wasn't pushing the dealer since the actual date was the 12th. Sidenote: had my delivery been on the 5th I wouldn't end up paying 5k extra of the revised price. Once the 12th passed I got a little mad, partially fueled because I had to give my sister's car back two weeks back and Delhi's heat waves were relentless and hailing cabs was a huge inconvenience. On the other side, you must have seen many videos of YouTubers getting their cars within a day or two because "mere contact mein koi hain" I was skeptical if the dealer was making other customers jump the queue.
One late night, with no delivery date promised, I started looking for any Hyundai email ids I could find and wrote a long email with all receipts. The next day I think all Hyundai employees took turns calling me and helping me sort out the problem.
Maybe now I was back in the queue, I was promised my delivery on the coming weekend. I could pay whenever and however I like. I was given a stockyard inspection with pickup and drop from my work! My SA was pretty apologetic, and me being a young professional I know how hard things can be at work and I definitely didn't want to be the reason for someone's career setback. My SA would have been around my age and I made sure any complaints raised against him were removed.
Delivery
After the email, in my mind, things got a little uncomfortable between the dealer and me, which obviously I didn't want to be. Thankfully the SA made the delivery very smooth. I had made the payment a day before since I had the chassis no. I got a huge bouquet, some chocolates and keychains. When I was booking the car I had told the SA I will take Mats for free! And I did. Sadly I took the delivery all alone, my parents and sister stay in different cities and, all my friends were out of town. I had to sign a few forms regarding the email and got a few phone calls, gave maximum ratings, no complaints anymore. I got my car.
It is no surprise few customers are jumping queues, dealers are offering accessory loaded vehicles for early deliveries and customers are willing to pay extra. The balances have changed and so have dealings. In the end, honest customers suffer who can't afford to spend a penny more and are made to wait longer since people are skipping ahead. I think I should have written the email on the 13th, had I kept silent no way would I have gotten my delivery on the 22nd. Having said so, my dealer never asked for extra money or pushed me to buy accessories. He was even fine with getting insurance from elsewhere.
Starry night on a rainy night
First impressions
"She's an attention-seeking car!" said my colleague. This car was launched 2 years back, but you hardly spot one on the road and everybody stares at it when it passes by. Sure some of them think it's ugly but I think it's like an iPhone. It looks ugly at first but the more you look at it, the better it looks. A week later, she's the most gorgeous thing I have seen.
Pros
There's nothing like this on the road, it's small on the outside but huge on the inside.
I like how deep-seated you are in the driver's seat, and the car sticks to the road, especially on corners.
The dashboard is years ahead in comparison, the digital cluster, huge infotainment screen, and the steering feels very nice. The car feels segments above, the cluster is from the Verna, the infotainment and steering are from the Creta. Pictures don't justify the interiors.
The Bose sound system is the best. Period. Tata's JBL is nowhere near including the 8 speakers in Nexon which gains a lot of pitch in higher volumes. The woofer and amplifier make the entire car a subwoofer.
NVH levels are close to nil, I hear my engine at ignition, that's it.
Love the sharp design, LEDs in the front and back make it stand out.
The ability to cool the car remotely is very convenient in this heat. The AC is very strong and cools the cabin very quickly.
Unlike the Tatas, cruise control is seamless and works well even at city speeds.
Fewer i20s on-road means you stand out from all the Creta, Seltos and Baleno.
The interiors are "lit" at night literally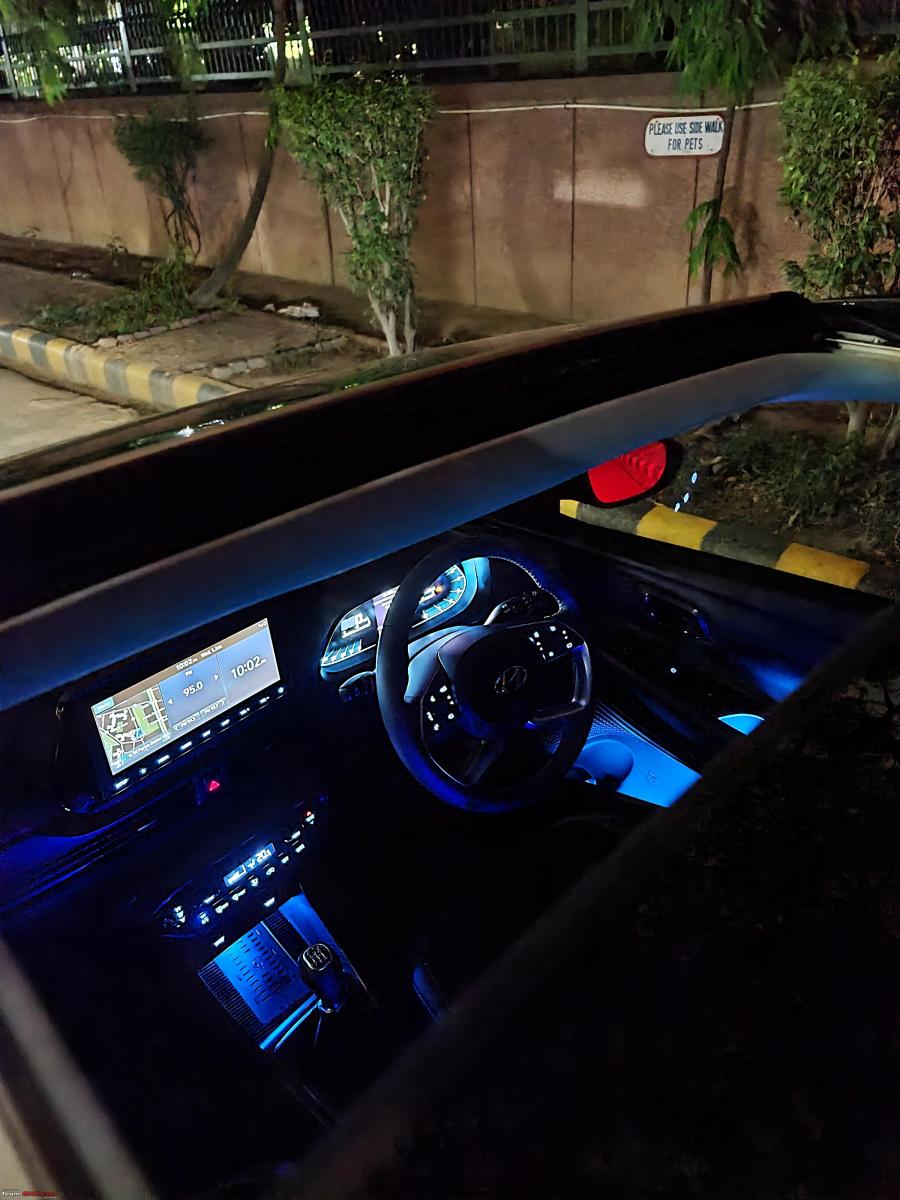 Some unique features I noticed:
I like how the auto headlights and puddle lamps light up when you unlock the car, a real show off.
The wireless charger is very convenient. Once I put my phone in the slot it auto connects the Bluetooth and starts playing the music (or maybe this is a feature in my phone). It is also a fast charger with cooling so the charging is pretty quick.
The navigation separately shows which exit/lane to take with a picture and the voice commands are almost always accurate. You can also set a destination on the bluelink app and send it to the car beforehand so you don't have to fiddle with the onscreen keyboard on the infotainment screen. I wish I could share locations from Google maps to the blueline.
Lights at night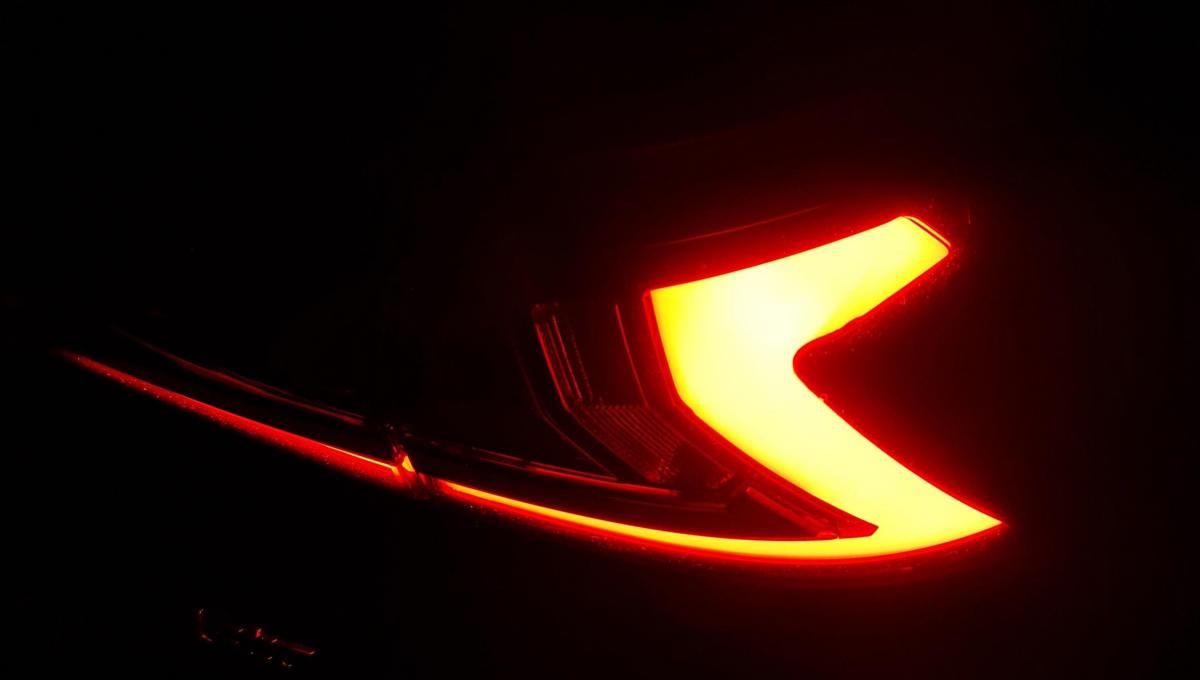 Cons
No leather seats, I don't know if it's safe to use those cut-out aftermarket leather seats on airbag seats.
Apparently, the car is supposed to speak out a welcome message when you sit inside, but that has happened only once.
You can remote start the car only when it is in neutral, on a plane surface and with the handbrake disengaged. It's hard for me to trust my car won't roll. This feature should have been enabled with the handbrake engaged.
Unless you cross 20 km/h,  the seatbelt chime doesn't start, I feel it should start beeping once driving starts because it can be distracting to put on the seatbelt after you have started.
The car seems to be very well damped, door needs to be closed a little harder. I noticed if a window/sunroof is opened it closes softly.
The seats are a little too firm, maybe it will help in long drives, it could also have some better side bolstering for that huggy feel.
Need suggestions
Should I go for leather seats with cutouts for the airbag? I also went to Detailing Bulls in Promenade Vasant Kunj. They have quoted 80k for PPF, 25k for ceramic and 5k for bumper PPF. I haven't heard any positives for ceramics but I'm considering getting PPF on both bumpers, especially the front. Also, the 80k for full PPF seems to be on the higher side.
How effective are GPS devices? Most devices are installed behind the dash, I'm sure burglars have that update.
Check out BHPian comments for more insights and information.
Source: Read Full Article