The overall tankful to tankful mileage stands at 13.81 kml.
BHPian bikerkeeda recently shared this with other enthusiasts.
Trip Stats are as below:
Trip Distance : 519.9 Kms
Max Speed: 90 kmph
Terrain: Highway: 250kms, Off the road 10ish kms, Ghat (Sahyadri mountain ranges) : Rest of the Distance
AFE on ODO: 15.8 km/l
FE Tank full to Tank Full: 13.81 km/l
Average Trip Speed on ODO: 32 Km/h
Travel time on ODO: 15.59 hr
Tire Pressure: 35 PS as recommended
Passengers on Board: 4
My Driving Background:
I have been driving Alto k10 (Type1) since 2013, have clocked 93K on ODO and is still running strong. The have driven petrol cars most of the time, have very small past experience of driving Diesel cars.
Ride Experience
I will split the experience into below parts: Drive Experience, Fit Finish & Quality & Passenger Experience
Drive Experience
Being a tall car, Bolero Neo gives an awesome view of the road. Most of the time you are looking at the roof of other cars.
Driver seat is nice and firm, it would have been even better with more side support.
Height adjustment works perfect, but for my height (175 cm) an extra inch height would have been perfect. It would have given better view of the bonnet.
Tilt adjustment of steering does it's job and nothing to complain about it however telescopic adjustment could have added more value.
You need to struggle to access the switched on ODO and the ESS, Rear Defogger, Eco more switches for initial 2-3 days.
Over all ride has a rubbery and bouncy feel. It feels DIFFERENT as the body on frame construction is new for me.
Highway Ride:
Highway feel was awesome, small/medium potholes, Small speed breakers and undulation in the road were absorbed by the suspensions without any effort. Cabin was very silent.
Steering is little heavy while on slow speeds, you need both hands to turn it but on highway speeds it feels good. Has an apt amount of weight to it for highway cruising.
Position of cruise and music buttons need some work as they get pressed by mistake when you are turning the steering in city with both hands.
Clutch is little heavy but manageable with appropriate height. While cruising I felt the need of dead paddle for left leg; presence of it would have added a lot of comfort.
Brake paddle and accelerator paddle height doesn't match so while shifting from A to B, be careful if you are wearing sandals of floaters while driving as it might get stuck in Brake paddle.
Small vibrations can be felt on C & B paddles especially if you are braking on rough roads, vibrations are evident on brake paddle.
As the car is in Break-in period, I did not want to cross 80kmph speed, so used cruise control wherever I could. I always thought Cruise control was a fancy feature but after using it for the first time, I loved it. Neo also has a RESUME Cruise button which I found really helpful. I am not sure it is there with every vehicle equipped with cruise or not.
Ghat Ride:
I could feel the weight while going through twists and turns. Definitely less fun than my good old Alto . Body roll was evident but manageable, no extreme movements were noticed. Better side support on the seat would have added more comfort.
Engine has a LOT of Torque and I loved going through twists and inclines. Due to good low end torque, down shifts were less needed.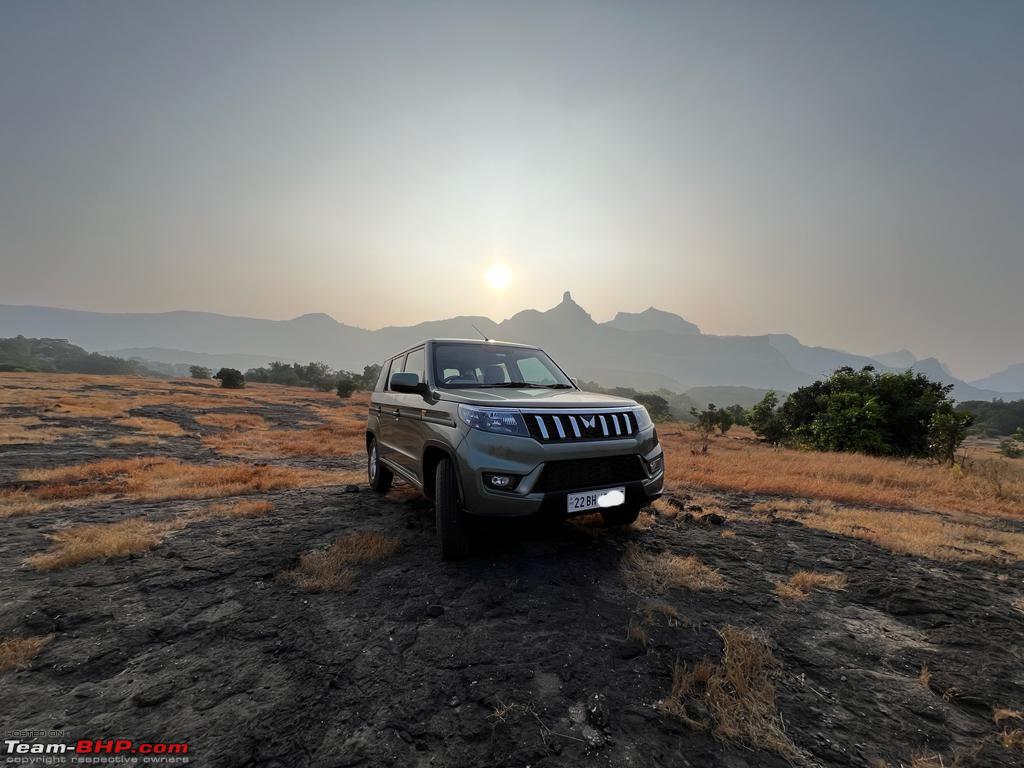 Off the road:
My grandfather lives in farm in a very small village and the road to his place is just a provision for tractors and trucks. With steep inclines, loose soil, huge rocks in between the so called road, It was not for any front wheel drive monocoque for sure. I was very nervous at first as I was going down the slope while on the way, without and idea that whether Neo would be able to climb back or not. I love off-roading, I have done ton of it on my Himalayan as well as in my Alto. Have pushed both of them to their limits, with my front wheel drive knowledge and experience, the nervousness was justified, BUT when I came on the steep incline, Neo just crawled it like it was NOTHING.
Body rolls off the road on driver seat can be felt. It gives you a feeling of siting in JHOOLA.
I am still new to the world of off roading with rear wheel drive body on frame, would love to have some tips from experienced BHPians.
Fit, finish and quality
Dashboard feels hard, sturdy and well built, not issues with it.
Sad but door panels do have rattling noises. Even mettle noises can be heard while rough roads and even on smallest of the bumps on the road, I think the links in door locking mechanism are the culprits.
All the push buttons are of good quality and work as they are supposed to.
The AC direction control knob could have been better. It lacks feedback and works poorly. Even the mode is selected to throw air out of dashboard vents, I would feel some air on my legs as well. I first thought the knob was not turned properly but that was not the case.
Infotainment system, I would rather not say anything about it, it is well known fact.
Front roof light stops working randomly. Mahindra has been using the setup since ages and has not made any changes in it. LED lights could have added better utility.
Doors are heavy and need effort to shut them. Back door is built well and makes rattling noise when shut normally. Source of noise is Plastic cover on spare wheel.
Rest all functions (as if there are a lot of them ) work as they are supposed to work and feel.
Passenger Comfort:
On Highway: Awesome! Some amount of body roll is evident and was pointed out by my auto enthusiast mother who was sitting in middle sit.
Dad was happy as the seat had ample amount of thigh support. He also could fold his leg and sit comfortably.
Only complaint parent had was back of the seat is upright and not inclined like in Nexon.
Twists and Turns: You move!
Off the road: Lock the doors and wear your seatbelts if the windows are open, Neo can launch rear passengers in earths orbit without any efforts while going though really bad roads/ off the road. You have to drive very slow though the big potholes.
Overall:
Contained body roll on Highway, little evident on twists and turns and limitless on off-road for middle seat.
Wife: "I don't know why I am going to sleep as soon as the car starts, it feels like I am sitting in a JHOOLA (Swing)"
Neo in nutshell:
Himalayan BS3 has trained me to ignore small unwanted noises, best in class fit and finish and never bother about the lack of fancy features. Himalayan and NEO are made for those who love the EXPERIENCE.
NEO might not be the best offering out there, but is definitely going to fulfil all my requirements (Long highway drives, frequent trips to my native place through rough roads, off-roading with MLD) and pass with flying colors.
If any one from PUNE is reading this, let's get in touch and have a meet/ small off-road drive.
Read BHPian comments for more insights and information.
Source: Read Full Article