Even though Apple CarPlay is already available in the Thar, Mahindra is yet to provide the feature update in the XUV700.
BHPian abirnale recently shared this with other enthusiasts.
Let me put it on records, if Safari would have been offered in AWD or even Harrier, I would have bought it long ago. That's the only deal breaker for me while everything else is manageable. And you should see the Harrier dark edition or the red dual tone with black roof – I still lust over it! Again, that's personal preference but having experienced both cars, they do have their strengths and weaknesses. There is no perfect car or perfect driver!
Some more points that should have been added to the earlier post about comparing with Safari:
The Safari seats aren't as comfy as XUV700 but its second-row adjustability helps make third-row occupants bear with torture!
The Safari I drove was AT, top end. The gear shifting is seamless. Whatever tuning Tata has done, is good enough for most conditions. According to my buddy, he gets good mileage too. He is a very conservative driver and cautious. Never gets carried away and maybe that's the reason why his mileage numbers are always better than XUV700!
I saw that when XUV700 is loaded to the brim with weight (luggage or people or both) the rear appears to be going lower than normal. It feels as if the GC is super low. The car behaves well and didn't face any issues with underbody clearance or so but it just looks weird when seen from the rear. I forgot to check the GC of the car loaded – should do this sometime.
The Safari and XUV700 features are in general comparable with a few misses on both sides. I loved the auto-dimming IRVM in Safari. Huge difference in the manual IRVM in 700 and Safari when driving at night.
20K km Service Update
It is the last free service. Typically expected towards the end of second-year ownership. (assuming an average of 10K km a year.)
In this service, only an inspection is done, and the cabin air filter is replaced. And if there are any open service actionsc/ recalls, they are addressed. So ideally not more than 2 hours service.
On Red Sparkle, there were some software flashing-related service actions.
Since M&M uses the normal semi-synth oil (MaxiMile), I requested the ASC to change the oil and oil filter every 10K Kms. I keep the car running, idling a lot and distance will not really be an indicator of this milestone. And it doesn't cost a big hole in the pocket anyway. I will continue to do this until 50k and then switch to synthetic ones we all use. I am hesitant to touch the car for any modifications (other than look and feel) that are related to any mechanical and electrical parts. Without some confidence from ASC or M&M, I will hold on to these.
During the inspection, we found that the rear brake pads are at their limit, have to be replaced. This is shocking as 500's rear brake pads used to last for about 40k and front for about 22K. This one is eating pads like nobody's business! Front pads at 17K and rear at 20.5K! Anyway, this is a must and one can't run a car without brake pads, so be it.
I made some observations during the service today
Changing the rear brake pad isn't as easy as a non-EPB car. This one needs to exercise a lot of caution and additional steps to change rear brake pads. I suspect the roadside tyre shop or an FNG can do this. Someone like Bosch can for sure.
The cabin Air filter is behind the glove box on the passenger side. Easy to remove and replace if you know how to open the back of the glove box. There are a few push pins and soft closing plastic rails that help operate the glovebox. That rail is flimsy – you can easily break it or loosen the wheel / pulley or whatever that thing is and then it can be a big task to get it back in working condition. You may just end up opening the dash on the passenger side to fix it! Even though there was once this dash was opened for fixing the Silverbox to investigate on ESP issue, I don't see any rattles so far. Hope to see it staying like this for longer.
There is no Apple CarPlay yet! I mean after six months, 20K kms, M&M is struggling to give a feature they promised and I seriously look forward to it. How hard can it be when it's already in the Thar?
There is a minor glitch on the rear left door handle. It sometimes doesn't retract completely when locked. ASC has opened the TAR with M&M and seems like we may need a warranty replacement on that handle alone.
The ESP blinking issue while crossing over the medium to large size hump is seldom seen. There is still no word on when this will be fixed.
With all service and actions completed, the car was out before lunch. I love this planned service visits at Chrome – takes quick actions, no fuss, nothing being pushed unnecessarily and everything works like a perfect predictable play. Here is the final bill including oil change as well as rear brake pad changes: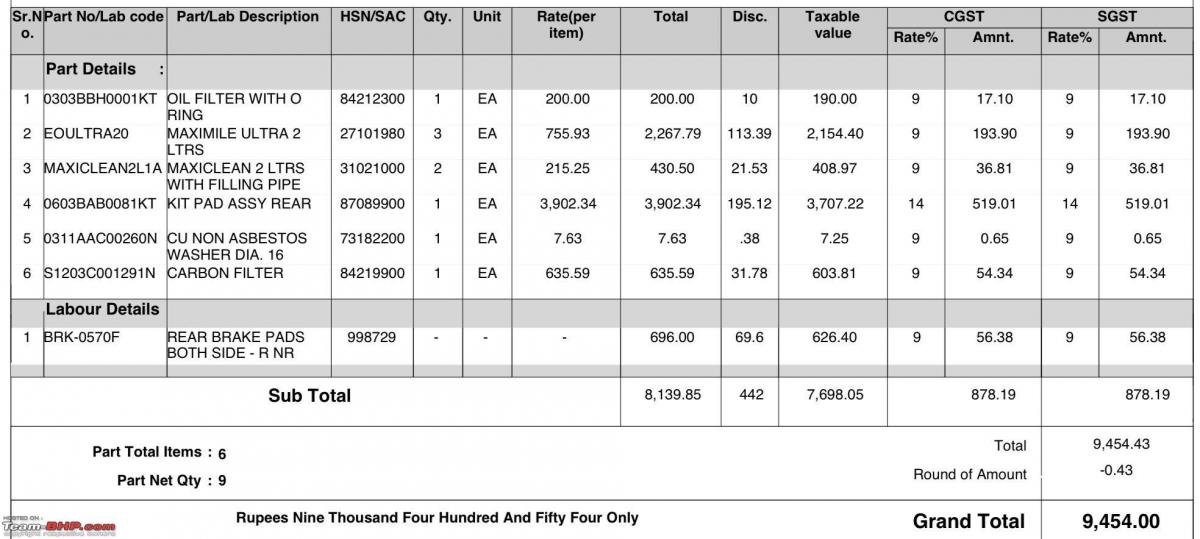 Check out BHPian comments for more insights and information.
Source: Read Full Article