I have never faced any issues with DPF getting clogged. Once in a blue moon, there is a warning for a second of "DPF clogged".
BHPian ambarkhan recently shared this with other enthusiasts.
Here is my story with the 2021 Thar Diesel Manual Hard Top after 15 months and 29 000KMS.
Before covid times I never felt the need to get a car, because I preferred commuting over two wheels (horse powered or man-powered); for everything else self-drive served the purpose, and the flexibility of renting a car as per the occasion is simply superb. Want to go on a road trip with friends get a Fortuner, need something fun to drive get a Honda City, want to impress on arrival get a Merc. But getting a rental during covid times didn't seem a valid use case. Also, the 'Senior Management' in my last org kept pushing the back-to-office dates by 2-4 weeks every now and then. Which resulted in numerous Pune – Bhopal commute; and I decided that now is the correct time to buy a car. I decided to get a beater and bought a used Xenon but the car never got transferred to my name. I returned the car got my token money back and started to hunt for a new car.
There are very few things in life I am clear about luckily this was not the case when I decided to buy a car. I had the following needs
Body on Frame
4wd
Should be able to carry a motorcycle/tow a trailer
Must not break the bank
It must be a safe car
Not soft top
I was very close to finalising the XUV300 Diesel Manual for a couple of years.
But bhpian Rajiv0909 made me realise it's not worth spending 12-13Lakhs and compromising on your needs, it's better to push for another 3-4 lakhs and get a long-termer.
The above list meant just two options Isuzu VCross or the new Thar. VCross was not launched in BS6 at that time so I decided to wait till it was launched. I was expecting the Hi Lander should be in my budget. When launched Hilander didn't have the 4×4 variant and VCross was way out of budget. Suddenly all the shortcomings of Thar vanished. 5 minutes past the Isuzu launch stream booked the Thar assuming that it will anyways get delivered after a year. Gurkha was not launched at time of my purchase.
I casually called the executive with whom I had enquired about the XUV300 and was Informed that I have booked a Thar online (there was one during the second wave lockdown) and if there is any inventory available. To my surprise there was one aquamarine available, as I was not sure of the colour, he offered to visit his stockyard and check the colour. I checked the colour, I found it to be the best-looking colour on a Thar, a day later I confirmed my intent to buy it. The executive said the car will be allotted on the day of the reopening of the showroom which was 3-4 days later I said fine. In the meantime, I got the vehicle loan pre-approved, diluted a few savings and was mentally ready to welcome the new Thar in the family.
On the day of the opening of the showroom I visited and met the executive and manager. The manager tried his best not to give me the car. This was the time when people were paying premiums to get early delivery. Eventually, when I said that after written confirmation from your executive I procured finance and diluted the funds and if the car is not allotted to me who'll bear the costs and I'll be escalating it, he decided to allot me the car on condition to buy insurance, and some basic from him to which I agreed. I did the PDI and transferred the amount and in a very non-festive mode got the Thar around 9 PM from the yard.
At the time of purchase, the following accessories were installed/bought
Reverse Parking Camera
Radiator Gaurd
Air Dams
Mud Flaps
Car Cover
How's the Thar?
My Usage pattern till now:
20% offroad (mountains, forest, deserts, local OTR)
50% highways
30% Commute
A short wheelbase, Rear Wheel Drive equipped with a short ratio gearbox and a decently powered engine is a perfect recipe to make you smile every time you floor it; you just have to be cautious that you are not in a sports car but a two-tonne jeep. Sharing my experience on the small components.
Only if Mahindra strengthens the Logan Chassis put the 200bhp Stallion and make an RWD (If Dodge Charger can share its engine with a truck why not Mahindra Sedan can do the same)
Engine and Gearbox
The short-shifting gearbox is a hoot to drive and is properly mated. I sometimes feel issues engaging 2nd gear but this has not been cured yet.
While this something gets irritating in city traffic the gear ratios are perfect for offroad and hills.
The 6th gear could be more spaced out (automatic has a different 6th ratio than manual ) for a better highway cruise. If you don't give any throttle input the vehicle has enough low-end grunt to keep the vehicle rolling. In each gear, the vehicle will crawl easily by speed 10x of the gear you are in, for example in 3rd gear vehicle will easily move at 30kmph without any input and without lugging the engine. This makes it easily manageable in traffic.
Suspension
Suspensions are an afterthought. The ride quality is the same on hard-pack trails and on smooth highways (which is both good and bad). Especially on cemented roads, the ride quality is significantly worse than on tarmac roads. The ride quality makes you fatigue faster than other BOF SUVs also the shorter wheelbase doesn't help either. If you are looking to munch miles look somewhere else, I have done approx 1000kms a day multiple times but were tiring ones. The good thing about them is they are cheap. If aftermarket can bring good suspension in a matter of months of the launch vehicle, Mahindra should have provided a better setup nothing fancy but better. Each strut costs you around 2000 and you get what you pay for.
Luggage and Boot
With rear seats up there is not much luggage carrying capacity. I still can't think why Mahindra has decided to make Thar a sub-4 meter car when there is no tax advantage because of the engine size. Extra 6 Inches would have helped a lot. Also, there is no factory-provided point for roof-mounted luggage. Even for the rooftop tent listed on M2All, they rely on us to get custom fabrication to install the tent.
Brakes and Safety
The omission of disc brakes on the rear wheels is simply a very bad decision. While Mahindra preaches safety they don't mind cutting corners on basics (check the Scorpio N Z2 and Z4 variants). I cannot retrofit the rear discs from other vehicles because I don't know how ESC gonna respond to this. Still, while hard breaking if you are under reasonable speeds it will stop at a decent distance. Also, the rollbar dont extend to A-Pillars. In case of a topple there is not much to save you. I am planning to put on a roll cage someday which will also act as a luggage rack.
Ergonomics and Seats
Just setting up context I am 6ft 1inch tall. Under-thigh support is non-existent in the seats. Also, the seat structure is not very confidence-inspiring. The recliner mechanism has started missing once on my car which was replaced under warranty, It has started to slip again. Also when the driver seat is set up in the lowest position it shakes vertically on almost every bump it gets worse as the springs get softer over time.
The centre console on the dash takes up a lot of space which in turn left less space for footwells. My left leg scrapes on the centre console and my right leg rubs against the driver's gate. There is not much space left for my right leg for the Accelerator pedal as well, as a workaround, I rely a lot on cruise control. Rear seats are best not occupied. Even if the ladies volunteer to sit on the rear seats you gonna receive a ton of complaints in later days. The lumbar support was the only good thing about the seat, but they have decided to remove it.
Infotainment
The adventure statistics are good. On wishful thinking, if we could have gotten the coolant temperature in degrees it would have been very good. I had a wish that on the navigation if I could load GPX files in future updates. But Mahindra has removed the navigation system itself from the newer models/. The integrated Navigation system is a very big thing which new owners gonna miss. It has brought me back from the jungle a few times. Even if you are in some place where it doesn't have routes you can start navigating to any random place and it will draw a trail on the map, which you can reuse to backtrack if you are lost.
I love the roof-mounted speakers. While the audio quality is average the speakers do masks a lot of road noise because of their proximity to the driver. If you plan to upgrade your speakers please install a DSP unit with your amp if you want the best result. I also wish there was an option for installing the front camera, which would have been a boon for off-road situations.
NVH
NVH are decent for a hard top nothing problematic I have ever faced. I have got the underbody coating and underbody protection installed which further cuts the road noise.
Visibility
The drive position is commanding and you clearly see the road ahead of you. The A-Pillars are thick and B pillars are wide which all affect your visibility. It is almost impossible to see what is happening next to the front left quarter panel. If someone is on a co-driver seat you might have to ask them to adjust their position to see from the left ORVM. The IVRM is small and doesn't offer much visibility.
Build Quality
The Thar felt like it is built to last, especially on the mechanical bits. If you accidentally hit a pothole at high speed, you don't feel like the car will get destroyed.
Mileage
I drive on highways between 80-100 with ac on 1st and I get approximately 13-14KMPL. If you drive sedately you can extract even 15-16kmpl. Also, point to note the 6th gear on automatic is spaced out as compared to manual Thars which results in better fuel efficiency on automatic Thars. In the city, I get around 11-13. The MID is overoptimistic while displaying the mileage.
DPF & DEF
I have never faced any issues with DPF getting clogged. Once in a blue moon, there is a warning for a second for DPF clogged. Just drive a little less sedately and you'll be okay. There is no DEF Gauge but there is a warning sign which starts about when there is DEF left for 1000kms. Unless you are in a truly remote area you'll easily find DEF on any petrol pump or dhabas. I do carry a 2-litre DEF bottle with me always for just-in-case scenarios.
Service Experience
I have personally experienced a lot of quality improvement in the service quality of Mahindra. Might be after I lost my temper once and they start treating me better. Service Centers are better in Tier 1-2 cities as compared to tier 3 cities. It's nowhere near the standards of Toyota but they have improved a lot. I guess as the volume of passenger cars will take over the bolero market it should get improved as well. The service cost is about .5p per KM and it will go to 1rs per km after the free services. The Mahindra app also shows you the expected cost of each service.
The job card is uploaded on the app too where you have to approve it, so if you are a little careful the service guys can't cut corners.
Body
The diesel I have I equipped with 130 horses, Well 130castratedhorses. While the engine is refined it gets unnecessarily strained because of the poor aerodynamics. The same poor aero also results in compromised handling. I knew what I was getting into when buying, but it still bothers me on long-haul trips. If you want to drive it fast you must know how to use Left Foot braking. If you don't know it, drive it in a defensive matter.
I don't have any problem with that copying the design of the wrangler, the problem is Nakal Bina Akal. Wrangler is more aerodynamic than Thar and if they have copied it properly Thar would have been a better aero package.
You can see this in the image below.
If you have reached this point you might be thinking why the hell after so many complaints I am still owning the Thar? If you want an affordable car which can take you to the remotest places, takes you on the adventures of a lifetime also can haul you to the grocery store. In just a month after acquiring the Thar I went on a trip to the mountains. The Thar 'offer a fill it forget it' experience or I Have been lucky so far
The only niggle I have faced is the traction control turns it on after you cross 60kph and there is no way to turn it off. During high-speed runs, the traction control applies the brake and unsettles it.
We took her to Zanskar, Laddakh and Gurez Valley. Some of the pictures and videos attached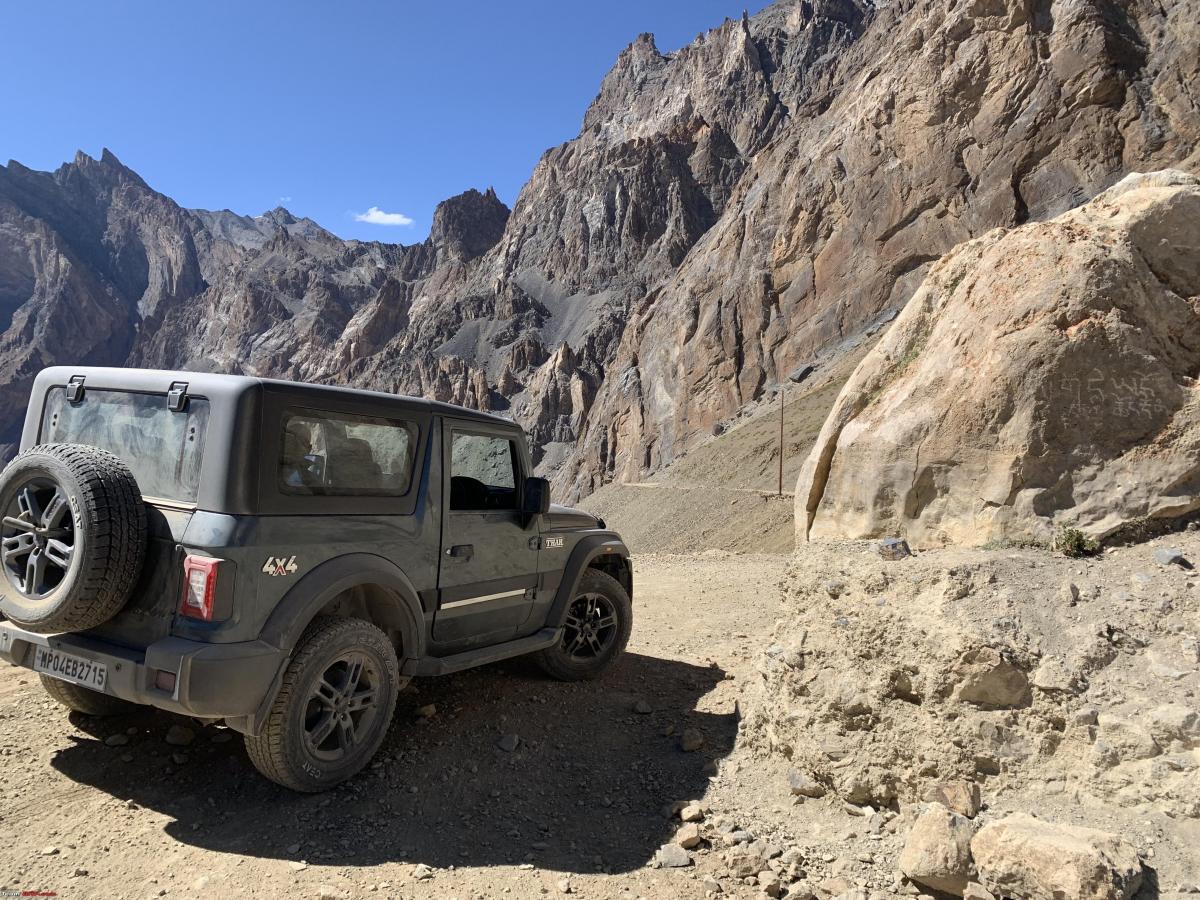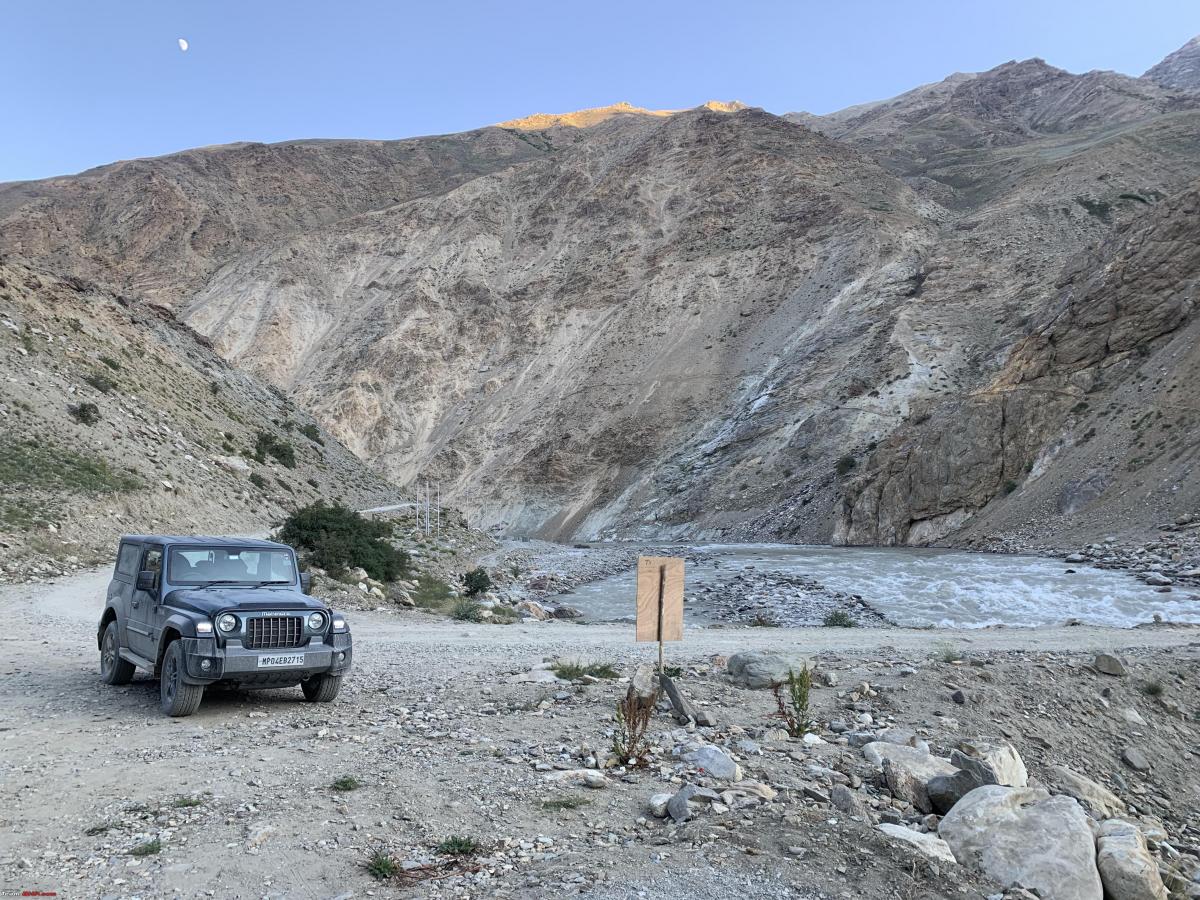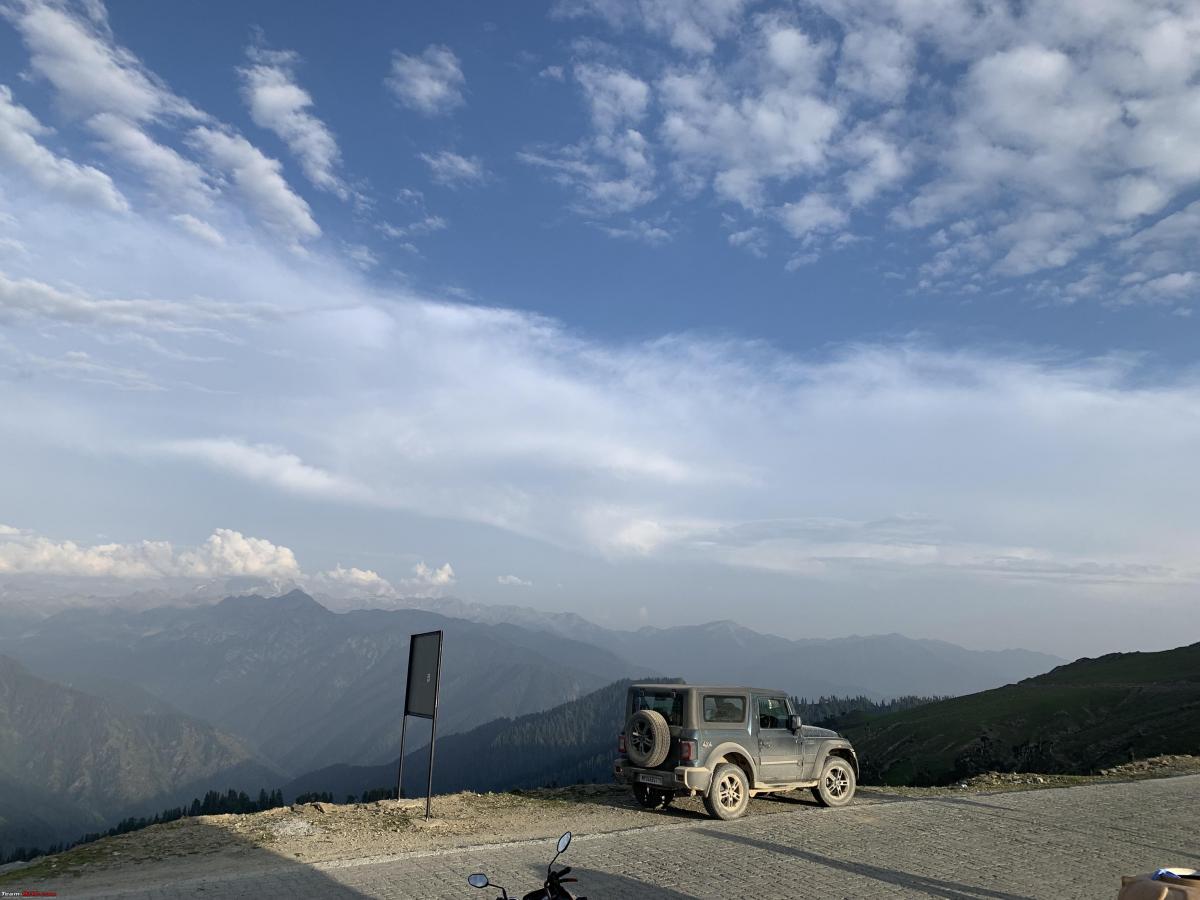 Continue reading BHPian ambarkhan's ownership report of his Mahindra Thar for more insights and information.
Source: Read Full Article