Bikes like the Kawasaki Versys were more road-biased. Also, the parallel-twin engine would have been a meaningful step down from my Triumph Street Triple's in-line 3.
BHPian Axe77 recently shared this with other enthusiasts.
Triumph Tiger 800 XRx, October 2018
Color: Matte Black
Odo / age: ~23,000 kms and 3.5 yrs+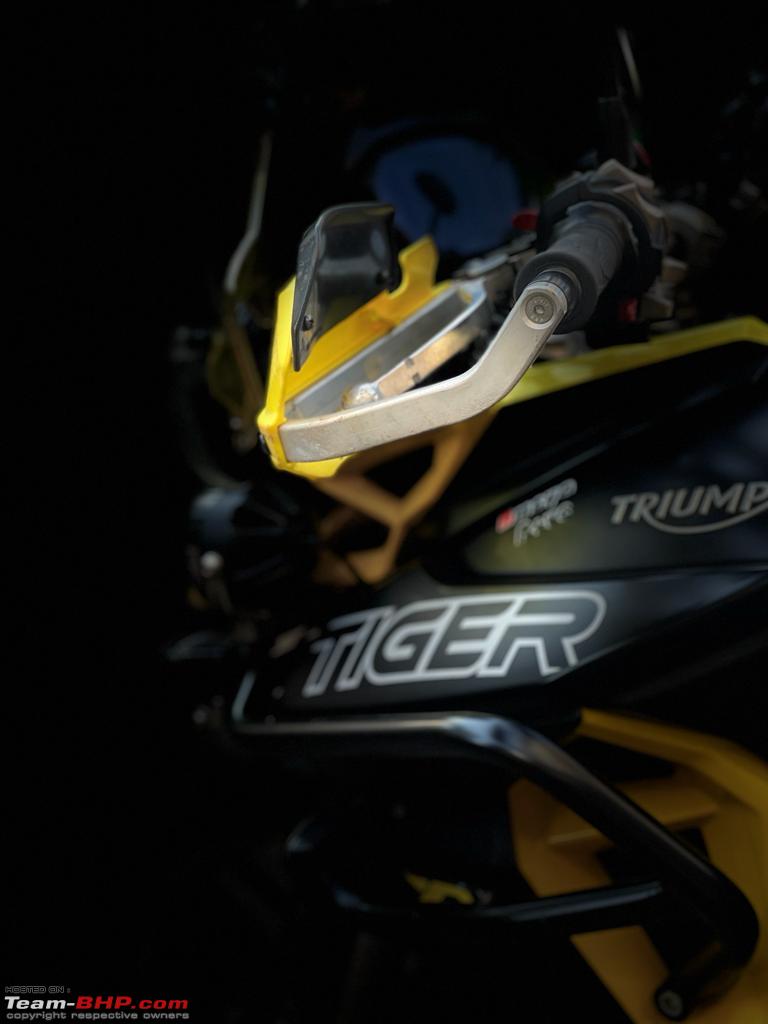 Prequel: The married man's guide to buying a Superbike*
I've read many bike ownerships on this forum. Some get straight to the point, others start with an engaging prologue, then again, some start with a stunning image of their steed. For me personally, I think it is only appropriate that I start this thread with a bit of a prequel on my one sage mantra, which has enabled me to buy three superbikes since 2017.
I had tried to purchase a bike on a number of occasions after I got married. But it was always summarily dismissed before I even got past the first sentence. Apparently, if you are a father / son / husband, motorcycles are off the table! The closest I got to any meaningful riding during these years was a 2015 riding holiday on rental Royal Enfields in Ladakh with my college mates – one which my wife grudgingly acquiesced to, making it quite clear on my return that I wasn't to embark on such ill-conceived reckless adventures ever again. Too late though, love! The itch was now firmly back and I was clear that I must own a motorcycle. Beaten down through numerous "Permission Denied" pronouncements over the years, it was around this time that I was introduced to these wise words…
The aforesaid sage mantra was suitably deployed in 2017 to purchase my first superbike – the incredibly capable & desirable Street Triple 765 S. For good measure, I picked my fortieth birthday, just to improve my odds of staying married and not being given the boot. Basically booked the bike, came home and announced sheepishly that a non – refundable deposit had been paid, proceeding to duly seek forgiveness in all earnestness. That it was September helped, with the upcoming 40th, but crucially a very important bridge was crossed at home – motorcycling was now through the door. Future bike purchases will now be tested on the financial / need arguments – as opposed to the threshold insurmountable mountain – motorcycling is too dangerous!
The selection process for that bike is a story in itself, with the first test ride starting from a Benelli 300 and moving gradually up via the Ninja 650 and Street Twin till I finally reached the Street Triple as the first bike I'd like to buy. But even when I finally zeroed in and bought the S Triple though, it was its larger more imposing sibling that had stolen my heart. Despite getting back on the saddle after several years, the Tiger during my brief test ride was not as intimidating on the move as I felt seeing it from the sideline. Mind you, these were the observations of a rider who'd never owned anything larger than a Royal Enfield. The head prevailed over the heart, however – and while there was a 2000 km run nearly new Tiger 800 XRx to be had for just a little more than a new Street Triple, I just felt more confident plonking million-plus greenbacks on the more accessibly sized S Triple.
All was well, life insurance covers were ramped up, the wife had begrudgingly accepted that the husband had added motorcycling to running and cycling and the chances of me being found at home on a Sunday until late morning were one notch bleaker.
But it was clearly not enough. My heart still skipped a beat every time I saw Tigers and other big ADVs roaring in on our rides. A little over one year, a grand 2800 kms and many Sunday "breakfast rides" later, I was happenchance out on a Sunday ride with an all ADV group. For the uninitiated, ADV riders are the blooming sods flying nonchalantly over invisible potholes and speed breakers on village back roads, while you urgently brake your way, pussyfooting your sexy street bike to navigate these ball busters – sorry speed breakers.
Pic below from a Triumph group ride – for representative purpose only of one such blooming sod who we have to watch in envy as we navigate at drop-dead speed.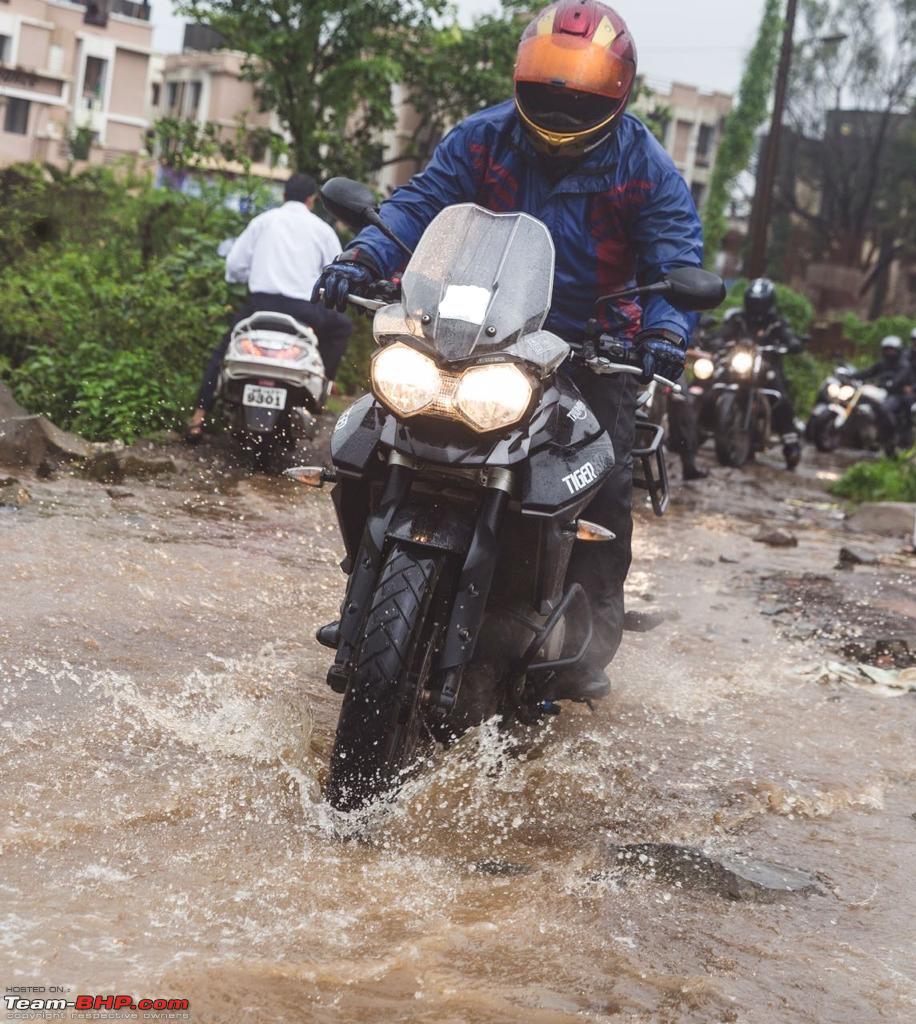 That ride, it would turn out, was the proverbial final nail in the coffin. I returned home with the remote intent of owning an ADV fast turning into an immediate want, and the immediate want, fast turning into immediate action. Timing wasn't on my side though. I wanted an ADV. I wanted the Tiger! And I wanted it right away!! I loved my Street Triple to bits but I knew if I was to ride more, and to ride long, only an ADV was really going to cut it for me.
This was Sunday. Made a few calls to Triumph over Monday and Tuesday. By Thursday (sometime in October 2018), the S Triple was parked at Shaman Triumph and a downpayment cheque was being processed for a brand new Tiger 800. The only hitch, this time around – I was already a month past my birthday, (in itself, an unremarkable 41 as the magical number of birthdays go).
One step at a time. The married man's mantra was about to be tested a second time.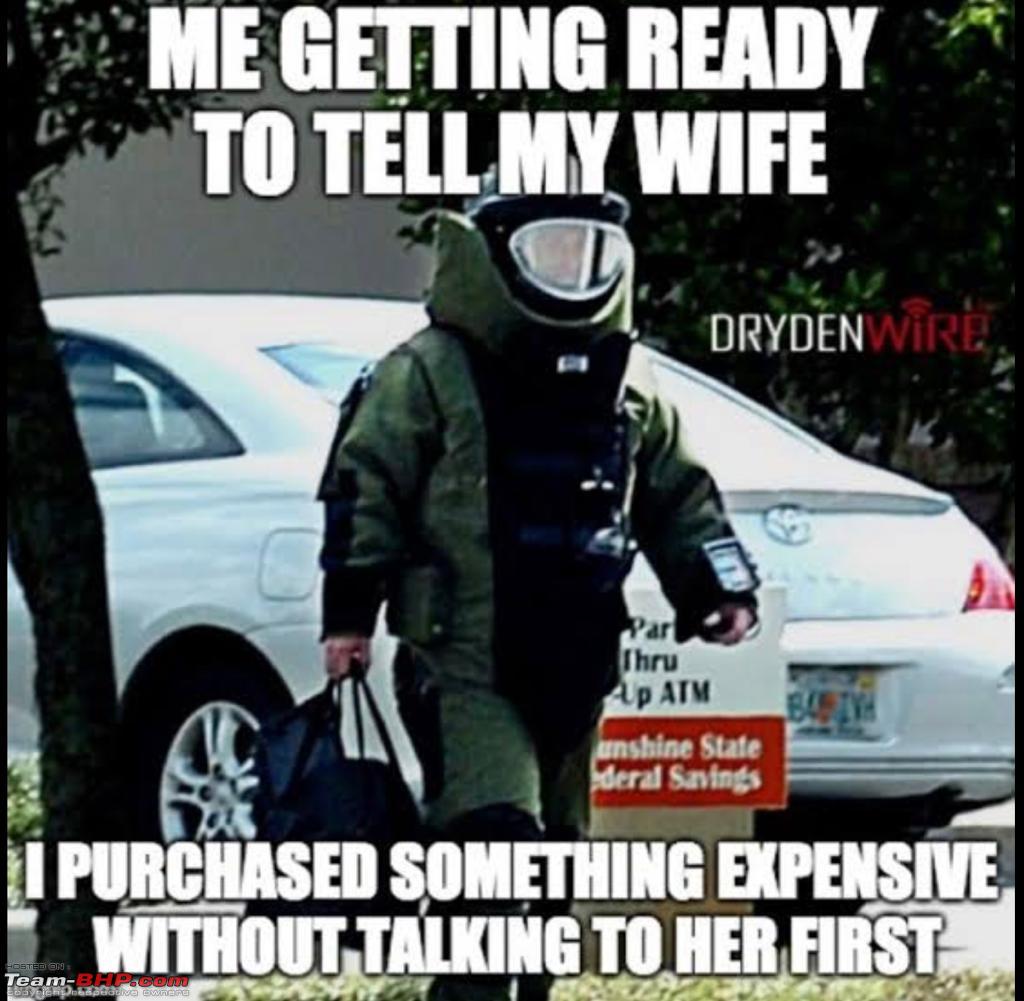 Me: Baby!
She: Baby??? What have you done now?!
Me: You know how I always wanted an ADV. It seems that is the one bike that will really unlock the kind of riding I want to do. And it's best that we sell the Street Triple asap so it doesn't depreciate further and buy a Tiger right away. No point waiting longer.
She: What's wrong with your current bike. Does it not get you to your breakfast place fast enough? Exactly how far DO you want to travel for the omelette pav!
Me: No, no. ADVs are much better suited to our roads
(Crap! How do you pitch this in a way that doesn't make it sound like I want to spend several lakh more, on a weekend toy, so I do not need to slow down for speed breakers!)
She: Let's sleep over this – we don't have to decide immediately.
Me: Actually it's been given to Shaman and I put a down payment on the Tiger already.
Sheepish look redeployed.
She: What??? How much?
Me: 20,000/-. It's non-refundable, unfortunately. Some October deal on with free accessories worth 1.5 lakh thrown in which would have lapsed.
The words non – refundable have a magic effect on the fairer sex. Free and 1.5 lakh were for the "belts and braces" approach to clinch it.
She: So why even bother telling me. Just do whatever you please!!
The typical married man would often buckle under the pressure of these words. But not the committed motorcyclist – once you've leaned into this curve, the only exit is to throttle your way out. We're made of iron butts and thicker skin after all!
This declaration is typically followed by a cold shoulder period of 24 hours. You have to be prepared for this wade through this silent storm. The information will eventually sink in. Normalcy will soon prevail. Conversations must now immediately be veered towards how happy you are with the purchase, and how much you look forward to several aspects of it etc. That makes the purchase itself a foregone conclusion. We are now being berated for what trips we "shouldn't" be taking on the bike in the immediate future – a perfectly acceptable proposition to lose for the aspiring motorcyclist ("How to embark on forbidden motorcycle trips" is reserved for a later series).
Finally, it was through. The Striple was out and the Tiger was in. I have to say while the kms may not speak much, I did dearly love my time with the Striple however much the above narrative may suggest otherwise. I'm dropping below some images of the beautiful red Street Triple on its last ride and some of the initial few pics of the Tiger.
My Street S on its last ride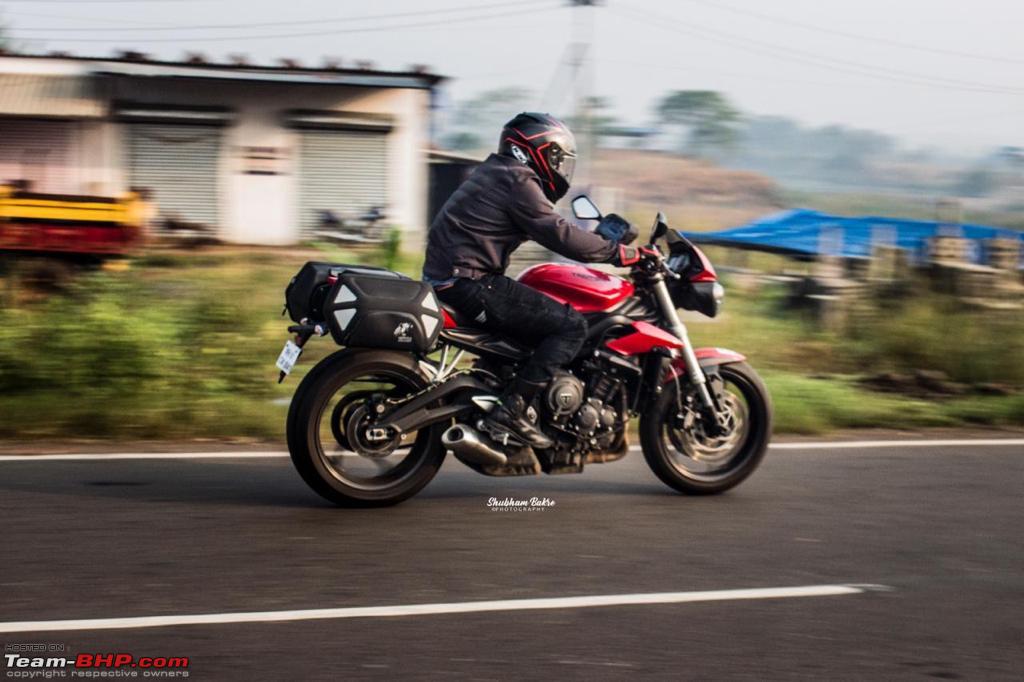 And a pic collage from the same ride.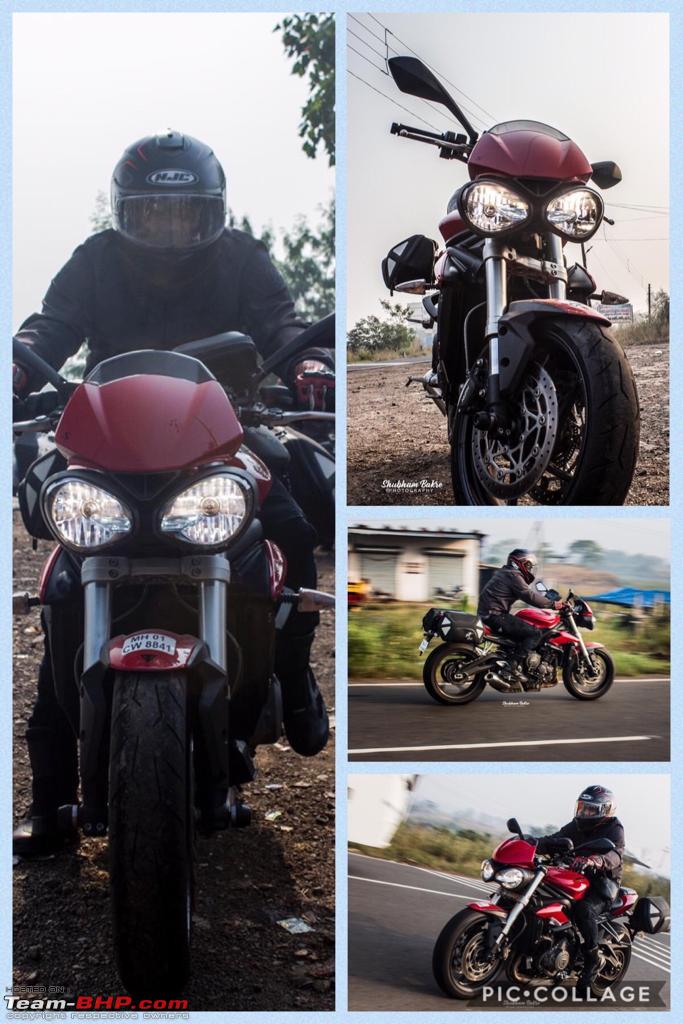 The big cat on delivery day. Note the larger stock windscreen in these early pics (also the "absent" beak, which has to be added aftermarket). Most recent images will show the aftermarket shorter powerbronze windscreen that I installed sometime in the middle of the life of my Tiger's ownership.
Side by side pic of the Tiger and a friend's Street Triple for some size perspective.
On that note, on to some motorcycling and more specifically, some Tiger talk!
* – End Note
Before anyone embarks on misadventures based on the above, please note that this post (even though factually accurate for the most part) was formally approved by the missus, who is a stellar sport, contrary to what the post might suggest!
The author disclaims any liability that may arise from said misadventures attempted by other husbands aspiring to be motorcyclists based on such misguided inspiration.
Tiger 800: A brief introduction
The Tiger 800 is arguably one of the most popular big ADVs out there in the Indian market with the Tiger moniker carrying a massive sub-brand identity in its own right. The 800 – 900 segment in itself is considered by many the sweet spot of ADV ownership. Its proper big bike territory unlike its 300-600 cc counterparts and not in the full fat 1200 cc weight class category to make itself needlessly unwieldy when out on tougher terrains. If you read and follow specific international owner groups, there are plenty of 1200 cc Tiger / ADV owners who've moved back to 800 / 900 Tigers from the 1200 cc segment or alternately made a conscious decision to stay in the 800/900 cc segment.
This particular model (MY 2018) is slightly unique. It followed on and made up to 200 changes from the MY 2014-2017/18 vintage bikes including notably moving on from analog to that glorious TFT screen paired with the user-friendly 5 way joystick controller, (previously seen on the Street Triple RS variant). This was sold till about 2020 before the all-new Tiger 900s were launched. If you absolutely love that sweet, true blue 800 cc inline 3 engine variant over the newer 900s with the revised firing order giving it a twin-like character – AND – you love your TFTs, then these 2018/2019 bikes are the only ones that will give you this combo. The creamy smooth and sporty inline 3 fun factor with the modern TFT screen to behold.
The range nomenclature remained the same, the XR brought in the base road-biased version which loses several features. The XRx is the fully loaded (absent the XRt in the Indian market) version of the road based model. Next follows the XCx – which is the off-road biased variant. There also sits an XCa on top of the range which gets a few additional goodies over and above the XCx. Amongst other differences like heated seats IIRC, the XRt was sold internationally with full LED headlights while the XRx in contrast only come with LED DRLs. The DRLs themselves add a neat touch although the full LEDs would of course have been more than welcome.
In this particular generation notably, choosing any XC series bike meant getting spoke tubed wheels. The downside here is that you don't have the same 'on the fly' puncture repair convenience of its tubeless, alloy wheel shod XRx counterpart. The spoke wheel shod Rally Pro in the new 900s most importantly now come with tubeless spoked wheels – a MUCH welcome change.
At the time of purchase, this bike went head-on with the BMW 750 / 850 GS twins and arguably the Africa Twin DCT (although that bike sort of sat somewhere a hint above these bikes and somewhere below the GS 1200).
Options considered:
At the time of buying this bike, none.
The GS 1200 was well out of budget. I really wasn't interested in the GS 750 / 850 (or maybe those weren't in the market just yet – I can't recall). The Versys and similar were never ever in the fray – 17" wheel, too top-heavy and tall, much more road touring biased, the parallel twin would have been a meaningful step DOWN from the Striple's inline 3 – it wasn't what I was looking for – period.
I was selling the Street Triple in order to make the purchase palatable. In a perfect world, I would have loved to keep the Striple too but there's only so much that post facto "forgiveness" can deliver 14 months apart and I had every intention to remain married – at least for the foreseeable future. In any event, it was beyond budget and justification at that point to keep both. I had after all put in a mere 2800 kms in just over a year of ownership.
Choice of variant
Coming to the choice of variant itself, for the uninitiated, the Tiger 800 basically comes in two families – the XR series denotes the 19″ alloy wheel shod road-biased version while the XC series represents the more off-road biased version, complete with 21″ spoke wheel keeping it true to its purpose. At this point, it must be said, that unlike many sports touring 17″ front wheel ADVs, both series of the Tiger is equally accomplished across the range of riding spectrum. The road-biased XRx is tremendously capable in most off-road scenarios as well while I've seen accomplished riders throw around the XCx on tarmac the way one would treat a sportbike. For the shorter rider, the XRx is just that little bit more accessible from terra firma and that pretty much was an easy decision for me. If I were to buy a 900 Tiger today though, I'm pretty sure I'd opt for the Rally Pro (XCx equivalent in 2022 speak), having gained a little more confidence handling tall heavy adventure bikes over the last four years.
Dealership: The buying and delivery experience
Shaman Triumph, Mumbai.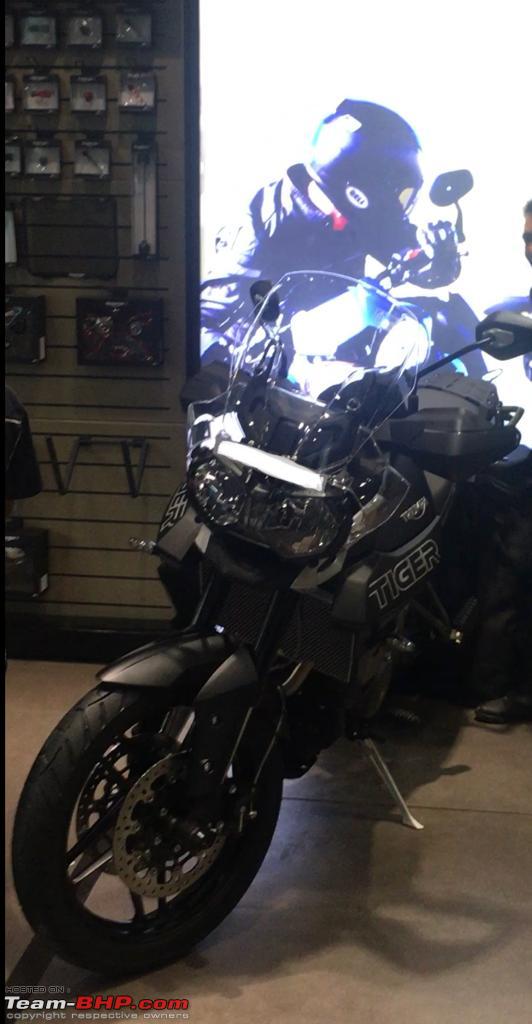 There's not much I recall about the delivery itself but Shaman Triumph was as always uber-efficient with every aspect of the delivery process. At the time of purchase, there was the option of getting a cash discount of INR 45k or so (IIRC) or alternately the full three-set expedition pannier kit worth approximately Rs. 1.45 lakh. I wisely chose the latter, a decision I have ultimately not regretted considering just how much I have put the top box alone to use and also on the odd crucial occasion, the hard side panniers.
The bike effectively cost about Rs. 16.16 Lakh or thereabouts IIRC (the MRP without the cash discount) and the three-set panniers thrown in. The accessories listed below are of course over and above that price and while a lot of it was purchased over the period of ownership, it's a tidy amount in itself).
Dealership: The service experience
Shaman Triumph, Mumbai (and occasional support from BU Bhandari, Pune)
In one word: Stellar. I have used the services of both Mumbai as well as on the odd occasion, Pune & Goa dealership – they have both been absolutely fantastic without exception.
Atul at Shaman Mumbai is utterly reliable and I trust him completely with all matters concerned with my bike. I know a lot has been said of the negative experiences with several dealerships in other parts of the country, especially down south, but I have never had cause to complain about the quality, turnaround time or the general responsiveness of the Triumph teams – ever!
Service intervals are 10,000 kms or one year apart (whichever is earlier) and routine services can cost anything between Rs. 10,000 – 20,000 (it follows alternate year major / minor service). AMC service packages can make some sense in the context of the cost of ownership. Brakes and other wear and tear / consumable items aren't cheap and neither are tyres, which on a bike like this you might find yourself changing every 13-15,000 kms depending on how hard you've been riding.
In terms of extraordinary issues, the only one I've had is a clutch that gave way prematurely because it took more than its fair share of beating on the soft dunes and sand trails in Rajasthan. Although it did get cooked (my inexperience I'm sure) during that ride, it still got me back safely to Jaipur base before routine trucking back before I had to replace it when I returned to Bombay. Cost me a whopping 75,000 bucks give or take, that little adventure.
Other than that, the Tiger is built SOLID! I've had no out of the ordinary issues and this is despite using this ADV in every kind of condition. This bike has seen less of Starbucks at Horniman and a lot more coffee on the fly by lakesides & other wilderness. You can drop the bike, abuse it all you like, but you have that confidence that – IT WILL START and get going at the back of all of this.
Bike: Accessories installed
Mechanically speaking, the bike is bone stock with no engine / technical mods whatsoever – not even an aftermarket exhaust. ADVs require and can involve a disproportionate quantum of accessories though – I've listed below the ones I have added. Some of these accessories were installed immediately while many others have been installed over a three year+ ownership period.
In short, this is pretty much a FULLY KITTED OUT bike, ready for touring or adventure. I'm hard-pressed to think of a single "must-have" accessory that one would "need" to install on the bike for any kind of use – perhaps at best a side stand extender if I were to nitpick. It even has a Givi toolkit installed inside the left pannier mount. Saves regular luggage space while touring.
Triumph OEM Beak
Radiator guard (Triumph)
Engine guard (Triumph)
Fuel tank guard (Hepco Becker)
Bark buster hand guards
Side pannier mounts (OEM)
Fork bobbin protector
Aluminium sump guard (replaces the stock plastic one) (Triumph OEM)
Main stand (Triumph OEM)
Headlight protector (Triumph OEM)
Powerbronze aftermarket shorter screen (easier while trail / rain riding)
Givi toolkit case (fixed within the left pannier frame)
Full three piece by Triumph (Givi) – the top of line OEM Expedition pannier kit
One set of Aux lights (Baja Squadron Pro) with removable (yellow) fog cover. Bought and installed from Shaman Triumph
One set of Gold Runway Aux lights (bought from Speed Merchant, installed by Shaman Triumph)
SW Motech tank bag clamp (used for my 5 – 9 ltrs expandable day bag)
Continue reading Axe77's long term review for BHPian comments, insights and more information.
Source: Read Full Article